For an English version of the blog, please click here.
Parece que la mayor parte de mi carrera me la he pasado mirando hacia abajo. Además, podría sorprenderte que sea intencional, y aún más sorprendente, que eso abra mi perspectiva a una nueva frontera. Como parte de esta expedición, eso es exactamente lo que todos hemos estado haciendo, un equipo de científicos e ingenieros mirando hacia nuestros pies. Excepto que lo estamos haciendo con una nueva visión, ya que combinamos sonar, lidar y cámaras para ver con nuevos ojos.
Mi nombre es Eric Martin, un ingeniero eléctrico que trabaja en el Monterey Bay Aquarium Research Institute. He estado trabajando en ROV, AUV y más durante más de 15 años, y de una forma u otra he estado desarrollando o utilizando sensores que nos permiten ver el océano con una nueva visión. A veces, los objetivos son emocionantes: un antiguo naufragio, un chorro de agua hidrotermal y, a menudo, parecen mundanos: una pared de roca o un fondo marino en movimiento. Todos son de alguna manera interesantes, solo tienes que entender cómo mirarlos de la manera correcta.
Eso es lo que buscamos en estas inmersiones de ROV utilizando lo que llamamos nuestro sistema de levantamiento de baja altitud. He tenido la suerte de ayudar a ensamblar este sistema para ayudar a proporcionar una nueva perspectiva. Hay tres sensores primarios. El primero es familiar, un par de pequeñas cámaras que están acomodadas de la misma manera que nuestros ojos, y proporcionan una visión estéreo. Gracias a la geometría, podemos usar la perspectiva de dos cámaras simultáneamente para calcular una forma. Hay algunas luces estroboscópicas submarinas que parpadean para ayudar a iluminar la escena. El segundo sensor es nuestro sonar multihaz, que recopila rangos emitiendo un sonido y sincronizando su retorno a lo largo de una serie de elementos sensibles a la presión o al sonido. El sensor final es un lidar, un sensor de rango láser que también obtiene rangos individuales a medida que avanza y retrocede. El lidar y el sonar recopilan datos a lo largo de una línea que se extiende desde el puerto al estribor (o de izquierda a derecha). Si movemos el ROV en una dirección hacia adelante a una velocidad constante, podemos compilar esas observaciones y crear un mapa.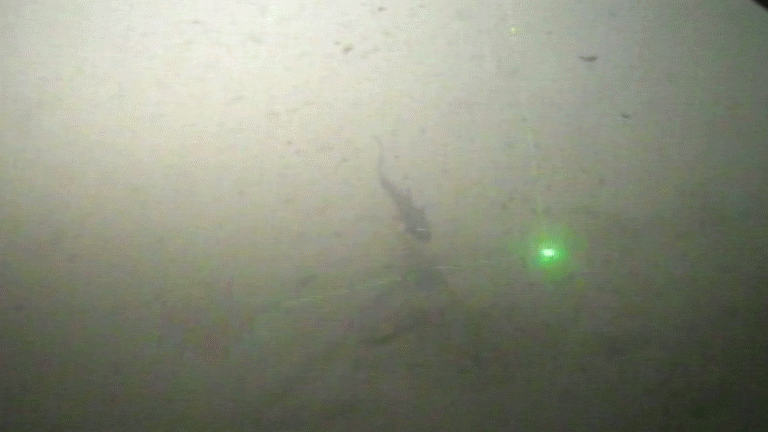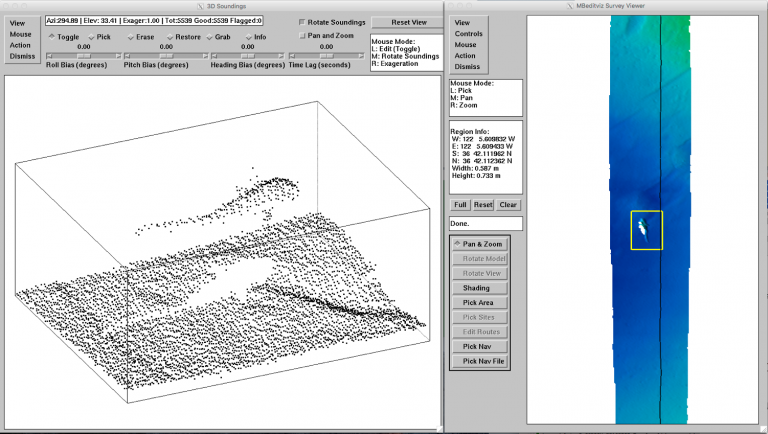 Al final del día, y gracias a muchas herramientas de navegación, producimos un mapa que muestra detalles extremadamente finos del área que investigamos. Cada sensor tiene una resolución diferente: las cámaras miden 5 milímetros, el sonar aproximadamente 5 -centímetros, y el lidar está cerca de 1 centímetro entre medidas. Eso nos permite acercarnos a contar pólipos en los corales, o medir el tamaño de la abertura en una chimenea. Ten en cuenta que estamos haciendo esto durante muchas horas, por lo que estos mapas finales son enormes en su escala general.
Sentarse frente a una de estas imágenes masivas es como visitar una imagen gigapixel del horizonte de Nueva York, ni siquiera sabes por dónde empezar a ver. Por eso, aunque puedo crear y reunir estos datos, necesito trabajar con científicos para usarlos. Tienen la capacitación para observar estos datos para identificar nuevos patrones, animales y anomalías emocionantes. Como ingeniero, lo que he encontrado más estimulante son las observaciones que hacemos cuando comparamos y contrastamos estos datos entre sí. Estos sistemas operan en diferentes principios físicos, por lo que cada uno ve el fondo marino de una manera diferente. Por ejemplo, el sonar es ciego a los organismos de tejidos blandos, como las esponjas, y ve a través de ellos. El lidar y las cámaras no pueden ver a su alrededor en absoluto, por lo que si hacemos una simple resta, tenemos una nueva herramienta para detectar y medir criaturas blandas, y en este viaje tal vez también coberturas bacterianas. Esa es la hipótesis, al menos.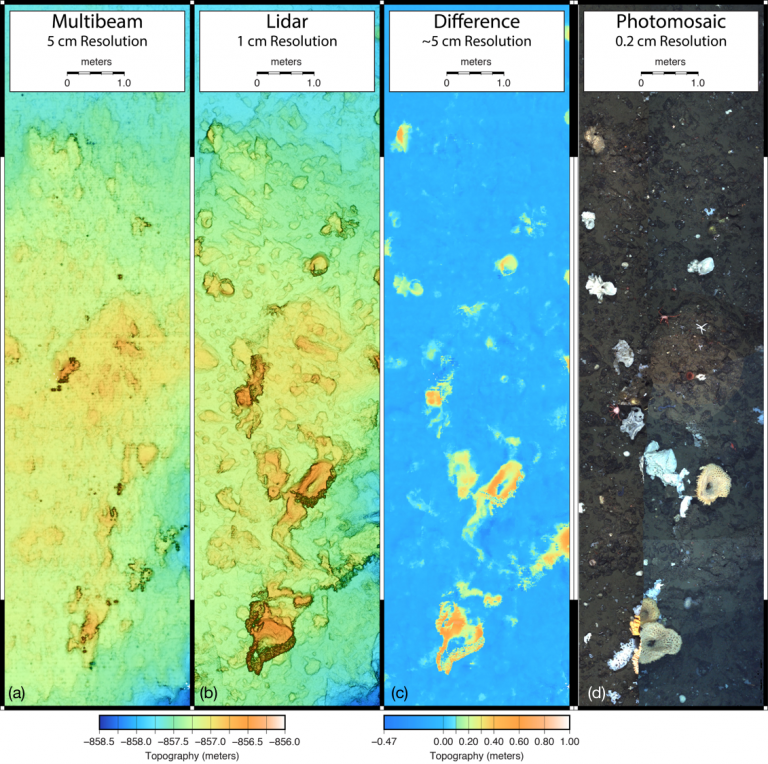 Esta expedición es la culminación de muchos años de trabajo para especificar, ensamblar, desarrollar y refinar estas herramientas. Estoy agradecido de que tengamos la oportunidad de venir a la Cuenca de Pescadero y usarlas. Pero somos científicos e ingenieros, no hay tiempo para dormirnos en nuestros laureles. Para algunos de nosotros, hay una montaña de datos para procesar. Para otros, esperamos con ansias cómo podemos mejorar o ampliar las capacidades de este sistema. Algún día, esperamos poner todos estos sensores en un AUV y abordar la multitud de problemas de control que enfrentan para automatizar levantamientos de baja altitud como estos. Por ahora, es hora de hacer copias de seguridad y llevar a casa más de 20 discos duros que hemos llenado desde que llegamos aquí.