For an English version of the blog, please click here.
Mi nombre es Néstor Ramírez, soy un ingeniero geológico que ha estado trabajando en geología marina durante 8 años, ¡pero en tierra! Siempre he trabajado con los datos recopilados en las profundidades del océano por otras personas. Proceso y analizo los datos para construir modelos que retratan la historia de cómo los sedimentos de las profundidades marinas evolucionan y se deforman a través del tiempo. Así es, algunos científicos tienen la suerte de salir al mar, mientras que otros, como yo, simplemente tienen que quedarse en tierra y esperar a que lleguen los datos.
¡Ya No!
Hoy las cosas son diferentes porque estoy a bordo del R/V Falkor para visitar y recopilar datos que pertenecen directamente a mi área de estudio de doctorado: la Cuenca de Pescadero en el sur del Golfo de California. Esta es una experiencia increíble para mí porque es mi primera vez en un barco oceanográfico. Todas las actividades a bordo son nuevas y emocionantes, desde comer en el comedor hasta participar en las operaciones de AUV y ROV en cubierta. Aunque no estoy familiarizado con muchas de las actividades a bordo, tanto científicamente como las relacionadas con el barco, siento una empatía natural hacia todas las personas aquí: caras sonrientes, charlas agradables y buen humor en todas partes.
Tecnología para la Ciencia, Alimento para los Científicos
El barco está equipado con tecnología muy sofisticada y robots capaces de sumergirse hasta 4000 m de profundidad e incluso aún más. Los técnicos y gerentes de operaciones están altamente capacitados y son increíblemente hábiles. Sin embargo, en mi humilde opinión, ¡los que merecen un reconocimiento muy especial son los chefs! Nos alimentan a todos con comida deliciosa; puedes sentir cuánto les importa realmente cada plato, cada comida. Ellos realmente saben lo que están haciendo.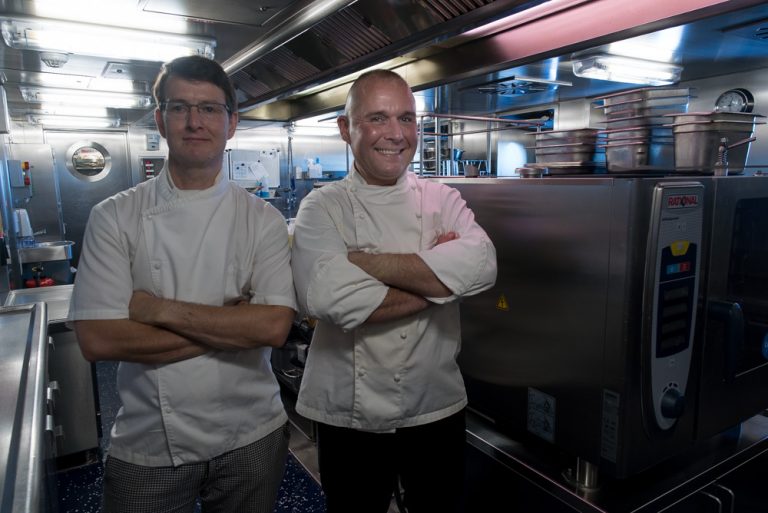 Lo mejor de todo es que cada esfuerzo particular y el trabajo en equipo en todas las áreas tienen un objetivo común: hacer ciencia. Los datos que se recopilarán, así como su análisis posterior, permitirán profundizar nuestra comprensión de los procesos geológicos y biológicos que ocurren en el Golfo de California. Además, el estudio de las chimeneas hidrotermales nos permitirá profundizar en los procesos químicos involucrados en la síntesis de los compuestos orgánicos que son los componentes básicos de la vida en nuestro planeta. Conocer la relación íntima entre los gradientes físicos, químicos y biológicos que ocurren en los sistemas de chimeneas hidrotermales en la Tierra puede darnos una pista fundamental para comprender la posibilidad de vida en otros cuerpos del Sistema Solar.
La oportunidad de participar y trabajar con un equipo multidisciplinario de científicos de diferentes países definitivamente será una de las experiencias más enriquecedoras de toda mi vida. Todos trabajamos inspirados por la emoción de llegar a lugares inexplorados en el fondo marino, con la esperanza de obtener datos que nos permitan generar nuevos conocimientos. Como Jacques Yves Cousteau dijo una vez: "¿Después de todo, qué es un científico? Es un hombre curioso que mira a través del ojo de una cerradura, la cerradura de la naturaleza, tratando de adivinar qué está pasando".