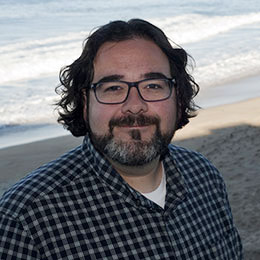 Eric Martin is an Electrical Engineer, visiting the Falkor from the Monterey Bay Research Institute. Aboard this expedition, he will be focused on operation the unique mapping payload that will be surveying the hydrothermal vent fields. In this role, he will leverage his experience in survey operations, system controls and ROV engineering.
Prior to this work, Eric has been AUV Operator for some of the same vehicles aboard the Falkor. Eric got his start in ocean exploration working as an ROV Pilot for Dr. Bob Ballard for many years, discovering countless shipwrecks in the Mediterranean and Black Seas, and helping to establish the Nautilus into the integrated system it is today.
He carries two degrees in Ocean Engineering from the University of Rhode Island. His efforts there and research interests today include underwater acoustics, marine robotics, and autonomous vehicles. Growing up in actively engaging the ocean through the window of Narragansett Bay is a strong reason he chose to dedicate his life's efforts to oceanography, believing that technology development can help us better understand the ocean and inspire conservation in everyone.
Cruises: