This expedition employs many pieces of equipment called landers. They can collect samples and provide a glimpse into the Hadal world.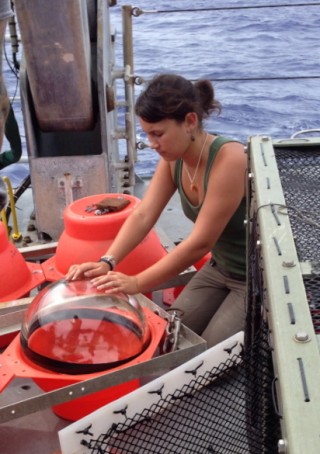 Landers are versatile tools for scientists that can range in complexity from simple baited animal traps to sensor equipped, computer controlled, mechanically inserted, precision coring samplers. Much like the scientists themselves, each lander is unique and geared towards a specific research goal while still sharing many common attributes. Let's take a look at the four main systems aboard each lander:
Descent weights
All good Hadal science starts with a sinking feeling. To aide this long journey to the deepest depths of earth's trenches, scientists use stacks of steel plates to make each lander heavy enough to sink the thousands of meters to the seafloor below. A lander can take three to four hours to reach the bottom once deployed from the ship. These weight stacks, weighing up to 120 kg (250 lbs.), are attached to a mechanism that releases them at the end of a deployment, making the lander light enough to float back to the surface. Simple, but effective.
Flotation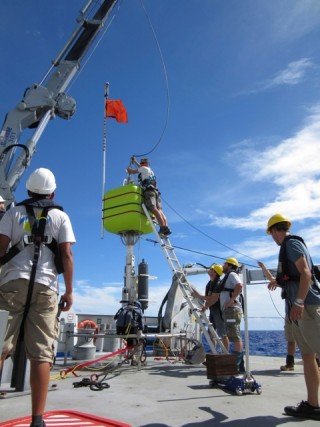 What goes down, must come up! Scientists need to retrieve the samples and images that the landers have collected from the seafloor. This is made possible through a lander's flotation. The flotation must be strong enough to survive the crushing pressures of hadal depths, while being light enough to float heavy sampling gear. This is typically accomplished in two ways. The first is by using syntactic foam, a composite material made from tiny hollow glass spheres suspended in a glue like substance that can be formed into any shape. The second is by large 17" diameter hollow glass spheres, typically found in bright orange protective "hard hat" cases. In the case of Schmidt Ocean Institute's landers, they use syntactic foam which have been painted brightly, and have been affectionately dubbed the "lollipops".
Means of Location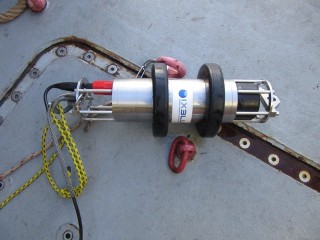 The ocean is a big place, so it is always important to have as many ways of finding something in it as possible. Luckily, there are many tools to do just that. Each lander is equipped with an acoustic release that can talk to equipment onboard Falkor while the lander is still underwater. Much like the way dolphins communicate, these acoustic devices send chirps and whistles of sound through the water to provide information about a lander's distance away from the ship and status. Additionally, communication through sound offers a channel of communication to start a lander's ascent. Once on the surface, the team can look out for a bright orange flag mounted atop each lander, or at night the blinking of a bright strobe beacon. Even if the lander is out of view, a radio signal beacon can offer a hint to how far away a lander might be and in what direction.
Science Payload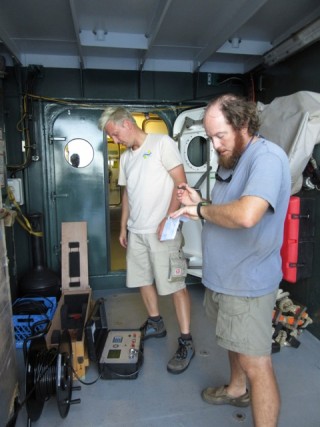 A lander's payload is what makes it unique and is where the magic happens… lights, cameras, and actions! Everything from baited hooks to video cameras, water bottles to rock grabbers. Each lander has its own bag of tricks that let's scientists get the information they seek from the deep. Whether the lander is in action collecting a crucial measurement, or taking a rock sample back for examination, landers offer an effective means of enabling scientific research in the deep ocean.