I've always been a fish person. Like many, I have long been captivated by the colorful triggerfish and wrasses of the reef, the coiling strangeness of wolf eels and sixgill sharks, the complex camouflage of flatfish and sculpins, just to name a few.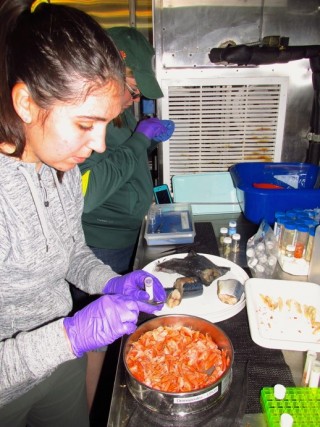 I was never much interested in invertebrates beyond octopuses, one of the most fascinating examples of invertebrate evolution; but now that I'm here, hauling up landers from the depths of the Mariana trench, I have found myself with more invertebrates than I honestly know what to do with—though I am slowly but surely learning what exactly to do with them, and have started to see the appeal!
The expedition stars
Amphipods have been the starring invertebrates of this expedition. You have probably heard them mentioned previously, and for good reason. These members of the orderAmphipoda are crustaceans that fall into the same class as crabs, lobsters, shrimp, and krill. They have been found to range in size from only a few millimeters to a whopping 30+ centimeters long. Those individuals that are 30+ centimeters have been found solely in the deep, oceanic trenches, and are referred to as "supergiants."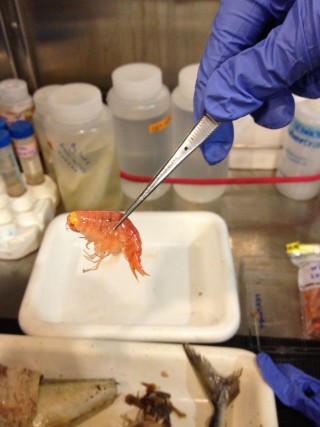 The name amphipod refers to the members' characteristic of having morphologically differing sets of legs ("Amphi" = different, "Poda" = foot). I have personally seen more variety in color, leg shape, and overall body form than I ever would have expected. The deep-water amphipods we've been working with are relatives of the ubiquitous "beach-hoppers" that you might encounter on the sandy shore. We have been doing a variety of interesting things with them.
Preserving the stars
The amphipods we receive are caught in special cylindrical traps that are attached to larger fish traps that we deploy: one is the larger Fish Trap and the other is aptly-named Wee Trap, because it is smaller. After removing the amphipod traps, we have to be quick in getting them up to the Cold Room, a separate mobile lab that is kept at about 4° C (39° F). Timing is important since the tissue on the amphipods will start degrading if left out in warm temperatures for too long. Once in the Cold Room, we go about the long process of methodically picking out every single amphipod we can get our forceps on, and sort them between the various scientists who need them for their work.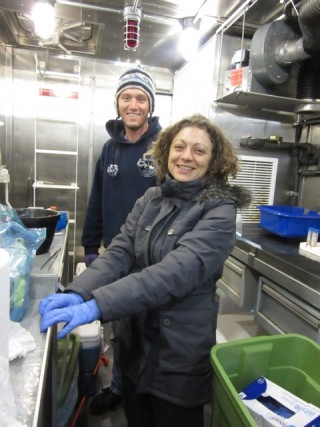 The amphipods are divided up based on how we want to preserve them, some get put in ethanol and some in Formalin; both are effective and common preservatives. The remainder amphipods are put into a large freezer set to -80°C, until the scientists can do further work with them.
Since some of the research being done on the amphipods includes examining their DNA, we also put some into RNAlater, a mixture that helps preserve the integrity of the amphipod RNA so that later analysis of their gene usage will be possible.
If there are specimens big enough, they are dissected for their gonads and sometimes muscle tissue, which will be later examined. Every step of amphipod collection is, of course, very carefully catalogued!
Then what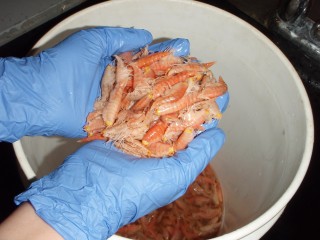 All in all, a truly amazing amount of research is being done on these little—and not-so-little—crustaceans; the study of the phylogenetic relationships between different deep-sea trench communities, the exploration of their reproductive process and activity, as well as the analysis of what bodily processes they use to adapt to the enormous pressure of living in the hadal zone. And the deeper we go in the hadal zone, the more exciting it gets. As we sample deeper, the number of amphipods that we catch in the trap has skyrocketed, so much so that we literally had a bucketful of amphipods on one of the last recoveries.
Being an undergraduate student I still have a lot to learn, but I already have found an unexpected amount of fun in working with and learning about these truly amazing invertebrates.