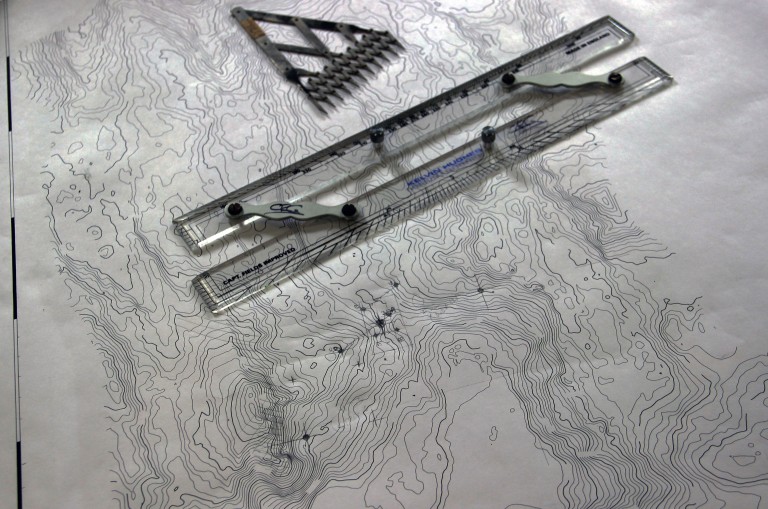 You know it is going to be a bad day when just taking your morning shower is tricky.  Having to cling to a hand-rail just to stay upright, its hard to find your inner calm.
After breakfast and our traditional morning meeting (that's right, three times in a row and it's a tradition in my book) I quickly realized that I was going to have a miserable day today if I tried to spend my time working at my laptop in my office.  Picture the scene: you are seated sideways on a roller coaster.  But you can't see which way the next bend will go nor how steep the next hill will be.  Now, while doing all of the above, try typing the same sentences you are reading here.  Don't blame me if they are banal!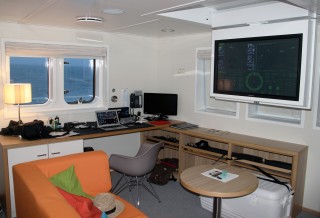 Actually, I cheated.  First, I relocated down to the Dry Lab which is both one deck lower in the ship than my cabin and also a lot further back away from the pointy end.  [It is a poorly kept secret that Chief Scientists are always placed in cabins close to the ship's Captain for more than one reason.  For sure, there is one of ensuring good communications between the two of us throughout the cruise.  But it is also case that these cabins are the ones that enjoy the highest vertical accelerations on the ship.  Since it is the Chief Scientist who ultimately requests what the ship should do at any given time, it is only right and proper that it is that same Chief Scientist who gets thrown around the most (and in the extreme, bounced off the ceiling once in a while) if what that request proves to be turns out to be unreasonable.]
Anyway, Plan B was to head down one deck and back to the Dry Lab which is closer to the pivot point of the ship.  A good start, but working at my laptop was still giving me a headache so – time for Plan C.  Instead of using my laptop to review past data from our 2009 Cruise and also from our UK colleagues who returned to the Walsh area in 2010, I printed out all the relevant coordinates and went back to plotting them the old-school way using a paper chart James had prepared before we came away and lining everything up with a set of parallel rulers and large and small 10-point dividers the way I was trained to do it by my long-term colleague (and co-host of Chris & Lindsay's English Style Pubs on ships of many nationalities over about a decade of exploring the oceans together) when I first sailed as a Chief Scientist.  Lindsay Parson, you have a lot (a shed-load, you would say) to answer for.  Bless.
Inner calm restored.
At lunchtime the Captain proved he is a very clever man.  First, he slowed the ship down from its maximum transit speed of 12 knots and we immediately reduced the inner pounding we were taking as the ship fought its way into the wind and waves.  Second, he confirmed that as a result, we wouldn't need to get up to start work at the Von Damm site until 6am tomorrow instead of 4am.  (See – told you he was clever!).  Finally, it meant my cabin returned to being a sufficiently civilized place to return to this afternoon to get some extra work done.  For an hour or more I worked through a whole series of data I needed to digest for an annual report on a different project I have been working on studying the fate of radionuclides released into the ocean from the Fukushima nuclear power plant following the March 2011 Earthquake.  You might rightly ask how a specialist in hydrothermal systems ends up working on a project like that?  The answer involves a farmer in Pennsylvania and the Deep Water Horizon oil-spill but I'm not gonna get into that now.  Suffice to say that the report got written and then, because that collaboration includes my colleague Makio Honda at JAMSTEC in Japan who sets sail soon after the cruise ends, I was reminded that his friend Ken Takai is going to be arriving here on the Mid Cayman Rise half way through our cruise.  Where we will be using our deep-diving robot, Nereus, Ken and his team will be diving with one of the world's deepest diving human occupied vehicles, the Shinkai 6500.  Although our backgrounds are quite different we share a particular passion for hydrogen-rich hydrothermal systems so it will be great to see him from as close as our ships (or vehicles?) can get toward the end of June.  Even though we couldn't get onto the same ship as each other this trip, I'm sure it won't be long until we meet up again on land and get to compare notes on our expeditions.  And I did warn him today that I hope he has paid extra for good weather.   I was sure I had done the same and booked early but the weather for the next few days seems to be determined to be grotty and now I can't find out who I am meant to call to complain and I can't even find my receipt. Hmmm.
But tomorrow's always another day and, in this case, a very good one.  So I am going to close by wishing that someone will wish my Mum a Happy Birthday.  She doesn't do email and my cell-phone is out of range but there has to be a good chance that someone reading this blog will also know how to relay this message:
Happy Birthday from the High Seas, Mum.