Today has been a quiet day but we've been making steady progress.  The first CTD cast started at 4am and the last of the day will finish just before midnight.
Tomorrow we will start again at 04h00.  Working to that pattern we have managed to measure water column properties from top to bottom at three locations with the final station underway as I write: Max and I handed the watch back over to Ko-ichi and Eoghan (Oh-Gan, anyone?) at 8pm.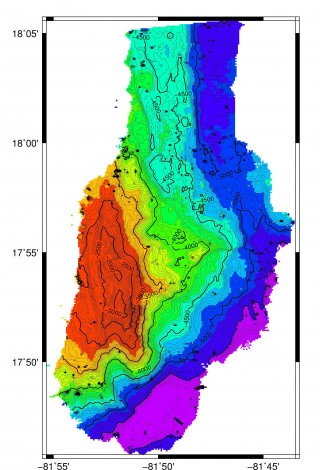 Travelling up and down through the water column takes time (at 60m/min it takes an hour each way just to get the instrument package down to the top of the depths we are interested in at 3600m let alone to study the water from there down to 5000m) and so we typically need 4 hours, including all the sampling and logging time it takes, from when we lower a CTD into the water until it is back on deck again.  Then comes the frenzy.  In less time than it takes the ship to reposition 5 miles away between our closely-spaced stations, we need to draw all the samples, keep track of what samples we have taken, prepare all the sampling bottles to go again and run a deck-test to clean and recalibrate all of our optical sensors.
Sean, Cody and Max who are on the day-time watch with me have been perfecting their pit-stop approach out on deck all day, while Leighton and I have been taking care of the data processing inside in the dry lab.  Indeed, I just realized that it is 10pm and I don't think I stepped outside and breathe in any fresh air throughout the whole 16h I have been awake today: what a waste of being out on the ocean!!!
Anyway, we have some downtime programmed between midnight and 4am for the overnight watch so Jill and Oh-gan are now inspired by Sean et al's heroics (having the CTD ready to go again with 42 minutes of arriving on deck) so they claim that they plan to spend the whole of that time sampling and resampling all 24 bottles on the rosette while it is stuck on deck until they can get their pit-crew times down to match the day-shift.  Little do they know that Max has a secret weapon – he has learned to update the cruise log using the wi-fi connectivity on his iPhone so he doesn't even have to come in from the deck to report when the team are "done!"  That must take at least 90 seconds off the official timing and scoring, according to the Olympic committee that we have been consulting with this afternoon.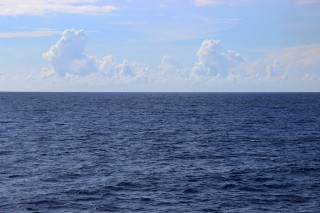 The other big thing that happened today is that we generated a new map with the data that we acquired overnight.  One of the Falkor's greatest claims to fame so far (remembering this is only its 2nd official Science cruise) is that it is very acoustically quiet meaning it has the capacity to make excellent maps.  What we're showing here is just a taster but reveals much more detail that our previous-generation maps of where we are working right now which, starting tomorrow, will help us select where to sample next in ever greater detail.