A very solid dive today but also a very short blog because it is premature to know what to write just yet.
We launched at 4am which was way earlier than my brain really wanted me to be awake. I hadn't got to bed until after midnight so the 3:15 alarm hurt – even triple caffeine delivery systems and a shower struggled to make much difference: Chris and I had to make three attempts to present our "What's in the basket today?" sequence during dive-time radio on the way to the seafloor.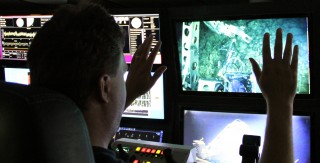 Although we got great samples today, a real struggle all along the way was that the manipulator arm was struggling to work right.  We saw that right from the start at our first sampling site for Cindy and Julie and, while I was really pleased in how well we were able to navigate Nereus to a completely new site that we had only observed with Jason in 2012, our sampling at that location continued through the remainder of the dive until we reached a point where we just had to stop operations.  By that time, we had first collected two sets of 138°C vent-fluids for Jill's thesis work after a struggle (Casey and Chris managing one sample each) but when it came time for Julie's samples, Chris found her sampler just shook loose from the manipulator's grip but, quite by chance, landed right in the vent and then continued to sample 141°C fluids (the hottest yet in the southern Von Damm field) for 30 minutes – but only because we were no longer trying to hold the sampler from anything connected to the ROV.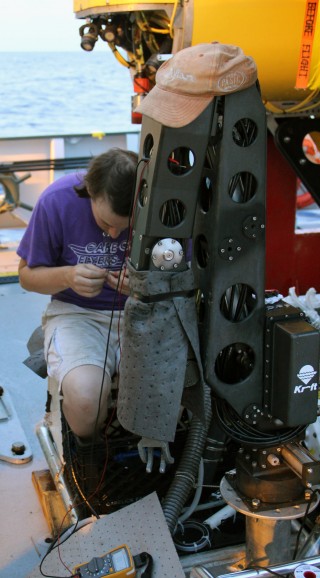 Right after that, things got worse – during shrimp sampling at the same locale, we realized that things were becoming so unreliable that we should not continue and, instead, stow the sampler before we had collected all the shrimp Max wants.  All is not yet lost.  We do not yet have all the samples we want from Von Damm but we have a good stash, including a lot that we got tomorrow and we still have at least one more dive at Von Damm on the books – and that is coming up tomorrow. By the time Nereus came on deck around 6pm tonight (an hour earlier than necessary – we had run our batteries into the ground as well) there were two diagnosed faults with the manipulator. At the time of writing, 3h later, one of those problems has been resolved. Getting to grips with the other is on-going. We are hoping/planning/aiming for a 6am launch tomorrow to get all our remaining Von Damm objectives met – but let's see what comes, overnight…