A busy day today but also a strange one.  I was woken just after 5am by a feeling in my bones – quite literally, actually: the ship's motion had suddenly changed which brought me alert and, in a matter of seconds I realized why: we must have finished the 2nd CTD station at Piccard – which was due to end between 5 and 6am.  Now, the ship would be moving off for about 2-2.5 hours heading back to Mt Dent and the repeat run of our Nereus engineering dive.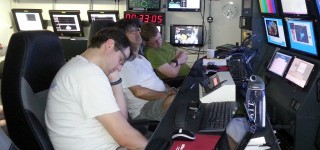 As a good Chief Scientist, I was naturally keen to know how the cast had gone which, on a normal ship, would mean leaping from my bunk and heading down to the labs to catch up on what I had missed while I was sleeping.  But the Falkor is an interesting exception to the norm.  With a web-based logging system for the cruise and wi-fi throughout the ship, it turned out that I could simply pick up my iPad, connect to the relevant IP address and read Jill's entry saying that the CTD was secure on deck and then scroll back through the preceding 6 hours since the last cast ended to learn that although the night-watch's team had lowered the CTD to exactly the same place that Meg and I had sampled earlier, they hadn't seen any plume signals at all.  Like Mary Poppins, it seems, the wind had changed direction down at the seafloor and blown the plume away.  I could only imagine the disappointment of the CTD team but, reading that they had not taken any water samples from such a disappointing cast, I already knew that they would have headed off to bed already.  Seizing the opportunity, I bravely pushed my alarm clock back from 5:30am to 6:30am and fell back asleep.
Once on station, the Nereus team completed all their pre-dive checklist for today's repeat engineering dive and then it was time to slip Nereus off its line and track it acoustically all the way down to the seabed.  While that was all proceeding according to plan, pretty much, I was beginning to plan for the next few days of research.  Rather than spend any more time sampling known vent-sites just now, our priority as soon as Nereus comes back is to head south to the southern limits of the Mid Cayman Rise to follow up on hydrothermal plume signals we detected in 2009 and which we have never since had the liberty to follow up on and keep exploring.  While I have been back on 2 subsequent cruises, in 2011 and 2012, the impetus for those programs was to dive to the sites we had already located.  Now we get back to unfinished business.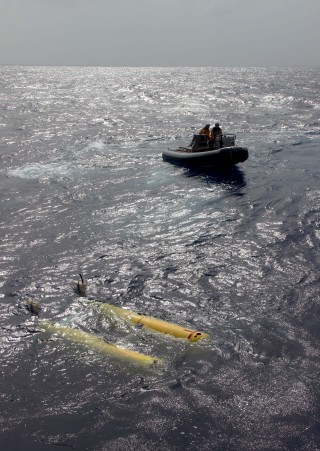 At the end of the afternoon, Nereus was back at the ocean surface and the Captain had us try a different mode of recovery in which we send out one of the Falkor's small boats to attach the recovery line to the vehicle.  Just like off Florida using out other method, we can't pretend we got today's approach right first time either but we do now have 2 different options for getting Nereus back on ship which we can employ according to differing circumstances  – e.g. in daylight or not, in differing weather conditions.  We also had what looked like a minor mishap getting Nereus back on deck but which I learned from Casey, later, could easily have been much more serious in terms of potential damage to Nereus.  We rather dodged a bullet there, it seems so it will probably be no bad thing that we give the Nereus team and the Captain a break from that stuff for the next 2 days.  Tonight we are heading south making fresh maps of the underlying seafloor, using the ship's sonars and then at 4am tomorrow we start a routine of round-the-clock CTD deployments, searching for new hydrothermal plume signals.
I'm afraid the work is going to get rather monotonous for the next day or two – both for us on the ship and for you following along on-line.  But sometimes you do just have to put in the hours to make big discoveries or, as Forrest Gump might say: exploration is like a box of chocolates – you never know what you're gonna get.
Come back tomorrow – we're here all week ☺