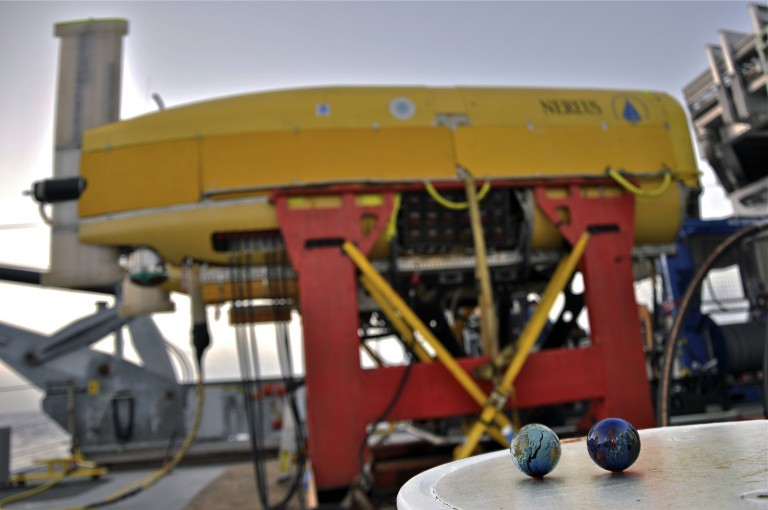 Getting close to the end now and not a moment too soon, apparently – because today I completely lost my marbles.
Let me explain.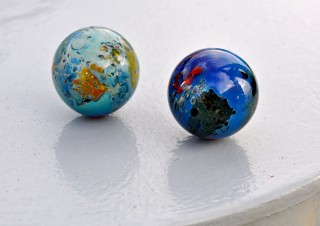 Last July, Cindy and I – together with our friend and colleague Dana "Gramps" Yoerger – found ourselves leading an exploration of the US continental margin east of the Carolinas without leaving dry land.  That may already sound bonkers but the key to this was the joy of Telepresence.  In concert with NOAA's Ocean Exploration program Cindy and I were directing operations from the Inner Space Center at the University of Rhode Island's Narragansett campus while our WHOI colleagues who run Sentry, together with shipboard science lead Laura Brothers of the US Geological Survey at Woods Hole were at sea aboard the NOAA Ship Okeanos Explorer.
Where am I going with this?  Well, with few exceptions (see our earlier blog) it isn't often that an artist just drops in to visit you when you are in the middle of a deep sea exploration project.  But that IS what also happened last Summer when, one Sunday afternoon, Josh Simpson – a Massachusetts artist who has won awards for his appreciation of, and the inspiration he draws from, the natural environment, togheter with his wife Cady who, as a NASA astronaut, has had her own privileged perspective from which to consider Earth and Space.  (See our World Oceans Day blog from 3 weeks back for another such perspective).
Anyway, in our discussions that afternoon, Josh mentioned that one of his long-term interests has been something he has been running since the mid 1970's called The Infinity Project.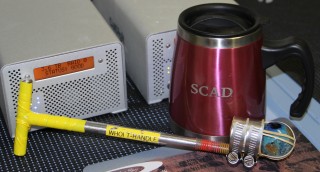 In a nutshell, Josh creates small and unique glass "planets" about the size of a toy marble that he likes to have hidden in remote corners of the world.  Since the start of the new Century, Josh has managed to recruit the help of others to the point that more than 1700 of his creations have now been put out in remote corners of the world.  To apply to join the program, all you have to do is write to Josh explaining where you want to take one of his marble-sized planets and put it.  If he likes the idea, he sends you the marble and all he asks in exchange is a photograph for his web-site.
So earlier this year, I re-discovered the business card Josh gave me that Sunday afternoon last July and wrote him a nice e-mail.  Within days I got an equally nice email back telling me there was a package in the post and that included two planets that I brought out to sea with me on this voyage – one pale blue and one dark blue that I intended for us to deploy, one each at the Von Damm field and at the Piccard field.  Since they are made of glass – i.e. silicate minerals – I had no qualms that I would be impacting the environment in doing this: silicate minerals are what the whole ocean floor is made of.  But by putting these mini-planets out in locations where we already had science markers, we also knew that where we put these objects would be places that other scientists will come back to, and be able to appreciate them for – who knows?  Perhaps generations to come.  If sediment accumulates at 0.5cm per thousand years in these areas then, unless they get engulfed in a hydrothermal chimney or a volcanic eruption, they may still be visible 2000 years from now.  Suspect I won't be around to test that prediction in full.
On Wednesday this week we put the first of the two planets out at the Von Damm vent site at a special location for me, near where our marker X-18 was deployed in January 2012 and where, the preceding Summer, I had first seen hydrothermal tube-worms and rimicaris shrimp coexisting in the same location: a very pretty setting.
Then, today (Friday) we went one stage further and, using Casey's patented Inter-Planetary Delivery System (Not Planet Express – that's Futurama) we placed the deeper blue planet at our deeper hydrothermal field set off perfectly against the red-orange hues of the Hot Chimlet hydrothermal field, in amongst (and no more than approximately 50cm from) their active fluid flow sites.  Within moments the deep blue ball at the bottom of the ocean had been visited by and claimed as the property of some inquisitive Rimicaris shrimp.
We went on and did a whole bunch of great sampling and imaging all over the north face of the Beebe Vents mound later on that same day but I don't recall that quite so clearly.  Perhaps because, by then, as I said at the top, I had completely lost my marbles.