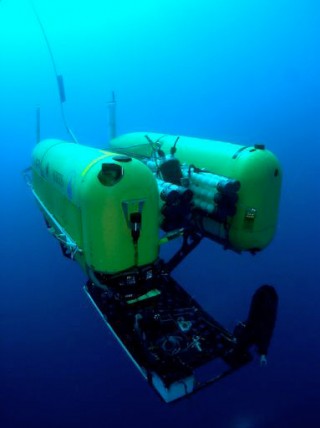 Today's out last day with the AUV and we have a cunning plan to end our exploration days with.  Up at 3:15 to watch the 4:00 am launch.
03h30: Call to Bridge to confirm 30 minute "countdown" to launch.
03h45: 15 minutes out and all systems are on track
03h56: All clear on Bridge, Deck and Nereus Control lab
03h57: Start swinging Nereus out over water
04h00: Nereus' descent weight dislodged – we need to recover and go again.
04h19: Nereus lifted back out over the ocean
04h22: Nereus in the water and on the way to the seafloor
05h55: Nereus on bottom and transiting to start of survey area.
06h28: Nereus on first block of 50m-spaced survey lines, 40m off bottom.
07h45: Watch change, Eoghan (Aragorn?) to Chris: no anomalies yet.
08h30: Ko-ichi takes over Eh watch.
09h30: Back to Chris for Eh scrutiny, batteries burning energy  at 10%/hour.
09h56: End of first survey block, nothing to see here.
09h58: Down to 51% battery, we need to move to deep surveys at 35% battery.
10h34: Eureka?  Small but real drop in Eh at east end of survey line.
10h39: Max takes over watch, Eh less strong on reciprocal line.
11h30: Batteries at 35% = decision time.  Move to jump mission program ahead to conduct final 2 phases of study (25m off close spaced lines then 10m-spaced photo surveys) centered on strongest Eh hit seen at 10h34.
12h09: Chip takes over watch, time to send blog ashore as Nereus closes in…