Haz click aquí para blog en español
Hello all – this is my first trip on the R/V Falkor!

 

I am thrilled to finally sail on this lovely ship, after having watched its expeditions for years online, and having sent some members of my lab out on a Falkor cruise last fall.

 
Everything here seems to be state-of the art and high tech, from the kitchen amenities (a cappuccino machine and sparkling water), elaborate safety gear (life jackets with spray shields!), to the beautiful Remotely Operated Vehicle (ROV) SuBastian, and high resolution, shipboard mapping equipment. This makes sense – part of the Schmidt Ocean Institute mission is to promote technology advancement in science. I was also impressed by the lovely marine artwork, both paintings and photographs, that line the halls of this vessel – it is truly extraordinary.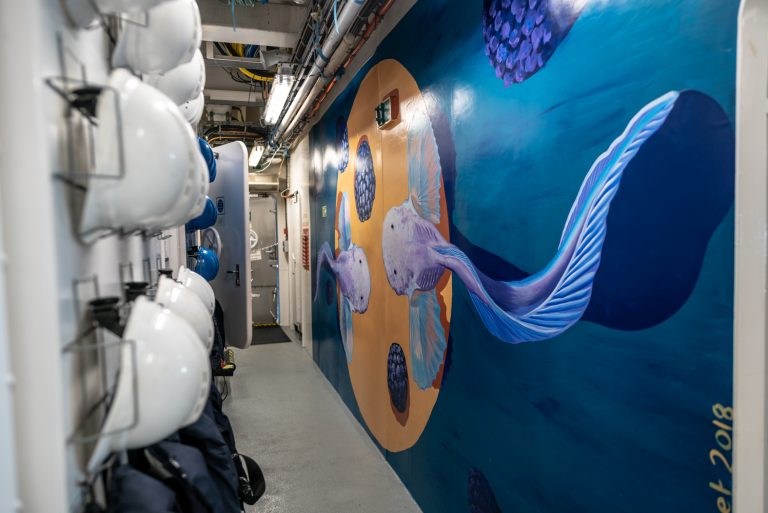 Team Work
Although I am a Falkor newbie, this is not my first trip to Costa Rica. This expedition will be my 5th deep-sea cruise off Costa Rica since 2009; the others were courtesy of the National Science Foundation, and today we are building on this earlier research. I actually wrote this blog before we sailed, but already the complexity of our work had emerged. Led by chief scientist Erik Cordes, we have five different lab groups participating (Temple University, Scripps Institution of Oceanography, Cal Tech, Univ. Rhode Island, and Univ. Costa Rica). With only two people onboard from each institution, we have to plan carefully and be efficient in our use of time and space. Yesterday ten of us struggled to unpack the contents of 20+ gear boxes with materials for a myriad of projects into the ship's 10' x 12' wet lab. What looked initially like chaos has been transformed into a remarkably orderly workspace, although this is certainly the calm before the storm. We held a three-hour science meeting this morning in the ship's library to talk over our research goals, dive sites, sampling priorities, data recording and data management, and how to coordinate all of these.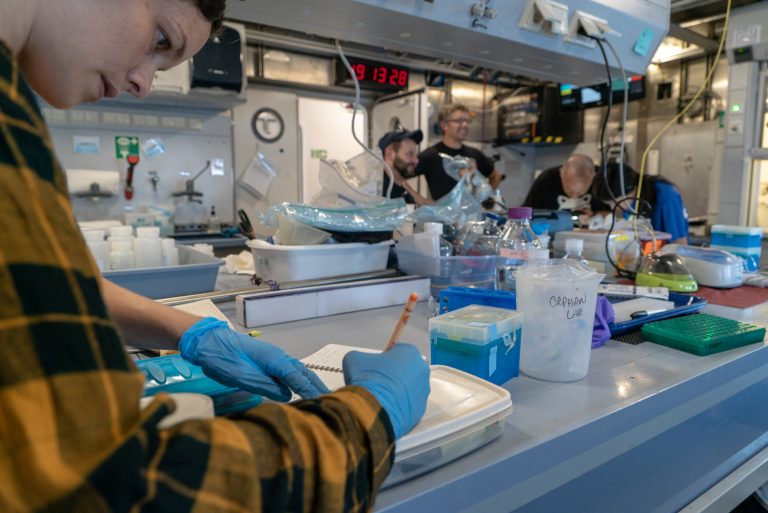 The Work at Hand
My group, consisting of me and Oliver Ashford, will be studying the distributions and diets of macro-invertebrates and large foraminifera associated with methane seepage and changing seamount environments. We will be recovering carbonate rocks deployed last Fall at active methane seeps to study short-term colonization rates and compare these to previously conducted 10-month, 17-month, and 7-year colonization experiments carried out the Costa Rica seeps. We will also investigate invertebrates in sediments along seepage gradients and on seamounts, particularly those associated with giant single-celled foraminifera called xenophyophores. We will work with representatives of the Orphan Lab to understand animal-xenophyophore- microbial interactions (ie can they fix carbon or carry out other unexpected biogeochemical reactions and pass this on to animals). We will work with the Rouse and Cordes Labs to integrate our distribution data with biogeography and evolution of the macrofauna and the larger animals (megafauna), and with the Roman Lab to understand the influence of overlying hydrography (especially low oxygen) on animal distributions. Many of the observations we hope to make of seep and seamount life offshore of Costa Rica will both contribute to fundamental understanding of the region's biodiversity, and also help make the case for conservation of these areas.