Although this is a scientific research cruise, I am not a scientist:
I am an artist and illustrator usually based in Edinburgh, Scotland. I am interested in how drawing and printmaking can be used to bring together wide-ranging layers of information, ideas, and narratives to make intricate artworks that give a wide view on a subject, while still revealing the intricate details. In particular, I am interested in working in this way to explore the natural world and the many different ways in which humans try to make sense of it; from the scientific, to the cultural, personal and historical. In the past this has involved making work based around everything from the knowledge and specimens found in Northern European Forests to the movement of the Chinook Winds, to the history and geology of uninhabited Scottish Islands.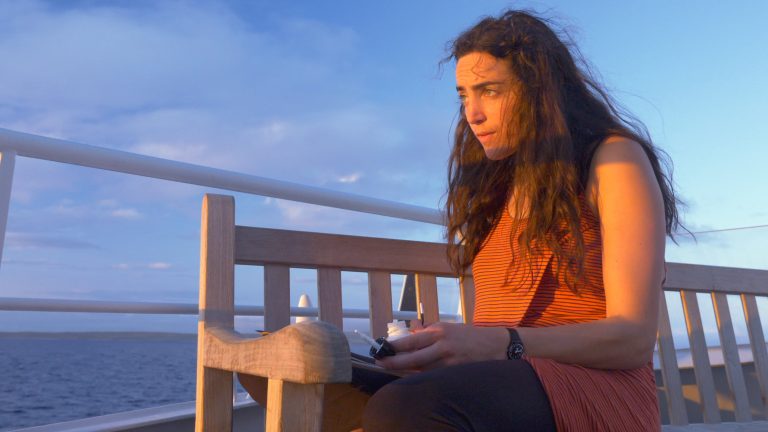 As Artist-at-Sea on the "Unraveling Ancient Sea Level Secrets" cruise, I am looking forward to working with people on board to find new ways to visualise and communicate the overall concepts behind the research being carried out. This includes its wider relevance in the world, as well as the layers of process by which information is gathered and this understanding gained.
To do so, I plan to learn as much as possible about the way that data is collected by the various types of technology being used on the cruise by talking with all involved, keeping a close eye on activity around the ship, and observing the data coming in. Throughout, I aim to build enough of an understanding to find a way to bring these different levels of information together by gathering imagery, developing drawings, and planning for further animations.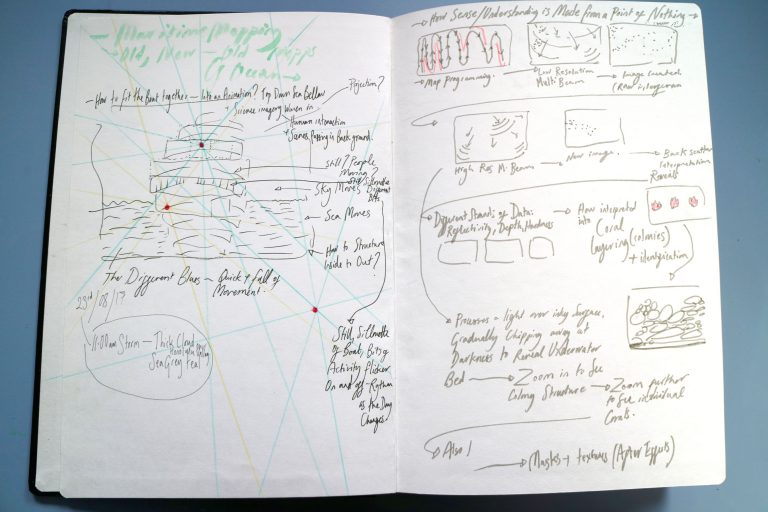 Means and Methods
Currently, I would like to develop 'still' diagrammatic drawings that can be mosaicked together into large-scale screen prints, reflecting the way that these different types of information are layered together and interpreted. This will allow audiences to get a sense of the process of moving from a wide, 'low resolution' macroscopic scale to a very detailed scale, and the processing on data needed to reach this.
I would also like to use the understanding and imagery that I collect to create animations that represent the active processes used in the research. This includes visualizing a wide range of concepts, from the route of the Multi Beam Gondola to the sea level rise's stunting affect on coral growth. To maximize my time aboard ship I will make these on return, as a consolidation of what I have gathered through my time on the cruise.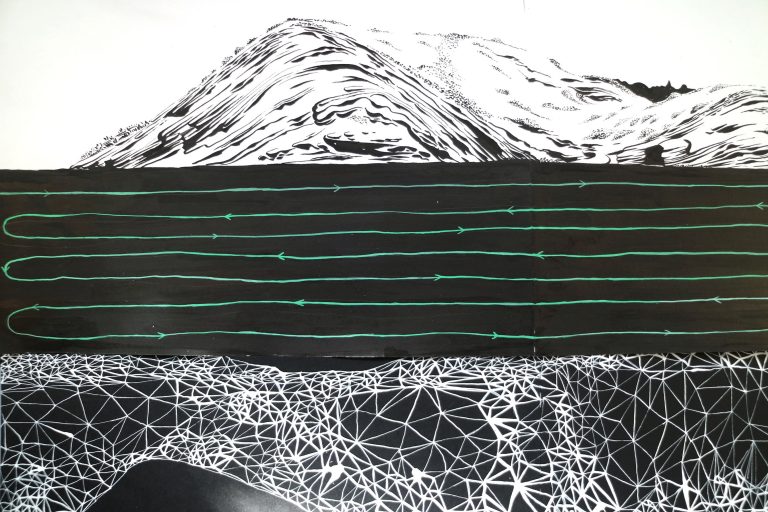 Ideas Taking Form
By presenting the detail within the research – and the insight that it can give to the wider world – I hope my artwork will be received in a way that enables a wider understanding of this research for persons without a specific background knowledge of the oceanography. At the same time, I would like to make something that provides a fresh perspective to those involved in the research.
Currently the main questions in my mind are: How can I create artwork that offers something else to the already visually interesting images created through the Multi-Beam mapping and AUV photography? How do I begin to lay out and tell the story of the many different ways in which data is being captured here while also giving a human element to the story? Time and experience here on R/V Falkor will be key to resolving these questions, as artistic process and scientific operations meet.