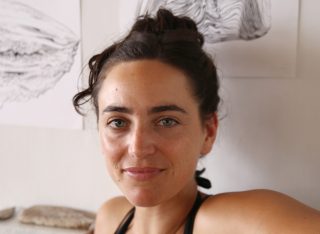 Natasha Russell is an artist and illustrator based in Edinburgh, Scotland. Since graduating from Edinburgh College of Art in 2013 with a Ba Hons in Painting she has worked on various projects, commissions and residencies while also working as a printmaking technician and teacher.
Her work uses drawing, printmaking and installation to explore the world around us and the methods that humans use to make sense of it. The ocean, and the macro and microscopic structures and the processes within it have long played a key part in projects and subjects that she has worked on. Natasha is particularly interested in working in collaboration to use art to communicate complex, abstract or ideas that aren't always presented in a visual way.
Through weaving together wide ranges of information and narratives into her work, from folklores and myths to microscopic structures and meteorological maps she hopes to create unusual links between forms and ideas that can be looked at on various levels by a wide range of people.
Cruises: