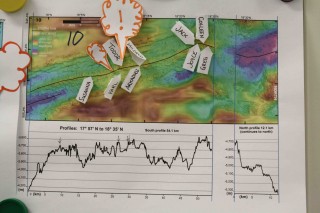 Options are narrowing and a winner may be in sight
You might be wondering how our Hydrothermal Hunt is going – and perhaps more importantly – you might be wondering how you are doing in our betting pool. (You have made a guess as to where we'll find the biggest hydrothermal plume, right?)
A recap: this expedition is exploring the Mariana Back-Arc, looking for new hydrothermal vent sites between 12.5°-18.5°N latitude, a distance of about 600 km. We have divided that part of the back-arc into 10 segments, numbered from 1-10 from south to north. Several vent sites were already known on Segment 1, the southern half of Segment 2, and on Segment 10 (white dots on the map), but the area in between (segments 3-9) was "terra incognita."
Hits and Misses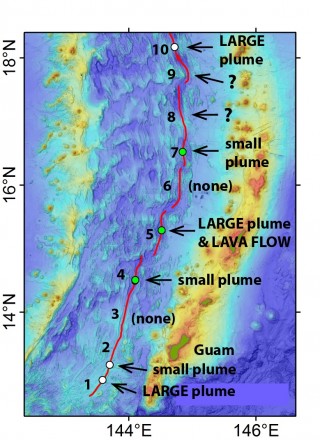 We have used a combination of CTD tow-yos and Sentry AUV dives to conduct our search for hydrothermal vents. We started the cruise by towing over some previously known vents on Segment 1 (Snail vent and others), to confirm that all our sensors were working. Sure enough there were large plumes detected there. Our search continued at the northern end of Segment 2 and continued into Segment 3, but I'm sorry to report that if you put your bet on those segments you are out of luck. We found no evidence that those segments are hydrothermally active.  As we continued north, we found our first hydrothermal "hit" on Segment 4, where we found a small plume. Next up was Segment 5, and that was pretty exciting because we not only found large plumes, we also discovered that there had been a very recent eruption on the seafloor on that segment. Things were looking pretty good for those who had bet on Segment 5 (like me!), when Segment 6 was found to have no plumes and Segment 7 was only found to have a small one.  But alas, it was too early to start celebrating for Segment 5 fans.
The largest plume so far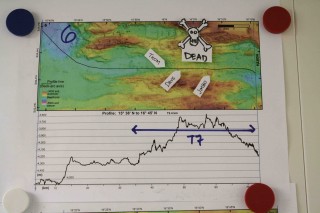 Due to an ominous weather forecast, we then decided to temporarily skip Segments 8 & 9 so that we could survey Segment 10 before the weather turned worse. There we measured our largest plume signals yet when our CTD hovered briefly apparently nearly right over a vent on the seafloor. The Segment 10 "investors" on board were suddenly euphoric, like their favorite sports team had just won the game by coming from behind at the last minute, while the Segment 5 fans (me) were crushed and demoralized, let down again after a short-lived dream of glory! But Segment 10 fans better not get too cocky – after all, we have two more segments yet to survey (Segments 8 & 9) and they could be de-throned just as unceremoniously as I was.
Overall, our Hydrothermal Hunt has been very successful so far. We have explored 8 of the 10 back-arc segments, and we've found that 6 of those segments are hydrothermally active. And we've got 2 more segments to explore, so there could be more. What surprises might those segments have for us? Keep following to find out!