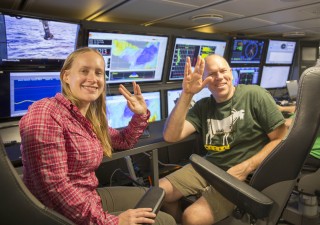 I wake up disoriented, not remembering where I am. I sit up and bang my head against the bunk above me. Oh, right, I'm on the Research Vessel Falkor in the Mariana Back-Arc (western Pacific).
I stumble-walk across my cabin as the whole room is swaying side to side with the motion of the sea, which seems to be pretty rough today. My first adventure: taking a shower. It might not sound like that thrilling of an adventure, but managing to stay upright while the ship tries to launch me out of the shower can only be accomplished by grasping on to a conveniently located handle. I have this down to an artform, like an elegant dance between me and the shower curtain.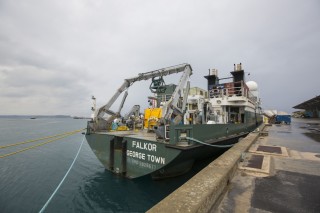 Shower-adventure over, I finish my morning routine and zig-zag down the hall towards the back deck (luckily there are rails lining the halls to keep me upright), and then I climb up to the upper deck to enjoy the warm breeze and the view of endless ocean. A hammock invites me to climb in, but I soon realize that the motion of the hammock with the motion of the ship is not a pleasant combination. Feeling slightly green, I elect to relax instead on the sturdiest lounge chair I can find.
The rumbling of my stomach informs me that it is now time for food so I head to the mess hall. I pass Greg, our Polish chef in the hallway, and his wide grin informs me that today's meal will be extra spectacular. It is indeed – schnitzel, roast veggies, potatoes and gravy, salad… and several more options for meat lovers and vegetarians alike. That sounds like a weird breakfast, you say… I should mention that I'm on the Night Watch (kinda like Jon Snow with less ice) from 8 pm to 8 am. A few crew members find me after the meal and place their wagers on our "plume pool," and assure me that the spot that they pick will be the one with the biggest hydrothermal plume. I hope they're right.
The Workday Begins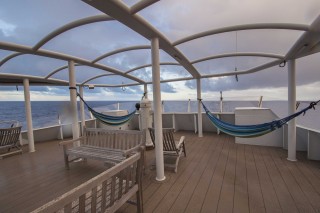 Hearty breakfast eaten, it's now time for work. I stumble-walk my way to the science control room, and take my seat in one of the big important-looking chairs. I feel like I'm in Star Trek, only our final frontier is at the depths of the ocean. Tonight's task is a long Conductivity-Temperature-Depth (CTD) tow-yo to find sites of hydrothermal venting. We launch the CTD and drag it behind the ship close to the seafloor in a yo-yo pattern as the ship slowly steams forward to detect hydrothermal plumes in the water column. My job is to help navigate the CTD so that we know where it is at all times and to make sure it doesn't crash into the seafloor, a rather important part of making sure we can continue our hydrothermal hunt for the next few weeks. I'm joined by the dynamic duo of Sharon and Susan, two of the funniest scientists who I've ever had the pleasure of working with. Sharon is the plume-specialist, and basically tells me what to do. Susan is responsible for processing the bathymetry we collect during the cruise and she's always happy to show me her workflow. Together we look at all of the weird and wonderful geological features we're mapping on the seafloor, and interesting discussions follow. We are also joined by marine technicians Jimbo (and later John), who operates the winch and puts up with our off-beat sense of humor all night long.
Collecting CTD data is a test of patience, with long periods of nothingness punctuated by intense excitement when we get a blip on our light scattering sensor (LSS) or oxidation-reduction potential (ORP) sensors. Regardless, the night goes by quickly in good company. Later on, Sharon and Susan are replaced by groggy, sleepy-eyed Ed and Bill, who just woke up to come on watch at 4 am. A couple coffees later, they become more responsive. Ed is the other half of the Sharon-Ed plume expert equation, and Bill is the resident volcanologist. I take advantage of having unlimited access to a real-life volcanologist (who can't run away from me because he's stuck on the ship with me), so I pepper him with questions that he answers with good humor and patience.
Winding Down
6 am rolls around and it is time for dinner-breakfast (bacon for dinner is a great idea), a bit more tow-yo-ing, and finally my 12 hour watch is over. Post-watch I make my way to the library, a comfortable meeting place where a few others are already gathered. The conversation is on what movie is the most appropriate to watch while we're at sea – Moby Dick, the Poseidon Adventure, or the Perfect Storm. We finally agree on Pitch Perfect.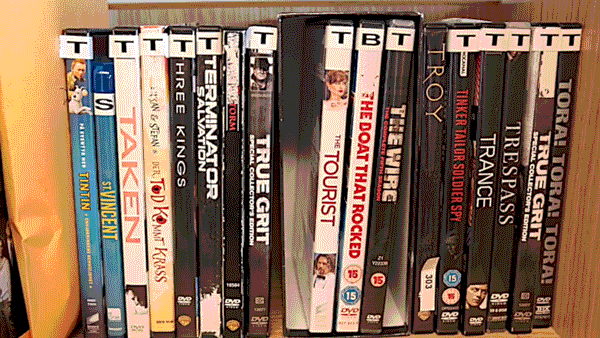 With popular music from the movie now stuck in my head, I can barely keep my eyes open. My bunk welcomes me with open arms and I am rocked peacefully to sleep by the waves.