After successfully avoiding the typhoon, we begin the trip back to port to complete the rest of our loading. The return leg is a good opportunity to further test the on-board instruments whilst near the relative shelter of Guam.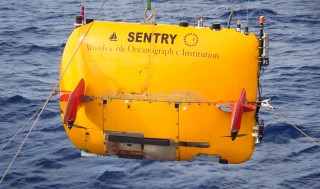 We escalate from simpler surface tests to deep dives, then on to sampling. This ensures we can catch any problems at the earliest possible point. From arrival we only spend 8 hours in port, picking up the last of our equipment, including the second CTD device. I get excited to see our great chefs, Greg and Arek, collect some extra food supplies, including nine bonus watermelons. There is concern amongst the team that being stationary for too long could force us into a second period of seasickness adjustment. Absolutely no one is in the mood for that. When I was green-faced and slumped over the starboard side on day one, I never thought I'd be so keen to be moving! Before we know it we set sail, and we won't touch land again for 27 days.
Go Deep and Come Home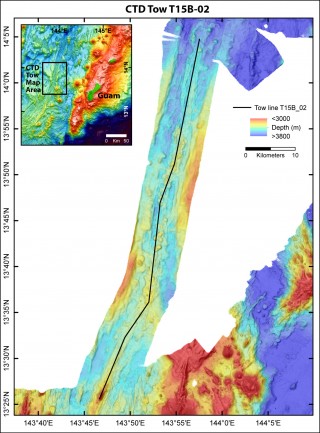 Sentry is the glistening bright yellow, deep-diving, autonomous underwater vehicle that rests on the back (or aft) deck. The crew practices launching and recovering it for a dive test. It's amazing to think that this vehicle can go 6,000 m deep. If it were going that distance skyward it would reach up past Everest Base Camp, where even helicopters struggle to operate. As soon as this highly specialized robot hits the water and starts cruising, it comes to life like someone who just arrived on holiday, diving head first into the pool and looking right at home. This sentient quality is somewhat driven by its ability to move independently of the ship, albeit following a very carefully pre-planned course. Unlike our other instruments – the CTD's – which are connected to the ship by cables and towed, the autonomous Sentry is untethered. You arrange to meet back at the surface at a certain time, and wait like nervous parents hoping your kid comes back safe before curfew.
Fortunately, whilst Sentry is still relatively young, it is more reliable about coming home on time than a rebellious teen. We get word that Sentry has come back the surface, and head up to the top deck looking for that bright yellow speck on the ocean horizon. The dark grey clouds of the storm have long gone, and the clear skies and deep blue sea offer such a striking contrast it is easy to spot. It's a 10-person operation to get it back on deck safely. The way the A-frame competes with the movement of the boat and the rhythmic blasts of waves makes me nervous, but no one else seems concerned, the crew are so well drilled that it's over quickly with no fuss. I make a note to take these guys to the arcade when back in Guam. They would dominate at those clawed toy-grabbing machines.
Into the Unknown
With the dry runs over, we are heading to our first unknown site on the map tonight. The first surveys will take over a day to complete and we are hoping to spot some hydrothermal activity. The team will work shifts through the night watching the monitors, hunting for anomalies, and firing off samples at areas of interest all whilst checking that everything is running smoothly.
By tomorrow, we will have mapped a place that no one else has been to before – will we find the first new hydrothermal sites we are looking for? Join us on #hydrothermalhunt to find out.