Running late, I leapt toward the vessel with my bags to join the team out front. It had been a manic week of packing and paperwork, and to finally be here at the bridge of my next journey was relieving. Schmidt Ocean Institute's research vessel, fondly called
Falkor
, is my home for the next 20 days while at sea. With two feet on the earth, I look down. As someone who spends a lot of time exploring bushland spaces, the adventure I am to embark on will be an eye-opening exploration of old-growth forests in a new kind of environment.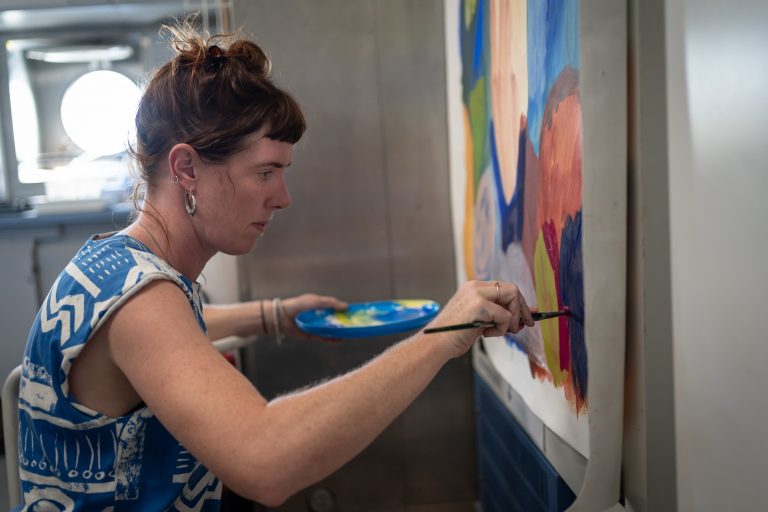 My name is Ellie Hannon, and I am a multidisciplinary artist traversing the fields of exhibition work, public art, and community engagement projects in my practice. I have ventured from my surrounds in Newcastle, where I work with my direct environment of messy eucalypt forests, booming grass tree fields, wildflower-covered heathlands, and rocky rivers to Darwin, where alongside crew and researchers, I will travel to Ashmore reef to learn and document the illusive Mesophotic Coral Ecosystems (MCEs) also known as "Twilight corals."
"Twilight Coral" captures the essence of what we are going to be researching on this trip—the deeper coral reefs that exist in cooler, darker waters. MCEs exist at depths of 50-100 m and are hypothesized to have significant ecological importance, including the potential to reseed shallow water corals under environmental stress. It is critical to research these species as shallow reef corals face a range of stressors, including a changing climate. Aboard this trip, the research team will use robotics and novel imaging technology to capture high-definition video. We will be using the ROV SuBastian to collect biological samples from corals and sponges.
I am an artist for the environment, a visual interpreter that creates experiential scenes that educate my audiences on certain themes, especially the ways in which human interaction with the environment shapes our personal and collective identities. During this time aboard Falkor working alongside scientists and partaking in the research of coral reef systems, my understanding of the ways in which I can become a more effective advocate and voice for environments that are at risk due to human impact is expanding. Beyond my experience as an individual in nature, I am extending my storytelling ability to the interpreter's role, working with more than human witnesses.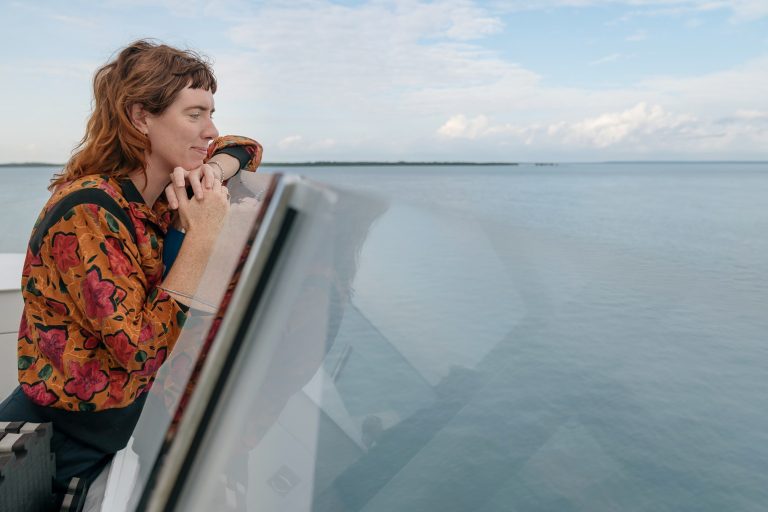 I document stories of our connections and the disconnect that occurs between humans and the natural environment. Here, I depict scenes that question the dissonance that has become commonly accepted. My works depict this through abstract landscapes, patchworked with painterly gestures. I work with vivid, restless colour combinations that dance and move across the page. I have packed a myriad of paints, canvas, paper, pigments, pastels, and brushes with me on this trip. The dynamics of these coral reef systems—their formations, colours, the way they grow around and support each other, their structures and how they move,  how they reproduce, what they feel like, and largely the role that the MCEs will play as nurseries for other threatened species of coral excite me, and I cannot wait to capture them.