Three days ago, we finally made it up to the far northern end of the Monument. Thanks to Captain Buchner's skill at interpreting sophisticated weather maps, our timing was perfect and we arrived to calm seas and great mapping conditions. To avoid fighting stormy conditions here, we paused for several days "mid-monument", and made good use of our time trying to solve something of a geological mystery, among other tasks.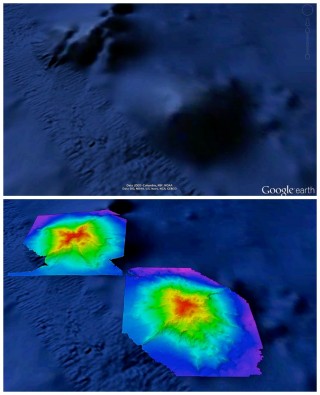 Our first stopping point was 935 kilometers northwest of Honolulu at Maro Reef. Though further north the storm raged, the seas around Maro were mild. We started by mapping east and northeast of this coral atoll, during which we briefly diverted to run a single swath through a large and very curious crater 3000 meters down.
Researchers have yet to explain this feature, which was first discovered on a 2002 cruise aboard the University of Hawaii at Manoa's R/V Kilo Moana led by John Smith and Joyce Miller. The strange thing about it is that it is unusually large (5 kilometers across and 900 meters deep), remarkably round with one side higher than the other, and it sits on top of a rift zone (volcanic fissure) ridge.  Although it's pretty unlikely, it really looks more like a meteorite impact crater than an undersea volcano, or at least that's what this biologist thinks.
We were able to collect the first gravity data ever for this site using the gravimeter. For now, all we can say is that these data didn't reveal any obvious structure beneath the crater that might be associated with a volcano. So how this unusual feature was formed remains an open question.
…the level of detail is simply the best we've ever seen.
Ridge Run
Our next target was a spot called Northampton Seamount where we ran another gravimeter line, then went on to map a very large ridge extending south from the summit all the way to the Monument's southern boundary. This ridge had been previously mapped but the data were very "noisy."
The area may be especially important because ridges like this tend to be home to very dense populations of corals and sponges, probably because food-carrying currents accelerate over their tops. To best support future research here we felt it was worth taking the time to redo the ridge to get better maps using Falkor's multibeam sonars. Both the crater and ridge gave us our first view of just how good this ship's systems really are—the level of detail is simply the best we've ever seen.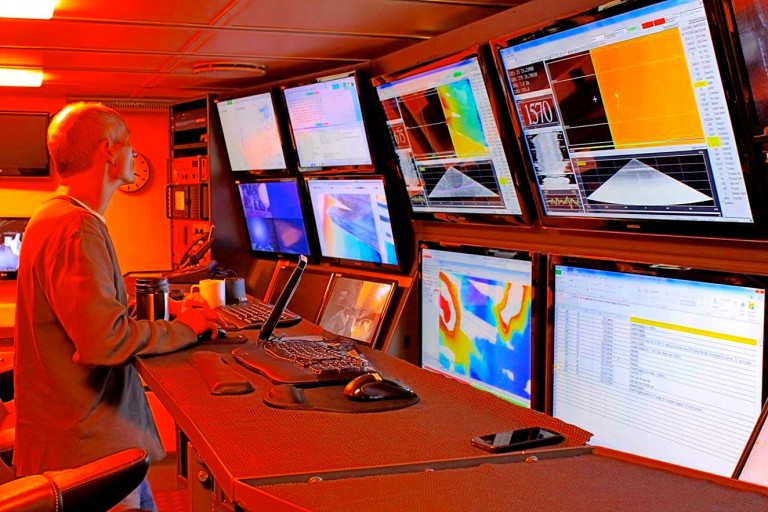 Surprising Terrain
When we did reach the northern end of the Monument, the seas had calmed down. We immediately began sonar work on five seamounts that were either completely or mostly unmapped. Two of these, Woollard and Wentworth Seamounts, were named after Hawaiian geologists. George Woollard was the first director of what is now the Hawaii Institute of Geophysics and Planetology, and Chester Wentworth studied Oahu's mountains, including the landmark Diamond Head, from the 1920s to the 1940s.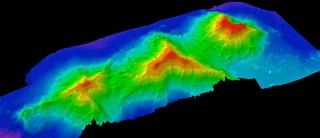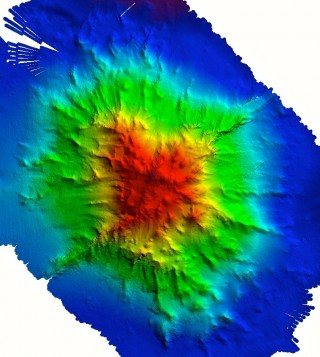 We had no idea what any of these five seamounts would actually look like and were scrambling to figure out how do deal with unexpected ridges and oddly shaped summits we found as they slowly revealed their secrets to us. The task took longer than planned because unexpected terrain is, for mapping purposes, also difficult terrain. Steep slopes reduce the width of the sonar swath and can mean having to change course or double back to avoid holes in the data.
Once we finished this evening, we got to sit back and stare at the beauty of these fascinating creations of nature. More than any other type of seafloor topography, seamounts capture our imagination, making us wonder how they formed and what types of strange creatures live on these mountains in the deep.
We're now mapping north of Kure Atoll in an area that we hope to finish by tomorrow, then it's on to Midway Atoll, more unmapped seamounts, and more incredible deepsea terrain.