Early Saturday morning Falkor entered the Papahānaumokuākea Marine National Monument (PMNM) with all systems up and running. Once we crossed that boundary, those of us who'd not visited the monument before were excited to see the tiny island of Nīhoa, which put us about 240 kilometers northwest of Kauai. This is one of the most important visible land masses in the monument because it has an abundance of archeological sites. It's also an important part of Hawaiian culture, with a human history going back at least 1,000 years and many heiau "shrines" found on the island.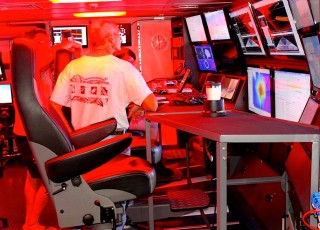 As a young scientist whose research has thus far focused on the geochemical analyses of rocks collected from such seamounts, the first sight of this island left me speechless. Of course, I got it over it, and was then inspired to express my excitement to anyone who would listen to my fervent geologic description of the Nīhoa volcano. The rocks I have from this volcano are unusually rich in a common mineral in Hawaiian basalts called olivine—so named for their olive green color. That unusual abundance of these olivine minerals, called "picrites," indicates that they formed and accumulated in a magma chamber before the lava erupted at the surface.
Checking Gravity
Before we even reached the monument, we were already working, including collecting data with the gravimeter, leaded from Woods Hole Oceanographic and temporarily installed on Falkor thanks to funding from the National Science Foundation. We purposely came here via the same route as a previous University of Hawaii at Manoa (UH) ship that also collected gravity measurements years ago.
Mimicking their path allowed us to compare our new measurements against theirs. Brian Boston and I, both graduate students in the Department of Geology and Geophysics at UH, processed and checked the data to confirm that our instrument is properly calibrated and collecting accurate data.  We are now ready to discover new information about the geological substructure of the monument's seafloor.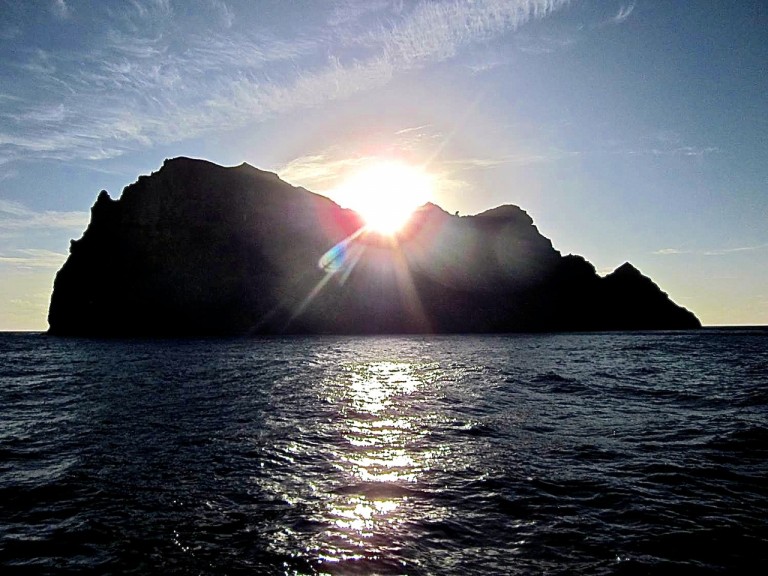 Looking Below and Above
Immediately after completing the gravimeter test, Falkor turned to the northwest and made its way toward the monument's boundary to begin the cruise's main task of using the sonar system to map the seafloor's bathymetry. At about 10:30 p.m. March 8th, we turned on the multibeam sonar systems and were granted our first look at the seafloor. In the control room where these data come in, our highly experienced mapping crew was busy with the laborious task of logging, editing, and processing the huge volume of data now flowing, which we will turn into colorful maps and make available for your viewing and exploration pleasure as soon as possible.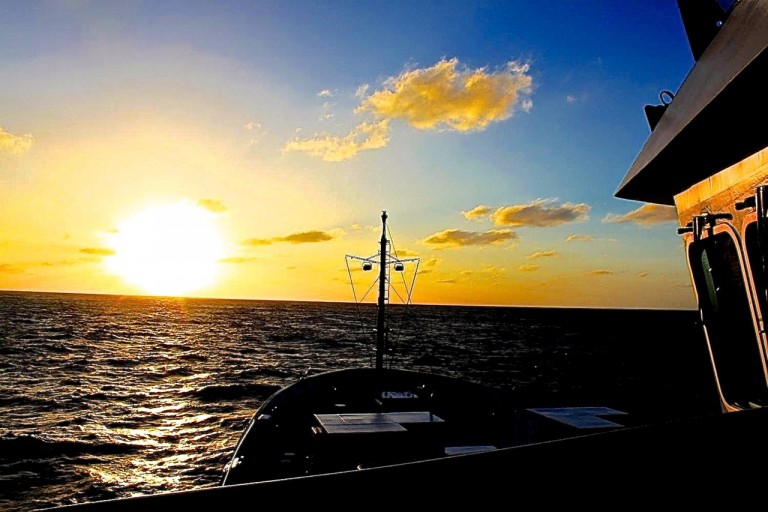 Meanwhile, on the highest observation deck (a.k.a. the Monkey Deck) above the ship's bridge, Dan Luers, our expert NOAA marine mammal observer, was training rotating members of our science team in how to keep a keen eye out for any marine mammal passersby and how to properly record sightings. We have already collected data on 2 individual humpback whales and a group of approximately 10 pilot whales.
We're only two days into our 36-day expedition, but things are already very busy and promise to stay that way. There's a lot of work ahead, but that should mean a lot of productivity as well.