Today was our second day mobilizing for a planned departure tomorrow morning. It'll take us about 12 hour running to reach the waters of the Papahānaumokuākea Marine National Monument in the Northwestern Hawaiian Islands.
Our work yesterday alternated between pre-cruise loading and preparations, and orientations by SOI staff designed to introduce the science team to the Falkor crew and familiarize us with the ship's interior spaces. Thankfully Verena Neher, the purser, showed the team one of the most important things we'll need to know about the ship: how to operate the coffee and espresso machines.

By the end of the day, the Falkor dry lab was filled to the brink with computer workstations for processing the multibeam sonar data that will be pouring in during most of the expedition. We've also installed a leased gravimeter, a remarkable instrument we'll talk more about in the coming days.
Later in the afternoon, we had an operations meeting during which we went over the cruise plan with the captain and chief mate. Finally the day ended with a meeting with SOI's co-founder, Wendy Schmidt, who had come aboard mid-afternoon for a brief visit. All in all, it was a productive first day.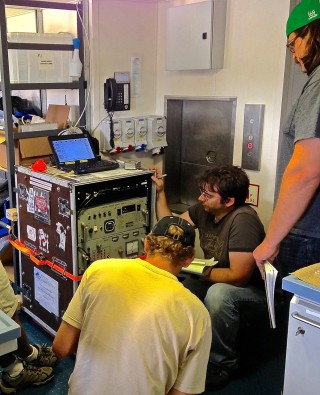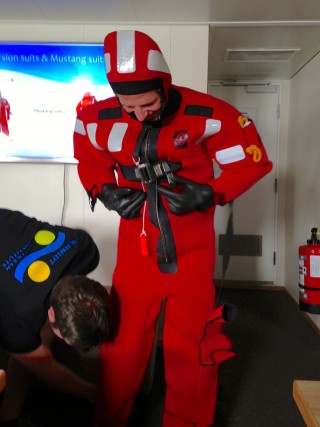 This morning we started stowing our personal belongings in the cabins that will be home for more than five weeks, and then it was on to a safety briefing and a safety drill. Daniel Wagner volunteered to put on the "survival suit" which I call the Gumby suit because that's what you look like when you wear one. Daniel is the first person I've ever known to actually look good in one of those things, but that's OK because they're not really about style, they're built to keep you alive if you find yourself in the water.
We continued getting computers hooked up to the network and making the final adjustments to the gravimeter. We head out at 8 am tomorrow morning, and after months of preparations for this cruise we all are ready and raring to go.