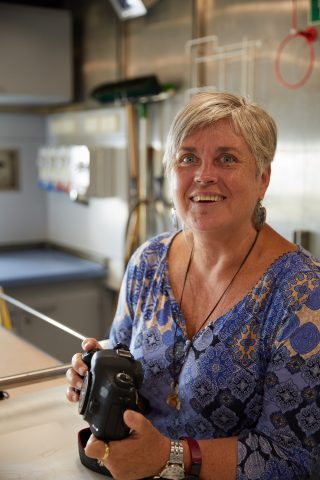 I am currently an Artist-at-Sea aboard Schmidt Ocean Institute's research vessel, Falkor. My path to this opportunity has been interesting. I first met the crew at their 'Welcome to Country' in Sydney at the end of 2019. However, my potential ship time was postponed by a family medical issue, followed by the COVID-19 outbreak globally, which shut so much of our lives down. Then, when I finally was able to join a cruise, the border closed just as I was about to board the plane from Sydney to Queensland. Needless to say, my journey to being a seafaring artist with the Schmidt Ocean Institute has been epic.
My art practice is quite varied, so knowing what to bring along to the unknown is always a challenge. I packed for all occasions—from a bit of relief printing, painting, and drawing to photography and sound. 
My largest project will use the energy of our journey to create a time-based drawing that will diarise my time on board Falkor. With the help of one of the marine technicians, Kaarel Rais, I rigged a suspended mechanical pencil above a 10-meter roll of Japanese Bamboo Sumi-e Paper that will be swinging and drawing the movement of the ship as we map the ocean floor. Every twelve hours, I move the paper along 17cm, so by the end of our travels, all 30 days will be depicted as time in motion.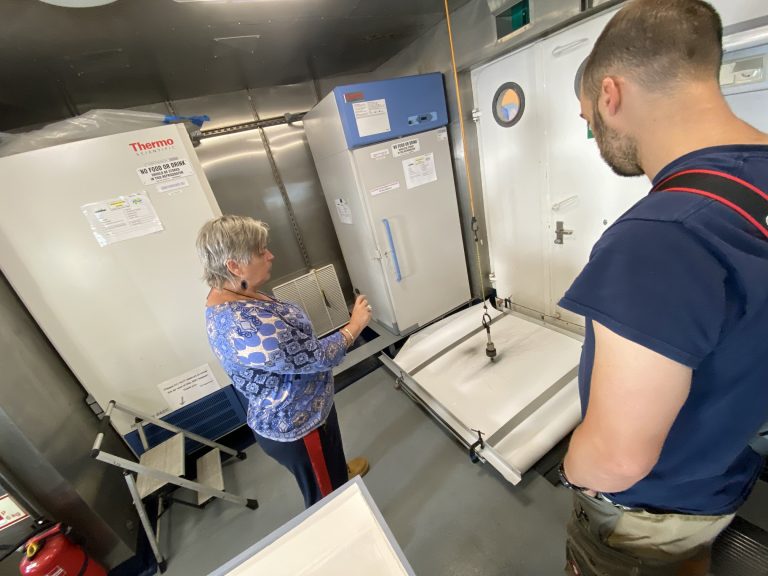 I will also be continuing a series of drawings that I had previously started on other ship expeditions, where I draw what is directly in front of the vessel each morning. My first day was fine. I got my drawing of the port in Brisbane, but once we were at sea, I realised that I would not see anything but the horizon each morning. In the spirit of true collaboration, John Fulmer and Alysha Johnson now help me collect a diagram of what we sail over during my usual drawing time (6-7 am), and I create an interpretive snapshot of the shape of the seafloor.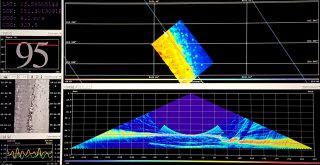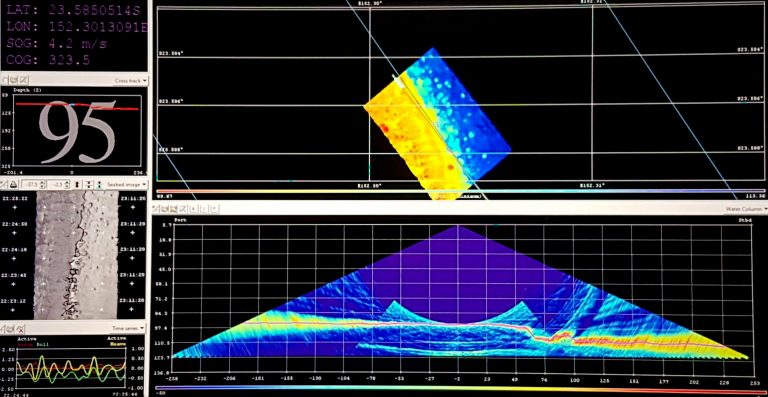 The working environment on board is excellent, and between the people, science, and views, I am inspired. I start the day with yoga on deck and then help watch for seabirds with Bianca Keys. I have also been trained so I can take shifts with the multibeam sonar. Everyone aboard the ship is invested in our collective successes, and we all pitch in to help wherever we can. 
Between eating the fantastic food and learning how a research vessel like the R/V Falkor works, I hope to use this experience in my art practice to expand my creative narrative. Through my time-based installations, photography, paintings, and drawings, I aspire to make science more accessible to the community at large.