As I stare out at the expanse of the blue ocean, not having seen land in over three weeks, I contemplate all that I have learned, experienced, and accomplished on the current "Seafloor to Seabirds" voyage aboard Schmidt Ocean Institute's R/V Falkor. My name is Bianca Keys, and I am currently in my final year in a bachelor's degree in Animal Ecology at the University of the Sunshine Coast. Having been passionate about seabirds for many years, I was ecstatic to be offered the opportunity as a volunteer scientist for Birdlife Australia, observing seabirds and marine mammals in their natural habitat.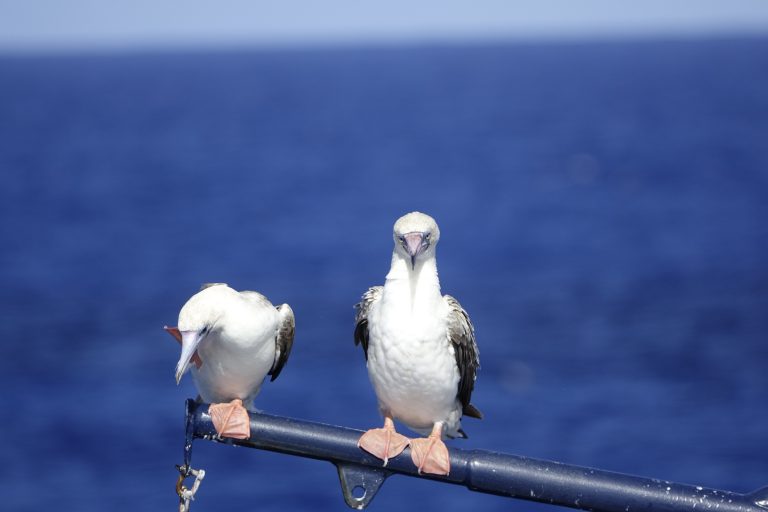 While I have previous surveying experience, this is my first voyage at sea. I am considered the bird "expert" onboard and have also been tasked with training the other fantastic students in observation protocols—all while learning them myself! Through our daily observations of the entertaining Red-Footed Boobies, Terns, and graceful gliding of the Wedge-tailed Shearwaters and Frigatebirds, we started to question how they cope in such a demanding lifestyle. Some questions I could answer, and others I could not. I decided to go down the proverbial rabbit hole to see what I could find.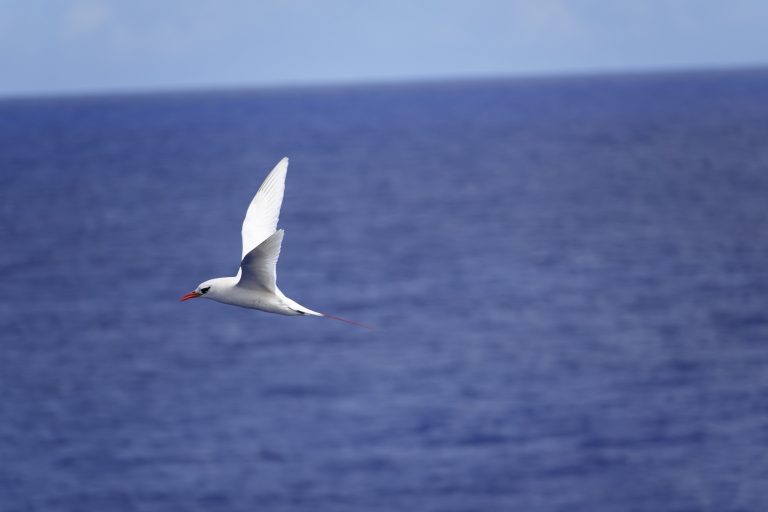 The sea can be perilous, vast, secluded, and unforgiving—even more so if you are a seabird. Despite this, many seabirds spend the majority of their lives in this harsh environment. Different species can go anywhere from a day to years without ever touching land. To survive, marine birds have evolved remarkable adaptations that enable them to thrive. One such adaptation is specialised nasal glands that help to excrete highly concentrated salty fluids from their bloodstream after the ingestion of seawater. Another adaptation that has often left me mesmerised is their graceful gliding flight. This ability is primarily due to high aspect ratios (wingspan relative to wing area) and high wing loading (wingspan relative to body weight), signifying that they have long, narrow wings with lighter body weights. It allows them to easily ride on air currents, elevating them far into the sky, or great agility to glide along the water's surface. I have often spotted a Great or Lesser Frigatebird far above, circling the ship without so much as one flap of its wings during my observations. Blink, and you'll miss it as it disappears—ever higher and out of sight.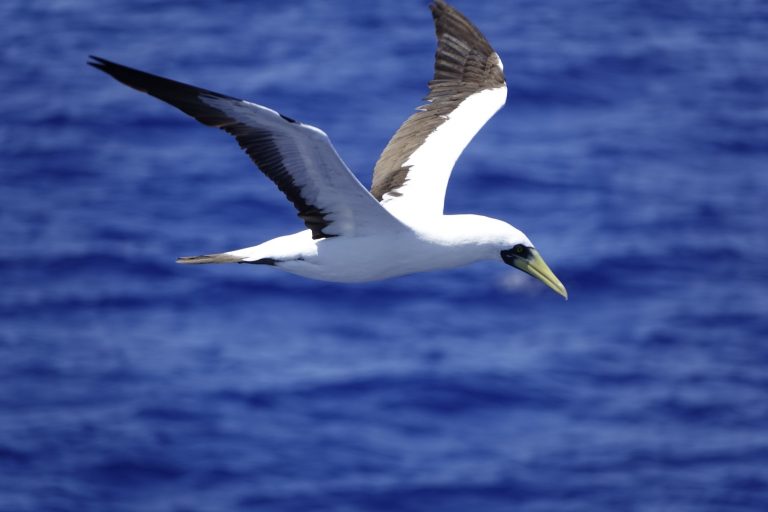 Incredible dives for flying fish by the Masked, Brown, and Red-footed Boobies are also regular occurrences. They display plunge dives at up to 24 m/s to capture their elusive prey (Chang et al., 2016). It is a wonderment that they escape without any injuries. But again, these marvellous creatures have developed solutions. A streamlined fusiform body shape is taken moments before entering the water, created by compressing their wings against their body. Their lack of external nostrils also protects them during high-impact dives. When you stop to look closely, you can appreciate how they have evolved to be perfectly suited to their environment.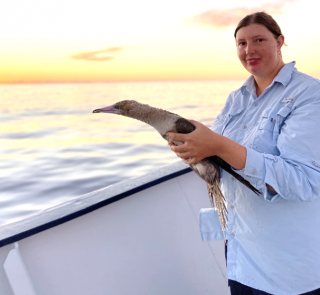 My journey will continue at the Institute for Marine and Antarctic Studies (IMAS) at the University of Tasmania when I commence my Honours degree in July, assessing microplastic ingestion in shorebirds, sediment samples, and prey species. The current voyage has allowed me to build on critical skills in identification and behaviour that I hope to utilise again. Having the experience to learn first-hand from such inspiring animals will last me a lifetime, and I look forward to the next encounters!