As ocean temperatures increase, a pressing global challenge in marine science is to better understand the distribution and characteristics of the critical habitats that support 
mesophotic and deep-water coral communities.
 Following the previous
Visioning the Coral Sea Marine Park expedition
, a similar team of scientists led by Drs. Brendan Brooke,
Geoscience Australia
, Robin Beaman,
James Cook University
, and Scott Nichol, Geoscience Australia, will return to this frontier region applying a suite of cutting-edge technologies to explore the remote canyons, platform reefs and seamounts of the Coral Sea and Great Barrier Reef Marine Parks. The goals of this expedition are to understand the biodiversity supported by these large-scale features and the role they may play as refuges for coral as well as other animal communities in a warming ocean. The science team on board R/V
Falkor
 will continue to map and characterize underwater features, the habitats they provide, and the biota they support. This will enable predictions of similar environments that support critical deep-water biological communities. The surveys will greatly expand the knowledge base for sustainable management of these unique features and establish environmental baselines by building on previous mapping in the Marine Parks.
Characterizing the Canyons
The Great Barrier Reef (GBR) is one of the world's best-known reef systems, however its deep reef and canyon ecosystems are largely a mystery. Scientists will employ a suite of advanced marine technology – including unmanned aerial vehicles, autonomous underwater vehicles (AUV), and remotely operated vehicles (ROV) – to collect and analyze geological and biological data of the GBR and the adjacent Coral Sea Marine Park. R/V Falkor's advanced multibeam systems will be used to map the structure of the reefs, canyons, and seamounts, illuminating their formative processes. In parallel, ROV SuBastian will collect samples, sediment cores, and high-resolution imagery of the deep canyons and reefs that extend down to 2,500m. ROV SuBastian will also be outfitted with a high-resolution camera from JAMSTEC to image plankton throughout the water column. Seabed environments in less than 200 m depth will be imaged using the advance camera system on the University of Sydney's AUV Sirius.
This data will greatly improve understanding of the sedimentary processes that influence biodiversity patterns, including how canyons may provide a pathway for sediment to travel from coastal and shelf water to deep filter feeders. The deep and irregular canyon topography also leads to direct upwelling of nutrient-rich deep waters, including Subtropical Mode Water in the northern GBR. ROV SuBastian's sensors will be used to track water mass changes, helping to identify the impact of upwelling of these cooler waters onto the shelf.
Understanding Ecosystems and Informing Conservation
An important goal of the expedition is to study the mesophotic and deeper reefs in the region. This work will highlight the importance of high-relief features globally for marine biodiversity conservation and provide a template for a survey approach to effectively inform management of high-value, remote areas. These deeper reefs may play a key role by providing a refuge for surface and other marine species that are negatively affected by climate change. Identifying the role of deeper reefs is crucial as bleaching events in the GBR and surrounding surface reefs are increasing as the ocean warms.
The expedition will create a rich dataset of seafloor biological and geophysical data enabling researchers to understand the habitat provided by large-scale seabed features in the region. The expedition will provide key insights that will determine if various geologic features host different biological communities, and if there are species endemic to the region. Furthermore, the information resulting from the expedition will greatly improve knowledge of these highly-valued ecosystems and is essential for their responsible management and protection.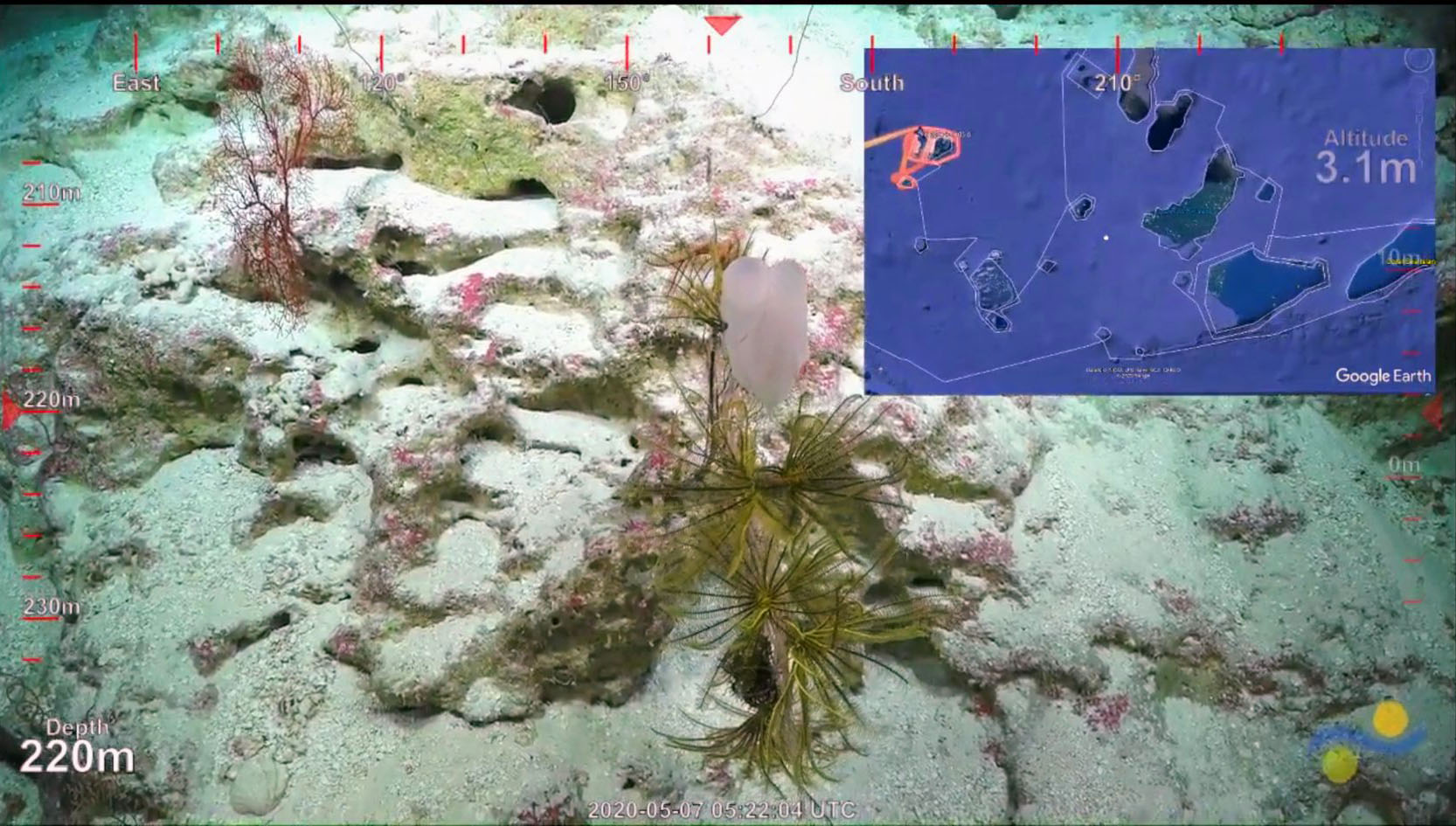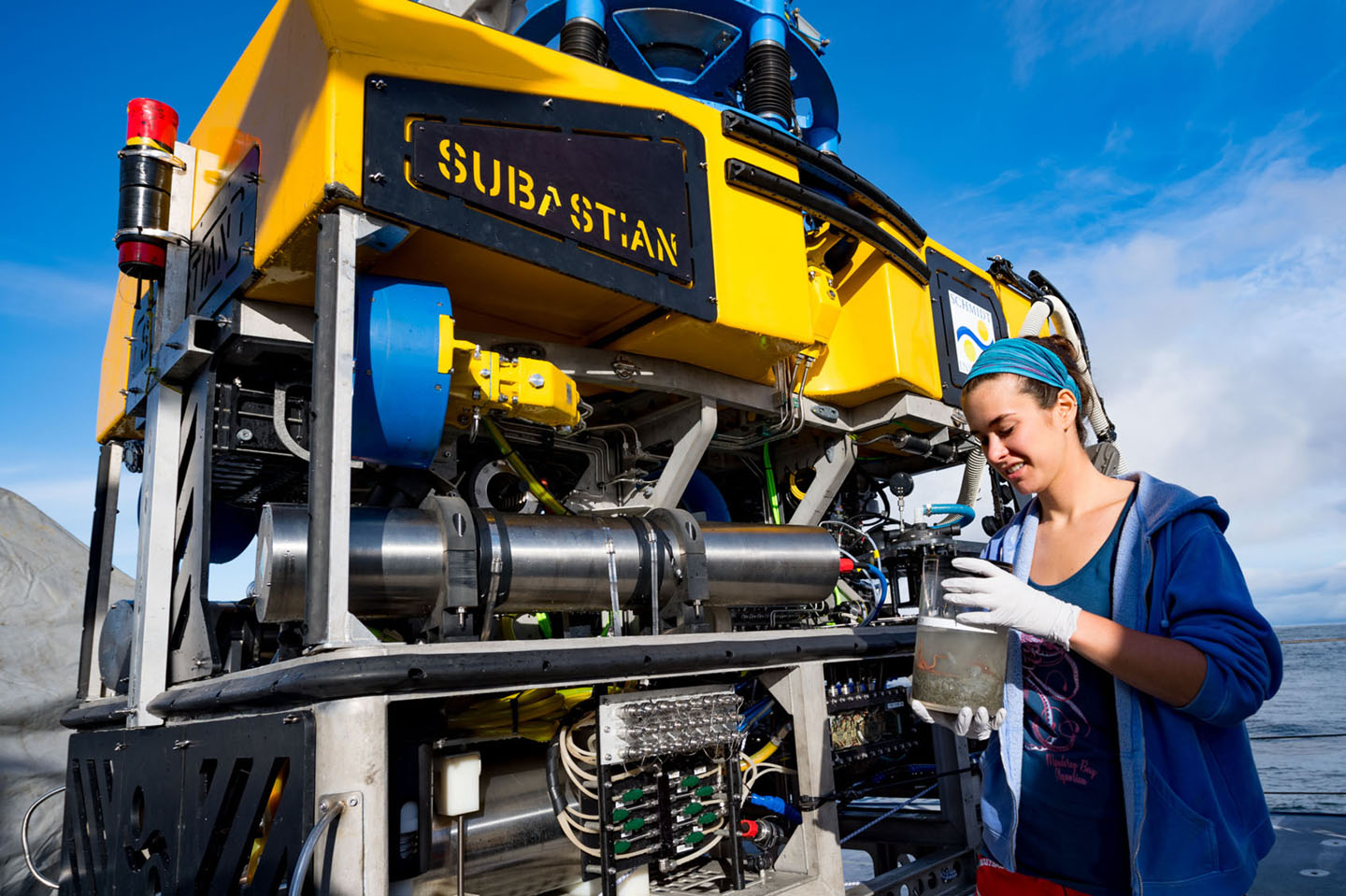 Annotated Imagery is available in Squidle+ [Select SOI ROV Subastian as Platform and FK200802 as deployment].
Environmental sensor data collected by Falkor is archived at Rolling Deck to Repository.
CTD, Navigation, Oxygen, Images and Eventlogger data collected by ROV SuBastian is archived at Marine Geoscience Data System.
Preliminary bathymetric grids have been released in AusSeaBed (data combined with data from FK200930). Metadata description and data download available here.
AUV Sirius Images is available for viewing on Squidle+ (Platform: IMOS AUV Sirius / Deployment: CoralSea202008) and AODN (Select the tracks under CoralSea202008).
Bathymetry Survey data is available through Geoscience Australia.
ADCP data has been processed and archived by UHDAS and is available here.
Sediment and rock sample metadata, including sediment textural data for seabed samples, can be accessed at the Geoscience Australia's Marine Sediments portal. Enter the survey ID (FK200802) into the Surveys>Keyword box, click SUBMIT, and then click the link to the Seamounts, Canyons, and Reefs of the Coral Sea survey. For a full data listing, including IGSN numbers scroll down to the "all sample data" link.
The catalog of ROV video and imagery and other data has been archived at the National Computational Infrastructure.
Processed Acoustic backscatter, swath bathymetry and sidescan data from Falkor and CTD, navigation, event log and select imagery from ROV SuBastian have been archived at MGDS.
Flythrough video highlights of deep and mesophotic seabed environments within the Coral Sea Marine Park.
An ArcGIS StoryMap on the new Australian national seabed map includes data collected by Falkor in 2020.
Beaman, R. (2021) Schmidt Ocean Institute R/V Falkor Australia Campaign 2020-2021. Oral Presentation and Conference Paper, Sub-Committee on Regional Undersea Mapping, General Bathymetric Chart of the Oceans, Virtual from Paris, France.
McNeil, M. (2021). No Pandemic-pause for Multi-disciplinary Reef Exploration in 2020. Reef in Review, 50, 8-10. [This article is published as OPEN ACCES].
Beaman, R., Picard, K., and Miller, A. (2022). RV Falkor Surveys in Australia 2020-2021. Oral Presentation and Conference Paper, Hydrospatial 2021 Conference, Australasian Hydrographic Society, Cairns, Australia. [Abstract and presentation are OPEN ACCESS].
Horowitz, J., Opresko, D., Molodtsova, T., Beaman, R., Cowman, P., and Bridge, T. (2022). Five new species of black coral (Anthozoa; Antipatharia) from the Great Barrier Reef and Coral Sea, Australia. Zootaxa, 5213 (1), doi: 10.1164/zootaxa.5213.1.1. [This article is published as OPEN ACCESS].
Ekins, M., and Hooper, J. (2023). New carnivorous sponges from the Great Barrier Reef, Queensland, Australia collected by ROV from the RV FALKOR. Zootaxa, doi: 10.11646/zootaxa.5293.3.2.