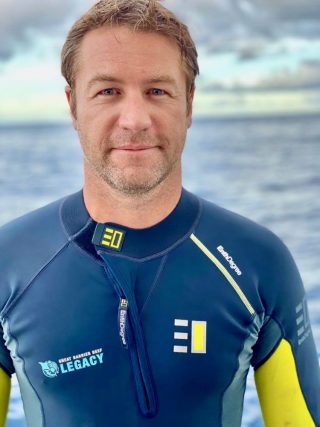 Dr. Dean Miller is a scientist, multi-media professional, BBC television presenter and an Australian Geographic sponsored explorer. With a Ph.D. in coral reef management, tourism and resource allocation and a wealth of scientific experience in the field from Antarctica to the Arctic and everywhere in between, Dean's scientific research career has been rich and diverse. Having been involved in over 300 ocean expeditions on ships all over the globe, much of Dean's life has been at sea in some of the most challenging environments known. 
Dean was sent to the remote sub-Antarctic research station on Macquarie Island with the Australian Antarctic Division for 12 months to study fur seals, has led expeditions in the Antarctic on five occasions, worked with Polar Bears in the northern Russian Arctic for two months, explored northeastern Greenland for three, and has spent the last 20 years working on the Great Barrier Reef tagging and researching everything from dwarf minke whales, tiger sharks and turtles.
In addition, Dean has worked tirelessly to position himself at the very top of the multimedia production field. A self-taught and accomplished filmmaker, he has shot, produced and presented more than 50 documentaries all over the planet for every major broadcaster including the BBC, ABC, National Geographic, Disney Nature, Foxtel, Red Bull TV and the Discovery Channel. 
Dean's work has been narrated by the legendary Sir David Attenborough on many occasions and has been acclaimed for its breathtaking and stunning natural history and cinematic qualities. Dean also spends time in front of the camera, and is a presenter for the multi-award-winning "Coast Australia" BBC and Foxtel series with Neil Oliver, "Australian Geographic Explores" on Channel 9, and was a regular guest presenter with Channel 7's Sunday Night Program. Dean's work has also been featured by Red Bull television, and Dean is an advocate for conservation on the Great Barrier Reef.
Dean is the Managing Director and co-founder of the Great Barrier Reef Legacy, a non-profit organisation that crews and operates the only independent research vessels on the Great Barrier Reef to provide FREE and essential access for the best scientific minds and innovators, the most effective communicators and multimedia specialists, and build a platform for research, education and change. Essentially its science for solutions to save the Great Barrier Reef. Dean has also created the world's first Living Coral Biobank project that is quickly becoming one of the largest conservation efforts for coral reefs worldwide.
Cruises: