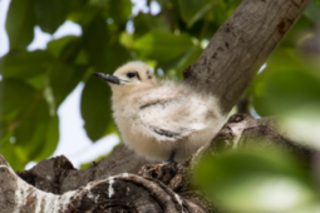 As the view of Guam slips away just beyond the horizon, I realize the vastness of the trip ahead. For more than two weeks, we will have no land in sight en route to Hawai'i. That doesn't stop me from sitting on the observation deck, gazing out over the rolling waves, and celebrating the rare sight of a manu-o-Kū (white fairy tern) passing by; a reminder that land, and a nesting site, is somewhere out there in the distance. This will be, by far, the furthest I have ever been from land at sea, which seems fitting since the science mission of this voyage is focused on bringing distant places to light.
Normally at this time of year, I would be in my classroom at 'Iolani School getting ready to jump back into classes after the holiday break. In the hustle and bustle of campus life, it is not uncommon to peer out the window and spot the sleek, white birds swooping in with goodies from the ocean to feed their chicks. Seeing one from Falkor, so far from home, gives me insight into a different part of their world. It inspires me to use this ocean experience as a tool for inspiring young minds back on land.
Reaching Out
As a Teacher-at-Sea on R/V Falkor, I have been given the unique opportunity to head out to sea myself to learn more about the science being conducted on board and bring it back to students and teachers on land. In the next couple of weeks, other storytellers on board and I will be reaching out to classrooms from Guam to the East Coast via ship-to-shore calls in order to share our experiences on Falkor. We will also be working with scientists and crew to produce learning tools for classroom use. From bringing geometric and trigonometric concepts into focus using shipboard features and procedures, to developing educational videos highlighting the ship's mapping technology, I am excited to help make Falkor's research more accessible to the general public! Since Falkor's technology is state-of-the-art and the research being done on board is quite complicated, it is a challenge to make the work accessible and meaningful to the general public. Challenge accepted!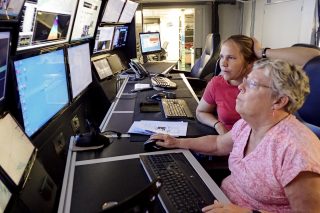 Shifting Viewpoints
By the end of our first full day in transit, our gaze has shifted downwards towards the sea floor as we begin the process of mapping. We are able to see a swath of ocean floor below the ship fan out in the mapping imagery as we steam along at our 12 knot transit speed. Amazing from my outsider's perspective in terms of the technology involved, the transit mapping data was initially deemed "a green slime trail" by Lucy Bellwood our Artist-at-Sea, showing a relatively flat ocean floor at a consistent depth of around 6000 meters.
Some exciting features appear as we pass over the Mariana Trench, where we record depths of over 9000 meters. The sudden commotion this data shift causes among our crew reminds me of the noisy cheeps of anticipation those fairy tern chicks let out when their mothers return with food. It is also reminiscent of our 'Iolani oceanography students' enthusiasm earlier this semester as they discussed the mapping of Lōʻihi near our island home. I hope to bring many more such moments of excitement back to the next generation of ocean explorers – it seems like they are already well on their way!