The word "Seamount" may conjure an image of a dark, quiet, cold and lifeless mountain deep underwater. This is not the case, as researchers discovered while exploring the seamounts around the Northwestern Hawaiian Islands back in 2003. "It was a total surprise," reveals Dr. John Smith, chief scientist of Falkor's current expedition. "We had an idea about the organisms that we might find down there, but we definitely did not expect such density."
Diving a manned-submersible to a depth of 2000 meters revealed a seascape teeming with dense deep-sea corals and sponges. Far from a sterile environment that one might expect, they discovered an alive and vibrant ecosystem. "The corals we found seem to like areas with currents to feed from, so we are going to the recently expanded area [Johnston Atoll Unit] of the [Pacific Remote Islands] Marine National Monument to try to identify formations such as reefs, scarps, faults or volcanic cones," said Dr. Smith. "We want to get a better idea of what the geological structures look like."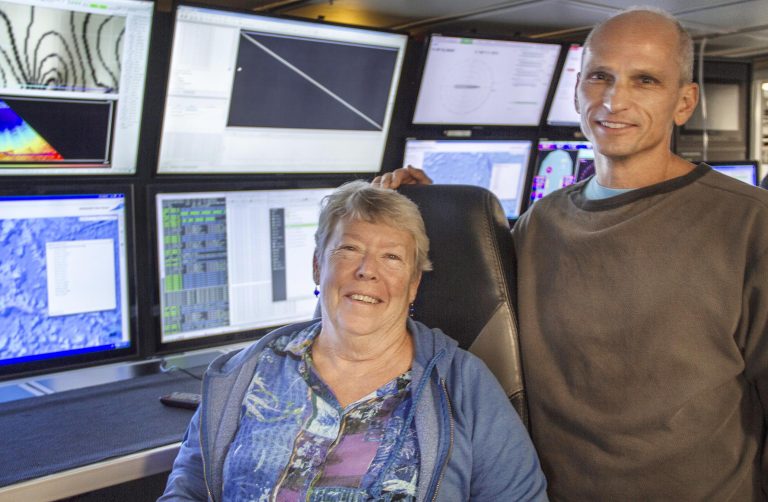 We Have to Know
"When it comes to biology, we really have no idea what is down there," explains Dr. Joyce Miller, multibeam mapping scientist. "We need to map the area first in order to know where to look in future exploration." Lead Technician Colleen Peters compares "exploring the depths of the oceans without a clear understanding of the bottom topography of the area" to "walking around a house while wearing thick eyeglasses." It may be possible to make out some objects, but depth and detail perception will be limited. While satellite scans provide notions of where geological features around Johnston Atoll might be located, mapping the seafloor with Falkor's multibeam echosounder will reveal the potential features in significantly higher resolution, enabling the scientists to produce the first detailed maps of the expanded area of the Marine National Monument.
Preparation Meets Opportunity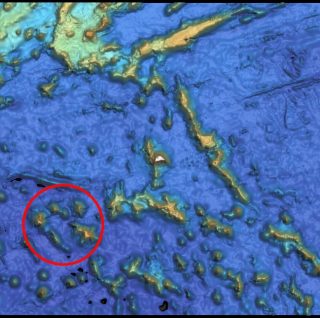 After searching for life in the hydrothermal vents of the Mariana subduction system, Falkor departed from Guam and is currently headed towards Hawaii. The scientists received a unique opportunity to piggyback on a preplanned transit, making a small detour along the way. Through the available low resolution satellite imagery, the team selected the most promising zones in the Johnston Atoll Unit to map.
Opportunity was the defining factor, but there are important reasons to gain insight into the depths surrounding Johnston Atoll. For one, the atoll is a stepping stone for species on their way to the Northwestern Hawaiian islands. The seeding from these waters can be transported by the currents and create a biological corridor. There is still much to be understood about this connection and the vulnerable deep-sea corals and sponges inhabiting these waters. Multibeam backscatter will provide key information about the composition of the substrate, suggesting sites where corals may be more likely to be present.
Another important reason to explore the area is tied to sea level rise. Flat tops on some geological structures are proof of previously being above the water—their depth and characteristics can offer information about the historical rise and fall of sea level.
The past is not the only consideration. Future polymetallic crust mining in the area is a growing possibility, which is a cause for concern for some researchers. This region of the Pacific has the highest concentration of commercially valuable deep-sea minerals. Before manganese mining and exploitation can take place, it is necessary to determine what ecosystems currently exist, and therefore the impacts that mining could have on the area.
In 2003 Dr. John Smith and his team were surprised to discover the rich life in these deep waters. In a few days time, more discoveries are sure to wait for all of those on Falkor.