With one click, Joyce Miller swiftly removes a cluster of points protruding from a shape on the monitor. She rotates the image to make sure everything is up to her standard. Clicks again. Methodically and mercilessly, she marks more points out. Most of the people she knows do not like to do this job, yet she enjoys "cleaning" the data collected by Falkor's multibeam echosounder and making sure the seafloor maps produced under her watch are reliable. The sonar filters a lot of the "noise" already, but she refines it. "I am not really deleting any points or information here, I am simply flagging them as suspect," she explains. Scanning each image with an eye sharpened over the course of forty years, Joyce enters a sort of meditation while familiarizing herself with what Falkor's sonar is capable of capturing.
How Things Have Changed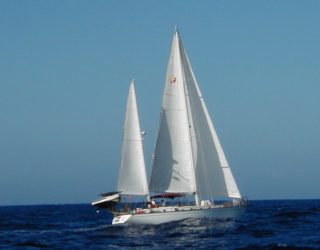 At an age of twenty-four, serving in the Peace Corps took Joyce to a coastal area in Liberia where the proximity to the sea inspired her to make a change and pursue a career in oceanography. She needed to make sure she would sail, so becoming a multibeam mapping expert was a safe bet. The ocean has shaped her life, even introducing her to her husband of 35 years, an officer who at the time was in charge of the sonar of a ship she boarded.
Long gone are the days when she would come back home from mapping expeditions carrying two 100-megabyte tapes and a thick roll of maps. That is, thirty days of ocean floor mapping producing no more than 200 megabytes of information. Today 16 beams on the sonar have become 450, which translates into 92 megabytes per hour. Many things have changed with time, but her fascination for the ocean has remained untouched.
Silence, Please!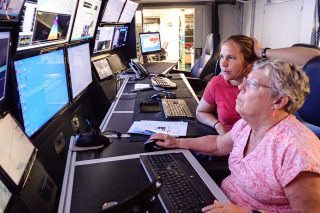 Multibeam systems emit sound waves that bounce against the seafloor and return to a receiver in the ship – the amount of time it takes for the signal to come back up is used to determine water depth. So far, Falkor's multibeam has yielded high definition imagery of a depth of up to 9600 meters, which Joyce considers truly impressive.
The first time she heard about Falkor's sonar, she was dubious. "I didn't think that mapping deeper than 5000 meters would be achieved consistently; but really, Falkor's configuration was a great choice, the best I've seen with this system," says Joyce.
One reason for Falkor's remarkable sonar performance is the fact that it was placed inside of a gondola. The gondola sits below the hull, so bubble sweep down from the hull will be minimized if not eliminated, clearing the path for a deeper scan of the ocean's floor. "Falkor's sonar is also powered by the latest updates. Not only that, but the team has done a very good job in making the machinery close to it as quiet as possible," she explains.
Joyce continues to click her way through the plentiful information coming up to the screens. The silence inside Falkor's dry lab contributes to her concentration and meditative state. "That's a nice flat, featureless sea bottom," jokes Dr. John Smith, Chief Scientist. That is OK Joyce says, flat terrain helps her understand more how the sonar behaves, strengthening her unyielding relationship with technology and the depths of the ocean.