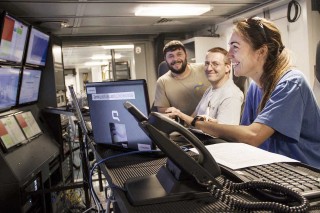 The oceans are immense – so huge that most of us cannot even grasp the idea of their true dimensions.
We often hear that they comprises 70% of our planet's surface, and that without their waters, life as we know it would not be possible. Leighton Rolley, lead Marine Technician of the Life without Oxygen expedition has a very clear way of explaining it: when MH370 was lost in the Indian Ocean two years ago it highlighted to humankind how little understood and mapped our oceans are. This is because we've only explored a fraction of our seas.
And this is why no effort is spared onboard R/V Falkor. The team goes beyond the experiments each particular cruise requires and is continually using all of the available tools onboard to gather information. It's about taking advantage of the full potential of the ship, making every sailed mile count.
Beyond Rosettes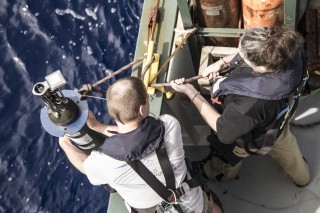 At every station of the Life without Oxygen cruise, scientists and crew work together deploying and retrieving the rosettes. They collect water samples that will shed light into the ecological status of the Pacific's oxygen minimum zones. In addition, while R/V Falkor sails from one station to the next, all of its instruments are gathering new data.
The multibeam creates 3D models of the seabed. Seabird sensors scan the top 5 meters of the surface measuring conductivity, salinity, temperature, and fluorescence. A PH sensor offers clues on ocean acidification. Weather information is gathered through wind and humidity sensors. Even the water column is examined, searched for plankton and organisms
Collaboration is Key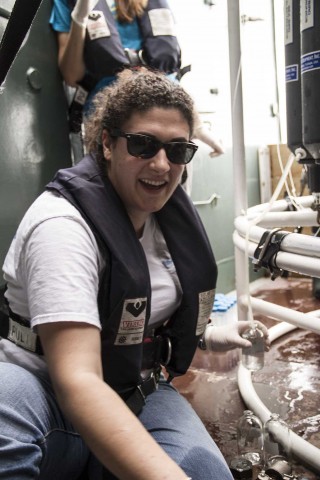 Argo floats are also being deployed during the four-week long expedition at specific locations. This is part of a worldwide collaboration; several agencies assist in dispensing these instruments and then all have access to the data. The floats drift up and down the water column many times throughout their operating life, sending information to satellites. There are more than a thousand argo floats working on our oceans today, increasing knowledge about currents and water characteristics.
Leighton is convinced humans must become ocean stewards, and sharing knowledge is key to accomplish that. "We go to places no one else has gone to and add pieces to the puzzle. It's like walking through the woods with a flashlight."
Modern Day Explorers
"Few people can wake up one day and say they found new features that one else knew about. Structures that are more than a thousand meters high. It's only possible because they're hidden underwater," shares Leighton, "but the ocean does not give its secrets easily. Science at sea is difficult, since electronics and seawater don't really get along."
Screens at the marine technician's office continue painting images of flat lands, seamounts and what appear to be ancient volcanoes. Once R/V Falkor is back on shore, the information will be shared and the light showing the way through the woods will become a little wider.