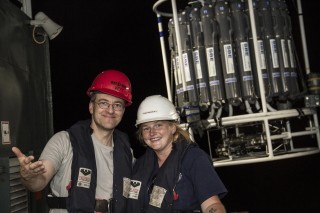 It is 2:30am. The day started early with the morning meeting and has not slowed down since. We are at station number 6, the first 24 hour-long station.
Dr. Mak Saito is operating the winch at R/V Falkor's aft deck as the Trace Metal Rosette (TMR) comes up. He has not left this post for 5 hours and looks tired. But still he smiles -a true testament to the positive atmosphere that is felt amongst the entire scientific party- and states that he's very excited about the samples they're about to collect. As he says himself, you have to really,really want that water in order to deal with the weather, the exhaustion, the challenges. It's only fitting that today is CTD Appreciation Day.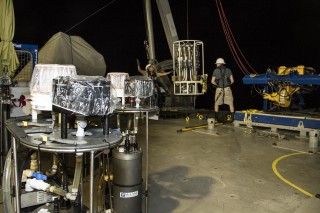 The reason the vessel has stopped here for so many hours, battling 25-knot winds and a powerful swell is that we have reached the border of the Oxygen Minimum Zone (OMZ). From this point onwards, the team expects the oxygen levels to drop considerably. That is why they have doubled the effort: they have deployed the CTD, TMR and water pumps twice today. They want to take a very detailed look at the biochemical processes of this location, and place a pin on it before going deeper into the OMZ.
The Unyielding, Driving Force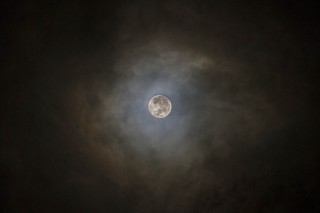 Curiosity. Dr. Saito reminds us that tomorrow will be the first anniversary of "Deflategate" in the United States, a sports scandal involving deflated footballs. Feeling that there were important physical components being overlooked in the controversy, Dr. Saito conducted a series of tests on a Sunday afternoon and published what became his most popular blog post ever. It was quoted by media outlets and was even entered into the public record by the ruling judge. Dr. Saito is still amazed that something so unsophisticated could attract that much attention. People were curious about the practical implications of his scientific conclusions. Just as curious as he is about the contents of the 24 bottles within the rosette.
Football fans in USA wanted to know if one of their favorite athletes had cheated, and so did Mak Saito. People want to understand the changes that our planet will go through in the future, and so does everyone working onboard of R/V Falkor. It is 3am, and we begin to deploy seven large pressure pumps and start filtering water at a depth of 2000 meters.
Will We Be Curious Enough?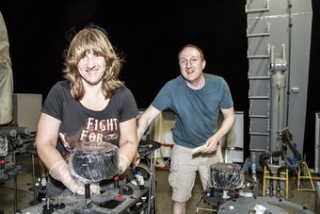 The team knows they still have many hours of hard work ahead of them tonight, but that is nothing compared to what will come after: processing all the data, reaching scientific conclusions, and sharing them with the general public. Will people be as interested on expanding knowledge on Oxygen Minimum Zones as they were on irregular footballs at an NFL Championship?
The novelty factor is certainly there. There has been very little work on trace metals here, and nothing has ever been done when it comes to proteins and what they can tells us about how the ocean is shaping our planet's chemistry.
Certainly, what is a stake is much more important than a 4-game suspension for a controversial football player.