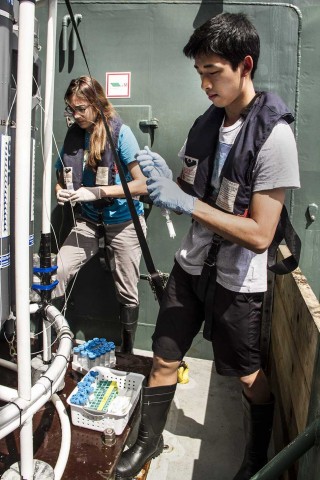 My name is Caleb Hsu, and I am the Student Opportunity Participant for the Schmidt Ocean Institute's first research cruise of 2016. As part of the program, I will be sharing my thoughts and reflections each week as I experience and learn more about the science, technology, and people onboard this wonderful vessel.
I became aware of the Student Opportunity Program from an email sent to me by my academic adviser at the University of Hawaii at Mānoa. I receive many emails about internships and research/volunteering opportunities from my adviser, but this particular program stood out because of its sea-going component – I was excited to particpate in the research done onboard a ship, with minimal resources from the outside world.
Many Areas of Expertise, One Goal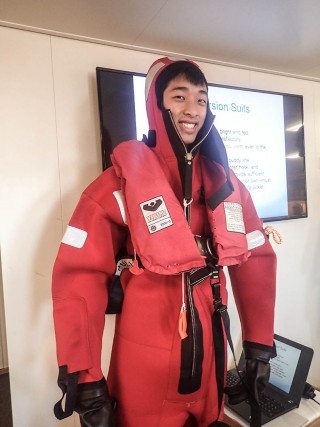 What I've come to learn is that the science team here is united with the common goal of learning more about the biogeochemistry of Oxygen Minimum Zones (OMZs). Many unique scientific interests arise from this single, broad topic. Erin McParland, a PhD student at the University of Southern California, is studying the biogeochemistry of dimethylsulfide (DMS). Noelle Held, a graduate student with the MIT-WHOI Joint Program, focuses partly how post-translational modifications of proteins changes the biochemistry of microbes in the ocean. Each scientist onboard has their own specialty. As a result, they each have a different, unique perspective on the biogeochemistry of OMZs.
Each sample we take from the ocean goes through several of the scientists so that they can run different tests on them. I look forward to the next four weeks of learning more about these experiments/tests, as well as the scientific background behind them and how they contribute to the overall goal of this research cruise.
Asking questions may be intimidating, especially with the published, well-known scientists we have onboard, but my passion for lifelong learning motivates me to overcome any nervousness to get the full range of experience onboard of R/V Falkor.
Getting the Hang of It All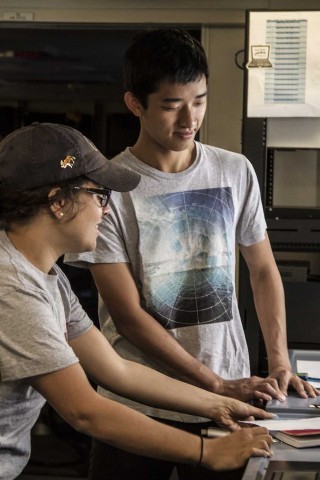 I'm still in the process of getting my sea legs and adapting to the pitch and roll of the ship. Even as I write this, I'm dealing with an unpleasant bout of seasickness. This seasickness is an obstacle that I hope to overcome soon so that I can begin learning more from the brilliant minds we have onboard. I am eager to participate in this out-of-classroom and out-of-laboratory fieldwork.