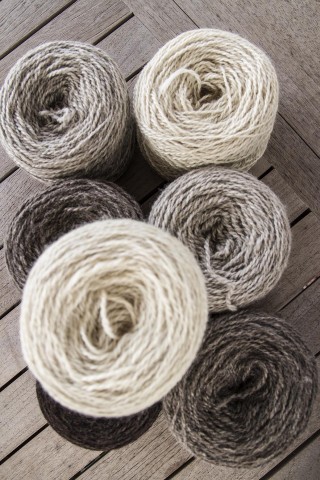 Hello there! I'm Michelle, the Artist-at-Sea. I'm happy to report that my stocked supplies are well-matched to this trip.
The few days I had to prepare for this opportunity meant rapid-response project planning and supply gathering.  To maximize my creative options, my strategy was to bring simple materials with broad potential.  Having amassed a personal yarn stash over the years, I had many essentials on hand: tough acrylic for yarn-bombing, cotton threads for a QR code, and a gradient of indigo-dyed silk skeins.  More unusual items were small spools of coloured copper wires and a set of neon nylon mason's line.  These materials were a good start, but I was lacking basic wool. And I needed a lot of it.
What to do?

Making out-of-state purchases from Hawai'i presents unique shipping challenges.  This time frame added even more risk.  I try to shop locally in my daily life and wanted to bring the same mindset to this situation.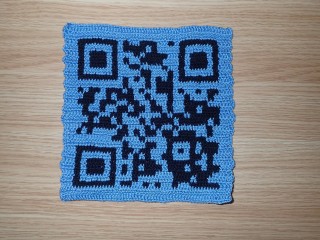 Luckily I found a Maluhia Farms, a Romney sheep ranch and yarn source on Hawai'i island.  With no fleece-processing facilities in the state, the shepherd works with a mill in California.  Most domestic woolen mills are in the eastern US, so as long as the wool needed to go off-island to become market-ready yarn, I appreciated the relatively small footprint.  I did not want bleached or dyed yarn, and the range of natural colors offered from this flock was just what I had in mind: cream, light brown, medium brown, and dark chocolate. I calculated the yardage for my order, the package was shipped overnight, and the skeins were securely nestled into my suitcase.
Assembling my toolkit was straightforward: knitting needles, crochet hooks, scissors, seaming needles, Tinkertoys, and a yarn ball winder. My first large yarnbombing installation in 2012 brought a knitting machine into my arsenal, and I definitely allocated suitcase space for that equipment.
The Projects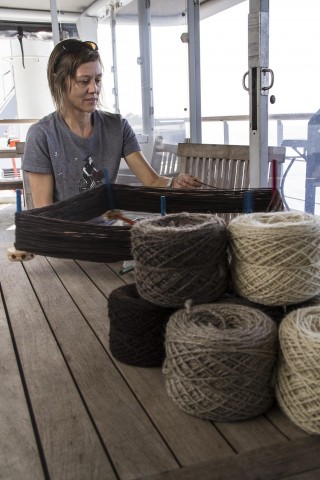 On Falkor, my roommate is a marine technician working night shifts so as not to disturb her, I rarely work in our cabin. The ship has many locations suitable as studio space and I have enjoyed working among the science and ship crew members. Our interactions keep me aware of the ship's news and engaged in the scientific discussions related to the voyage.
My first project is a reflection of the sensory experience aboard the ship. I did not apply for this program as a painter but could not resist bringing a small set of watercolors, brushes, and a couple sketchbooks. I found a place to sit on the port side of the ship and have returned at the same time each morning to repeat this process. I attach a loaded paintbrush to a weighted cord and let it move like a pendulum. For one minute, the brush makes marks across the page tracing the pitch, roll, and heave of the ship. Each day is a separate page of an accordion-folded blank book. Once at the equator, the days will be documented in a second volume.
My first fiber project is a 7-inch QR code crocheted with blue and black cotton thread. Making these codes only requires the most basic crochet stitches, but with even the slightest mistake or incorrect alignment, it won't scan. My blurred vision made it more difficult than usual to make an accurate code, but I was able to catch and fix the errors. Once completed, the code was tested with a free QR reader app on a smartphone/tablet. Does it scan? Give it a try and find out!
During our days at sea two more types of materials have been added to my inventory: laundry dryer lint and human head hair. Stay tuned to see how these familiar yet unusual fibers are incorporated into projects!