One step at a time: that is how to approach a daunting task. The scientists onboard R/V Falkor knew the outer reaches of the Pacific Northern and Southern Hemisphere Oxygen Minimum Zones had been poorly studied. They also understood the tremendous importance of these areas, as the microbial organisms living there carry out chemical reactions that are pivotal to make the Earth habitable. They suspected these zones might be expanding, but what consequences would that entail?
All of these ideas provided excellent motivation to sail out there and gather new information.
Getting There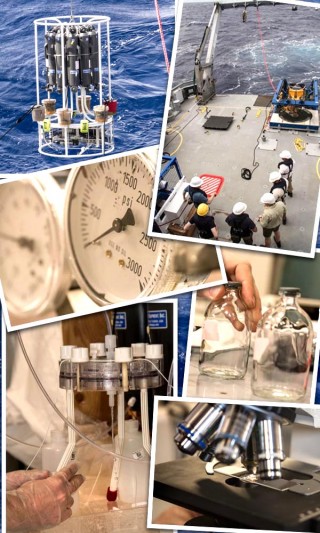 The first step was getting to blue water, with no land in sight for weeks. The Saito team scanned over 7000 kilometers of transit between Hawaii and Tahiti, using an array of rosettes and McLane pumps. With the pumps alone, the upper 1 kilometer of the ocean's microbial microbiome was sampled by filtration of 85,000 liters of seawater.
One more decisive step was taken by using a novel technology developed recently by the Saito laboratory. This new capability is called targeted metaproteomics: it diagnoses marine microbial populations and their interaction with ocean chemistry by use of proteins. This was the first large-scale deployment of such method, and it paid off.
Dr. Mak Saito is confident that the data collected and the method employed will better our understanding of how the environment may induce changes in the microbial organisms that live within OMZs. And in turn, it will also increase our knowledge about how such changes in the microbiota may impact the environment.
No Light?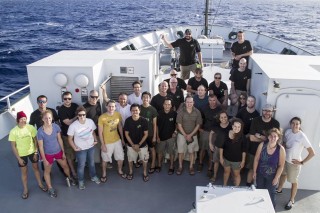 The phenomenon had been reported before. The researchers had heard about it. But it was so rare they never actually witnessed it, until this expedition: deep populations of the important photosynthetic marine cyanobacterium Prochlorococcus were identified living within a dark and very low oxygen environment.
While these cyanobacteria are abundant in sunlit zones, this second, deeper population was found 150 meters down, effectively in the dark. Photosynthetic organisms living without light? That is exceptional, and so rare it is practically impossible to find funding to study such an occurrence.
Seizing the opportunity, the scientists deployed in situ underwater high volume pumps at the precise depth of this deep Prochlorococcus population to retrieve proteome and genetic samples. Furthermore, they performed experiments and determined that Prochlorococcus are in fact alive, surviving and growing (albeit slowly) in a non-optimal environment.
Hungry for More!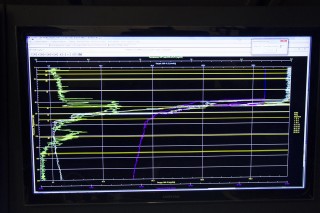 The Life without Oxygen team had the opportunity to process some of the samples and get results while still sailing. One exciting find was the evidence that growth of phytoplankton populations are constrained by multiple nutrients, in contrast to the current expectation that marine organisms are limited in their growth by one nutrient at a time. Phytoplankton are hungry for more. And so are the scientists.
It is impossible not to take El Niño into account; after all, it has been referred to as a Godzilla El Niño and the waters of the Pacific Ocean are under its potent influence. The gathered samples should allow studies into how the warmer seawater conditions influence key microbial processes. The team wants to come back when El Niño is not a factor and compare results.
The expedition has ended. The work is just beginning. Samples need to be processed. How will the experts go about it? Step by step. Story by story, starting with the organisms they are more familiar with, filling in the blanks and untangling the complicated microbial web that lives deep in the Pacific.