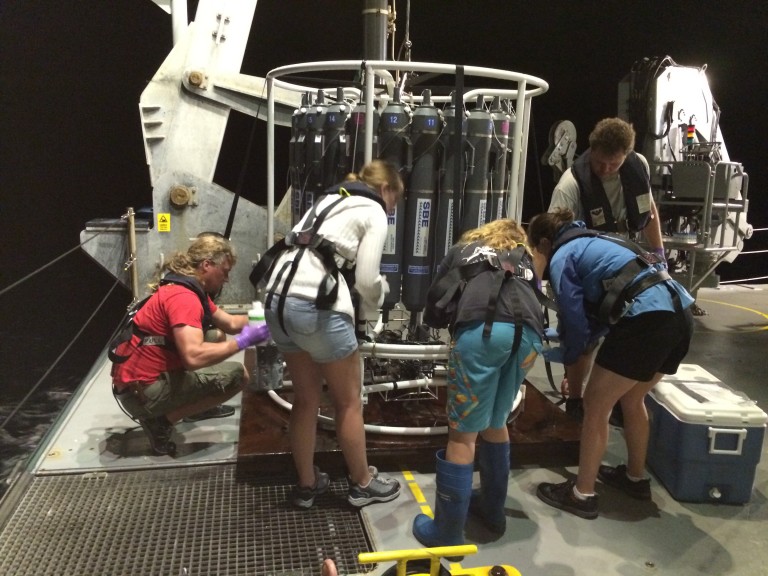 Another day (or night), another hydrocast. As I watch the wire disappear into the ocean, I recall K.O. Emery's preface to his classic 1960 book The Sea Off Southern California,"An oceanographer's view of the ocean".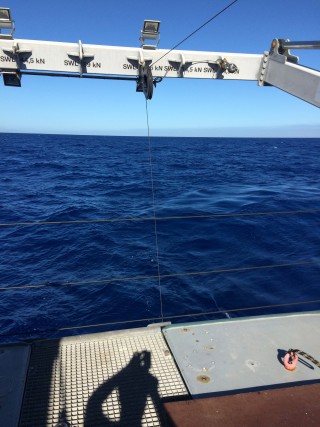 Emery pointed out that the surface of the open ocean looks the same no matter where you are, unyielding the secrets lying beneath. It is only until we sample and analyze seawater that we start to "see" these secrets. Or, at least, that's how it used to be back in 1960.
Not anymore. The typical hydrocast package (CTD) of today is a hybrid. We still mainly gulp water for samples, but now we also can watch, sniff, and listen. Apart from the three historic/traditional sensors for conductivity, temperature, and pressure, we have also been using new sensors that measure oxygen, pH (acidity), Eh (the potential to trap electrons), and turbidity which, together, can help point out where the location of the Loihi hydrothermal plumes are.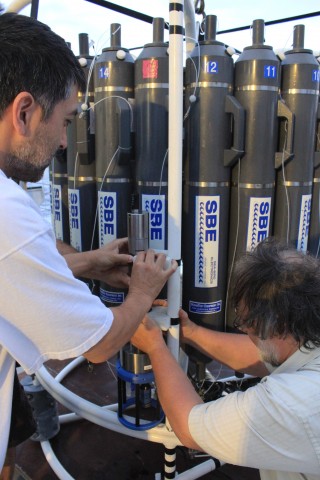 As the CTD descends, we sit in the control room, scanning the sensor's data sent up by the wire for a real-time understanding of the plume. We adapt our sampling plan by shutting the bottles in and around the depths at which we saw the potential plume area. The collected water samples will allow us to measure properties not currently detectable by the sensors; however, the synergy between sensor readings and water sampling is the crucial part of the cruise.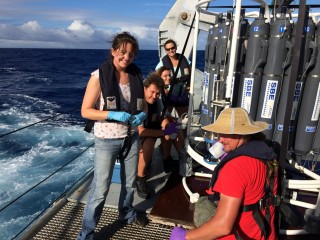 Back on deck, the science party crowds around the CTD rosette to collect the water samples, service the sensors, and download data logged internally. The digital information collected by all the sensors during a single cast (24 times a second over 3-5 hours), will take quite a bit of time to be processed, analyzed and assessed. To help match the measurements from the seawater samples from each bottle with the sensors is one of the important and immediate things that we do.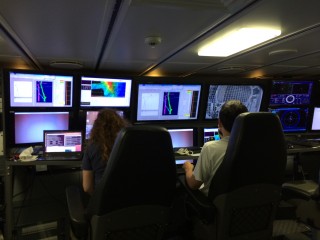 Open-ocean CTD rosettes are just one of the many important collecting instruments such as satellites, moorings, and fleets of floats, gliders, and AUVs (like Sentry). The rapid development of new and improved sensors, and the platforms to carry them, have facilitated an explosion in data collection. To me, I cannot imagine oceanography moving forward without both traditional sampling and sensor technologies. The experiences described in the blog entries of this cruise show the breadth of information we can now gather from the sea. Sitting on the surface of this otherwise unknown underwater volcano, I would like to think that we truly got the opportunity to explore and discover Loihi using our amazing instruments that allowed us to go where we previously could not.