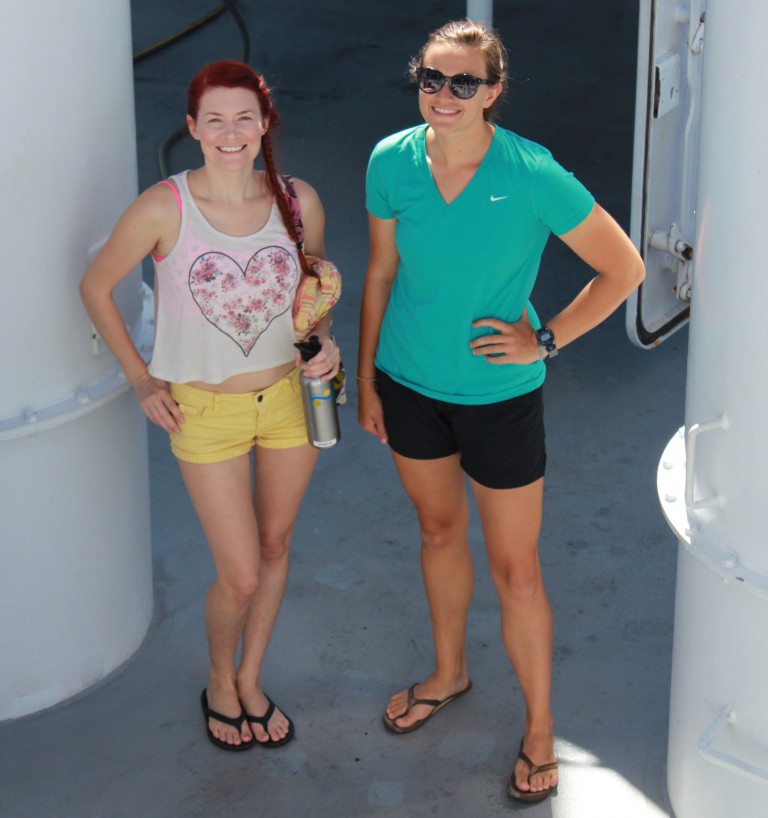 Julianna and I have been sailing on Falkor for a few days now. The science team is all settled in as we make our way towards the first sampling location. The transit from Majuro will be approximately three days. As the scientist's calibrate their instruments and prepare for arrival, the ship's crew is all action all the time. Falkor was anchored in the Majuro Atoll leading up to our expedition. The amount of effort that goes into preparing the ship for many weeks at sea is astounding. Besides meeting regulation requirements for a sea-going vessel, the Falkor goes above and beyond to provide a unique research cruise experience for participants with many comforts not typical of other vessels, and putting safety as a top priority.
Safety first
Safety is of utmost importance aboard the Falkor. Having the right equipment but also knowing how to use it is the key. Safety Officer Oliver Hurdwell walks the science party through the personal protection equipment, which is well maintained and serviced. Each of us, weathered seaman and landlubbers alike, took part in drills and safety briefings learning how to put on an immersion suit and where to find emergency equipment.
During a drill, we mustered on the upper deck and the ship's crew equipped each of us with personal floatation equipment (PFE) and immersion suits, then ushered us towards the safe boat. The escape slide was not deployed during the drill, but we saw a video of how quickly it inflates, mere seconds! In the event of an emergency, after exhausting all avenues to try to correct the problem, Captain Heiko could give an abandon ship order. After everyone is accounted for, we would slide down to the awaiting lifeboats. Although the chances of this happening are slim, there are safety precautions and procedures in place to ensure everyone aboard the Falkor exits safely.
It is also important to stay safe throughout the cruise, especially in the areas where science operations will take place. The aft deck, or back of the ship is one of these locations.  The deck features are adjusted depending on the science, so it is imperative everyone has an understanding of how to maintain personal safety in the midst of changing surroundings. For example when overhead equipment is in use, all participants in the vicinity must wear helmets and steel-toe shoes. If the lines are not up at the back deck, all personnel must wear PFE. These rules are for everyone, no matter their sailing experience.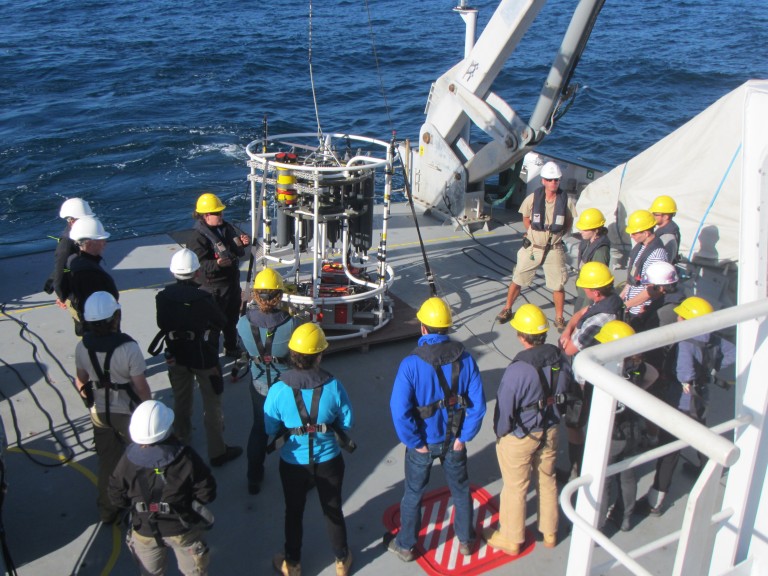 Calibration
Sailing in a straight line will only provide your equipment with so much information when you are trying to calibrate. The point of calibrating an instrument is to compare points or measurements to ensure that the instrument is working correctly. Before conducting any science it is important to make sure your instruments are taking accurate readings. To confirm that we are fully calibrated before heading out into the open ocean, Falkor sailed in a non-linear, figure eight pattern as she left port. This allows the equipment to register various bearings so that when we get out to sea, we know the instruments are giving us correct information. Lead Marine Technician Colleen Peters isn't too worried, for her this is simply a brief exercise that gives confidence in the equipment's accuracy for the duration of the cruise. For a landlubber as myself, it is intriguing to see how such techniques are just another part of sailing basics.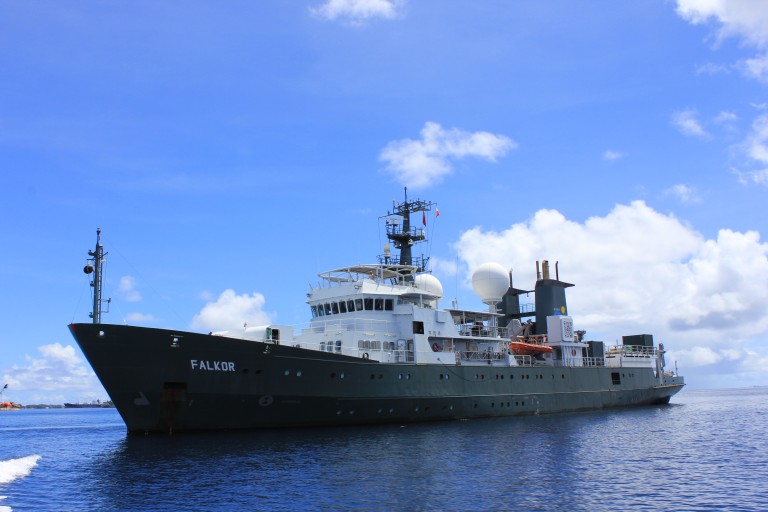 Tie it down!
One of the more obvious necessities of leaving a calm atoll is the need to tie everything down. Although the waters of Majuro Atoll look glassy, we quickly found out that once you hit the open seas, things can get a bit rough.  Storing of scientific equipment and attaching it to a surface is important during transit. Usually a simple bungee cord works, but some equipment has tie-downs like those you use in a pickup truck bed. All in all, Falkor is well equipped to store instruments and tools of various shapes and sizes if we happen to stumble upon some wave action.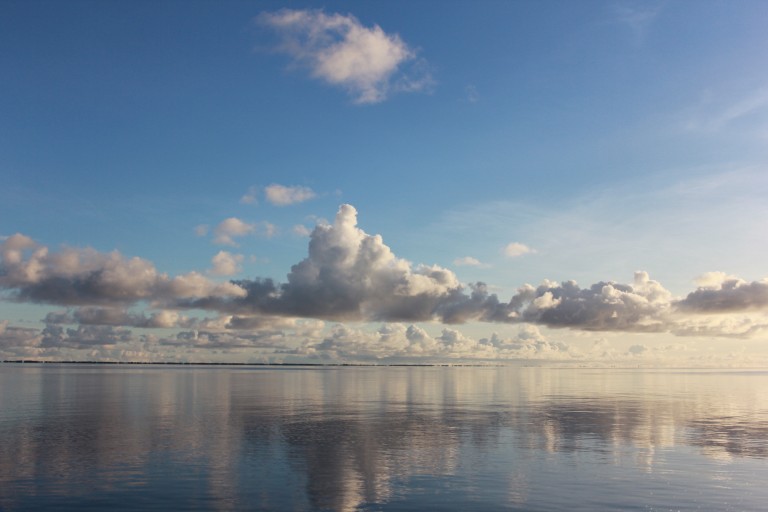 Growing excitement
Each mealtime is a perfect opportunity to chat with the science crew about the upcoming action. We have been learning a lot about the science, and equipment that will be used during this cruise. The scientists welcome our inquisitive natures and are obliging when it comes to explaining the nitty-gritty in a simple manner. As we continue our transit to the first station, waves lap against the port holes and anticipation is thick in the air.  I have learned so much already, and cannot wait to share more as we begin our science!