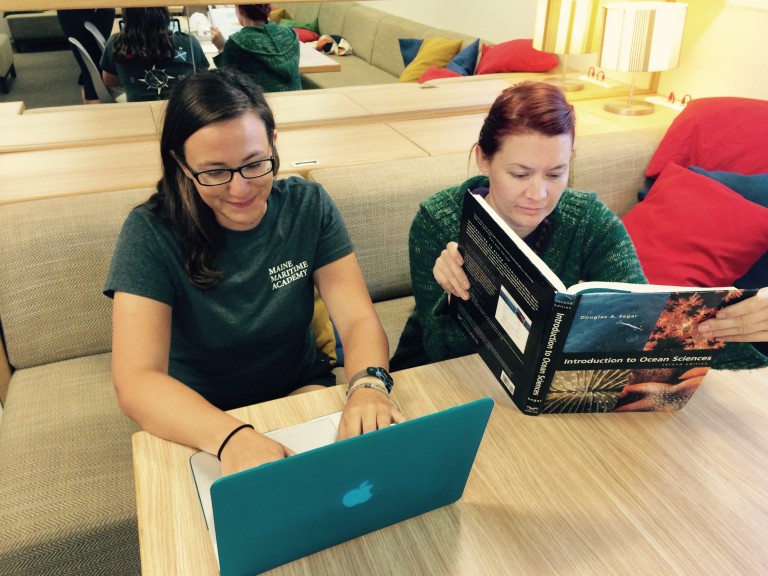 This year, Schmidt Ocean Institute started a student opportunities program, and the Mixing Up the Tropical Pacific cruise is the inaugural expedition to host the first two participants. The goal of this program is to offer students an opportunity to take part in meaningful oceanographic research and science communications. The first two candidates selected for the student opportunity are Julianna Diehl and Jennifer Killinger, both incredible young women scientists with contrasting, yet complementary strengths. Keep up with the student opportunity participants aboard the Falkor via the Student Opportunity blog posts throughout the cruise. To begin, let's get to know Julianna and Jennifer.
What is your educational background?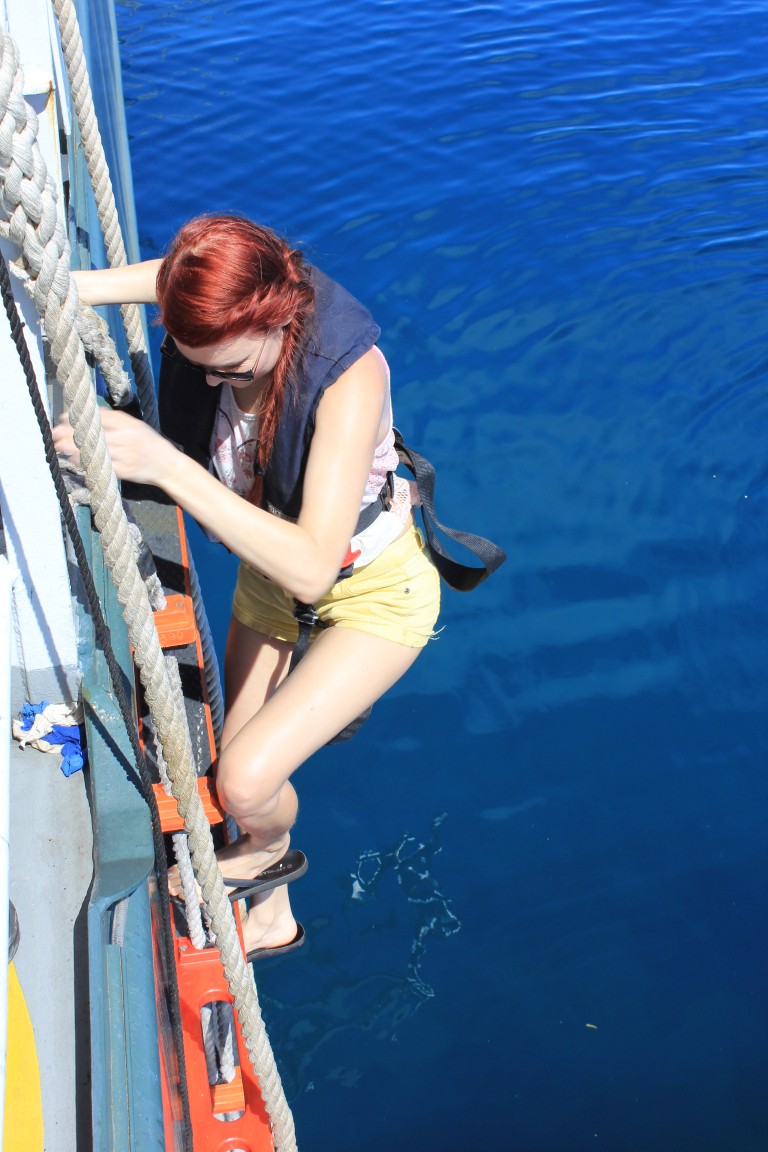 Julianna: I am currently attending Maine Maritime Academy working toward a double major: Bachelor of Science in marine science and Associates in small vessel operations. These two areas of combined study prepare me well for a career working aboard a research vessel.
Jennifer: I graduated in 2013 from University of Hawaii at Manoa (UHM) with a BS in Global Environmental Science (GES) with a minor in Theatre. I wrote my thesis on teaching science through creative drama with a focus on STEM education. Currently, I teach STEM to 2nd-8th graders in Honolulu.
What are your career goals?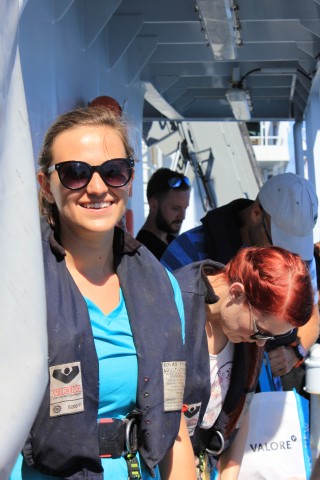 Julianna: After graduation, I want to work on research vessels, but I'm not sure exactly in what aspect. I'm working toward my 200-ton mate near coastal license as a way to learn more about larger vessels. This trip is going to be eye-opening and I'm thrilled to work with Marine Technicians, Colleen and Jimbo, and the rest of the science crew.
Jennifer: Ultimately, my dream is to travel the world sharing science. I have been producing 21.3 Degrees North, a science and community television show on Oahu, for almost two years. This opportunity aboard the Falkor is allowing me to share science on a much larger scale. It's great to have the guidance of Carlie Wiener, SOI Communications Manager, on this cruise, and to have such a brilliant science crew to work alongside. I am looking forward to getting to know the scientists, learning more about the research and generating interesting content.
How did you find out about the student opportunity?
Julianna: Colleen Peters, Lead Marine Technician onFalkor, contacted my academic advisor about the cruise. My advisor encouraged me to apply to this student opportunity. The more I learned about Falkor and the Schmidt Ocean Institute, the more confident I was that this would be a good fit and a once in a lifetime opportunity for me.
Jennifer: A handful of my colleagues from the University of Hawaii Manoa (UHM) Global Environmental Sciences program were aboard the Falkor for a student cruise, and I learned about Schmidt Ocean Institute from them. One of those students now works at UHM's Center for Microbial Oceanography: Research and Education (C-MORE) and passed along some information he heard at work. I eagerly accepted the opportunity to intern as a multimedia science journalist and research assistant aboard the Falkor.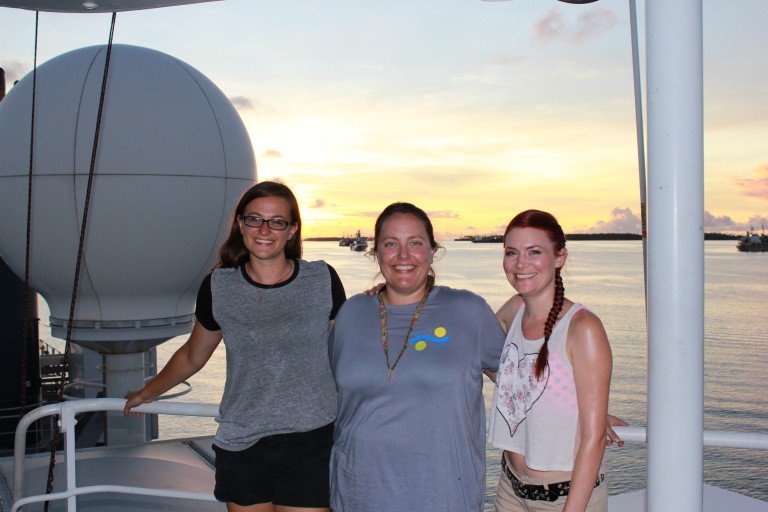 How do you anticipate benefiting from this cruise?
Julianna: I kept my expectations fairly open and malleable for this experience. I want to become familiar with the research as well as comfortable working with the scientific team and Falkor crew. I look forward to expanding my experience on the instruments I have used before and learning how to use new equipment.
Jennifer: I hope to see what a journalist aboard a prestigious research vessel does day to day and learn about the process of science communication. There is so much that goes into keeping content fresh and interesting, as well as making it easily digestible; SOI does a great job on these aspects. Social media presence, blogs, videos and radio are important parts of today's media, and I'm excited to be a part of the team!
What was your travel experience getting to the ship?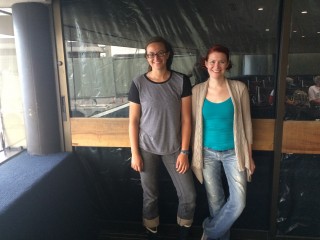 Julianna: It took me around 17 hours to arrive in Majuro, Marshall Islands where I met Falkor. The first 12 hours were spent flying from Philadelphia, Pennsylvania to Honolulu, Hawaii. I was fortunate enough to spend a day on Oahu before meeting up with Jennifer, Carlie, and a handful of the science party. Together we made the five-hour hop from Honolulu to Majuro.
Jennifer: I live in Honolulu, so it wasn't difficult for me to travel to the Marshall Islands. Carlie and Julianna picked me up at 5 am for the airport. I sat next to a Marshallese woman on the plane, so I got to learn quite a bit about the islands! I was really excited to get my first stamp in my passport in Majuro. We lost a day during travel when we crossed the dateline.
This is the first installment of the Student Opportunity blog aboard the Falkor. Stay tuned to read about Julianna and Jennifer's progress as the R/V Falkor sails out to sea!