The research teams aboard
Falkor
are always filled with some of the brightest scientific minds. However, we would like to shine a light on some of the Women of the
Falkor
. 
Meet Mardi McNeil. Mardi is a part of the current Northern Depth of the Great Barrier Reef expedition and has also participated in the Seamounts, Canyons, and Reefs of the Coral Sea cruise and the Student Opportunities Participant Program. The data that Mardi is collecting aboard Falkor will be a part of her Ph.D. in marine geoscience.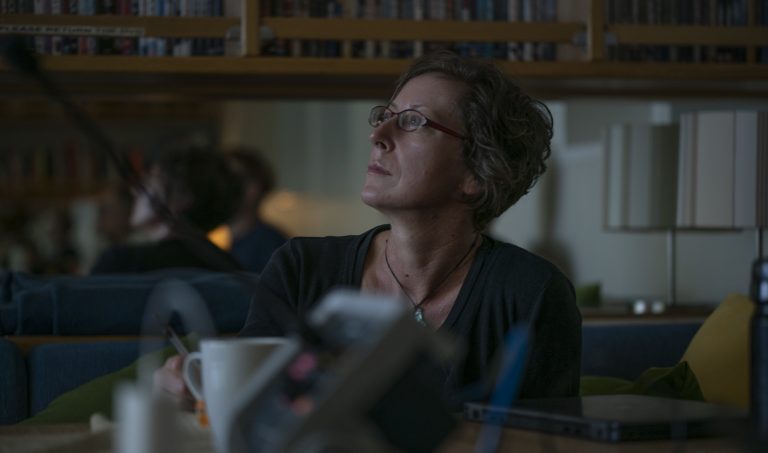 Mardi is originally from rural South Island, New Zealand, but has lived, worked, and studied in Australia for 25 years. She found her love of nature in New Zealand through outdoor activities like camping, hiking, ice skating, skiing, and sharing this love with her two grown-up sons and a geriatric golden retriever. In the past few years, Mardi shares that she hasn't had much spare time (or money!), but when she does, she enjoys scuba diving and bushwalking–thinking of ways to answer research problems while out walking her pup.
There are so many paths to the marine sciences, whether you have known all your life or stumbled into the ocean. For Mardi, it was more of a winding road. None of it was planned, but she found herself chasing the possibilities.
"It has been a series of stepping stones and taking advantage of opportunities as they present themselves, building on experiences, and following what 'feels right.'"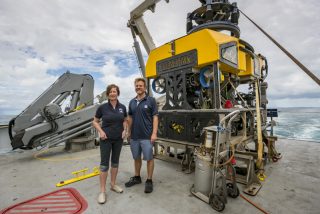 Mardi started her undergraduate degree a bit later in life, after she had worked several other jobs and been a successful businesswoman for a decade. She decided to major in environmental science and geoscience and found the magic in marine geology (and there were great field trips). She researched carbonate sedimentology for her honors project and participated in a Schmidt Ocean Institute Student Opportunities Participant program. 
"That was my first time going to sea on a research vessel, and being on R/V Falkor was certainly an amazing experience. It gave me a first-hand appreciation not only of the science but also other aspects such as the importance of outreach and science communication."
While completing her Ph.D., Mardi has spent lots of time at sea, including Australia's CAPSTAN program (Combined Australian Postgraduate Sea Training Alliance Network) on R/V Investigator, which is one of the few opportunities for Australian students. The Northern Depths of the Great Barrier Reef expedition is her third voyage on R/V Falkor and her first Co-chief Scientist role.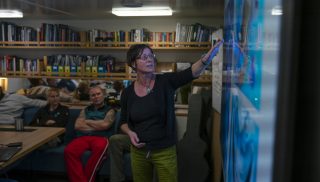 "This comes as a result of all of the experiences and all the collaborators that I have networked with over the past five years or so. I think that the most valuable thing that I have done as a student is to step outside my comfort zone. It's so important to put yourself out there, attend conferences, give talks, go to workshops, join industry/professional/academic societies, introduce yourself to people working in your field, and get to know who is working on what and where. Then ask, ask, ask for what you want. They can only say no, and there's a chance they might say yes! No-one will know what your goals and ambitions are and what opportunities you are looking for if you don't talk about it."
While the number of women in STEM fields has been increasing, Mardi laments the statistics on the number of women entering STEM fields versus those who stay in STEM. 
"The 'leaky pipeline' is a real problem that negatively impacts everyone in science, regardless of gender. Personally, I feel very supported by my male and female colleagues and peers, and have had overwhelmingly positive experiences. Networks such as WOMEESA (Women in Earth and Environmental Sciences in Australasia) and their members are highlighting some really practical and positive strategies to remove barriers and make geoscience more equitable and inclusive for all." 
Mardi finds that the most rewarding experiences she has had have been traveling and networking, and collaborating with others —especially international conferences, field trips, and being at sea like this expedition on R/V Falkor.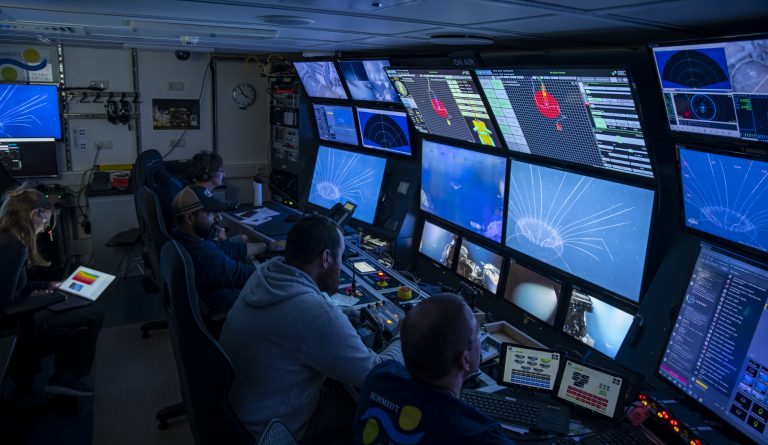 "It is truly addictive. Being invited to collaborate on scientific projects with people that I respect and admire is very rewarding. I've met some of the most wonderful and inspiring people who I continue to learn from every day. Getting together with like-minded people, whether it is about the science, collaborating, planning, networking, leadership, and personal qualities like integrity and humility. It is the people that make all the hard work so enjoyable."