My greatly anticipated journey has come to a close.
It will be a shock to walk on firm ground once again and see people other than those 32 fellow travellers that I have spent the past 27 days amongst. For me, this Artist-at-Sea experience has been 27 days of full-on artistic process. This is a vocation that I embraced with energy and enduring enthusiasm.
On Saturday, my first thoughts and acts of art will be my last in this space. The daily drawings that have occupied my mornings will cease. And so begins the process to pack away the items that denote my practice and time aboard the R/V Falkor.
The continuous mechanical drawing is almost complete; the 10 metres of paper marked in graphite and blue, telling the story of our journey, is nearly spent. Yet, one more change has finally occurred. After a mostly calm sea journey, I have finally been able to use the charcoal that I reserve to visualise rough seas or storms. My desire for this work to reflect the changing mood of the sea, to see this storm energy manifested and emerging, as a footnote to our journey, adds a palpable dynamism to this work.
I have also been working to track our journey in various other ways, through printmaking with photopolymer plates to a larger work I have titled 'Beyond the Multibeam Trail in the Coral Sea.'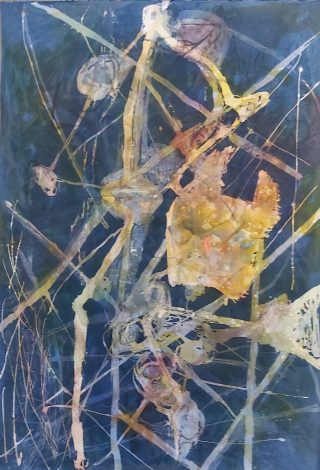 This painting will find a home with the Schmidt Ocean Institute as my interpretation of the mapping journey we have been on. Using layers and glazing to reflect on the laying that occurs when multiple ocean mapping voyages are joined and viewed in their entirety. It also exposed how much mapping is still to be done if we are to truly understand our planet.
So many elements make up our understanding of these mapping lines beyond the multibeam sonar, the CTD, the XPT and the dragging of a magnetometer for vast kilometres. Working with my pinhole imagery in this environment gives one a sense of the moments that pass, the unnoticed movement that we take for granted, explored and enhanced by the activities that are seen as only part of a process, mundane even but to capture these flickers of time has been a privilege.
With the end of our voyage in sight, I reflect on these images and others that make up my video projects. You can see one of my pinhole videos above: the Magnetometer deployment. Others are still very much works in progress but could not have been realised without the help of Alysha, John, or Phil, and I am so appreciative of their skills and generosity of time.
There is so much that I will take away from this experience, so many unrealised ideas that will continue to flow, taking form through the various mediums I embrace. Long after leaving this space, my vocation as an artist striving to create more awareness about our oceans and how we all affect them will continue.