The Cape York Peninsula lies in the far northern Great Barrier Reef (GBR) Marine Park. The peninsula is one of the most isolated regions of the Australian continent and little is known about what lies in the offshore deeper waters. Scientists consider these deeper waters to be a frontier area of the GBR. Sparse information from previous mapping expeditions indicates complex deep sea canyons, massive landslides, and detached mesophotic (deep) reefs rising from around 500 meters below the sea surface. However, why these detached reefs exist and the structure of the deep sea canyons are unknown and unexplored. Following two successful cruises – Visioning Coral Seas and Seamounts, Canyons, and Coral Reefs – Dr. Robin Beaman of James Cook University and his Co-PI Mardi McNeil will voyage aboard R/V Falkor for a third time. Their team will utilize mapping and ROV surveys to understand what lies in the northern depths of the Great Barrier Reef.
Astonishing Geologic Features
Continuing on from previous expeditions earlier this year, the science party and the Falkor crew will expand their work taking inventory of the GBR's submarine canyons and any other unusual geological features. During the transit northwards, the expedition will begin by mapping the Swain slide, a 20 kilometer long underwater landslide discovered off the Swain Reefs. Why this massive landslide exists perplexes scientists, as there are no immediate geologic features to explain how it happened. Bathymetric mapping data and ROV surveys will help describe and determine the age of the Swain slide.
The team aboard R/V Falkor will then map the largely unexplored northern continental slope offshore of Cape York Peninsula. There is limited information about the seafloor in this region and detailed mapping has not yet occurred. Existing maps indicate the canyons of the northern extent have very different structures and characteristics from the Ribbon Reef canyons explored on the previous expedition.
During this Cape York exploration, scientists will utilize R/V Falkor's advanced multibeam mapping systems to examine the seafloor topography. The goal is to ascertain the formative processes which make these canyons different from other parts of the GBR. The new multibeam data will greatly advance the characterization of Australia's massive and ecologically important marine estate. All data will be added to the Australian government databases and made publicly available.
Life Along the Reef Slope
ROV SuBastian will work in tandem with the multibeam systems, in order to determine if structurally-different bottom features facilitate the presence of deep-sea coral habitats unique to the region. The ROV data will also allow scientists to examine if the mesophotic (twilight zone) corals have been affected by recent coral bleaching.
As demonstrated by the work done in Bremer Bay, Perth Canyon, and most recently in the Ningaloo Canyons, ROV SuBastian can make a major impact in the discovery of new species, habitats, and in understanding key processes in these little-known ecosystems. In a country where there are few opportunities to explore the deep sea with a dedicated science ROV, this expedition will have a major impact in visioning the Coral Sea.
Drowned and Detached Reefs
The submerged (also known as drowned reefs) shelf edge reefs of the GBR are considered the world's longest fossil reef. How far north the drowned reefs extend into the Cape York region is unknown and one objective for the mission is to determine the northern extent of the drowned reefs along the shelf edge.
The science team will also examine numerous detached deep reefs – isolated reefs which have grown upon a platform of continental rock that extends out of the slope deeper than the shallower GBR shelf reefs. These reefs may be tens of thousands of years old, rising up from the deeper platform but have completely unmapped bases. The goal is to map and survey the foundation of the reef bases and surrounding platform to gain insight into the detached reef's formation and ecosystems.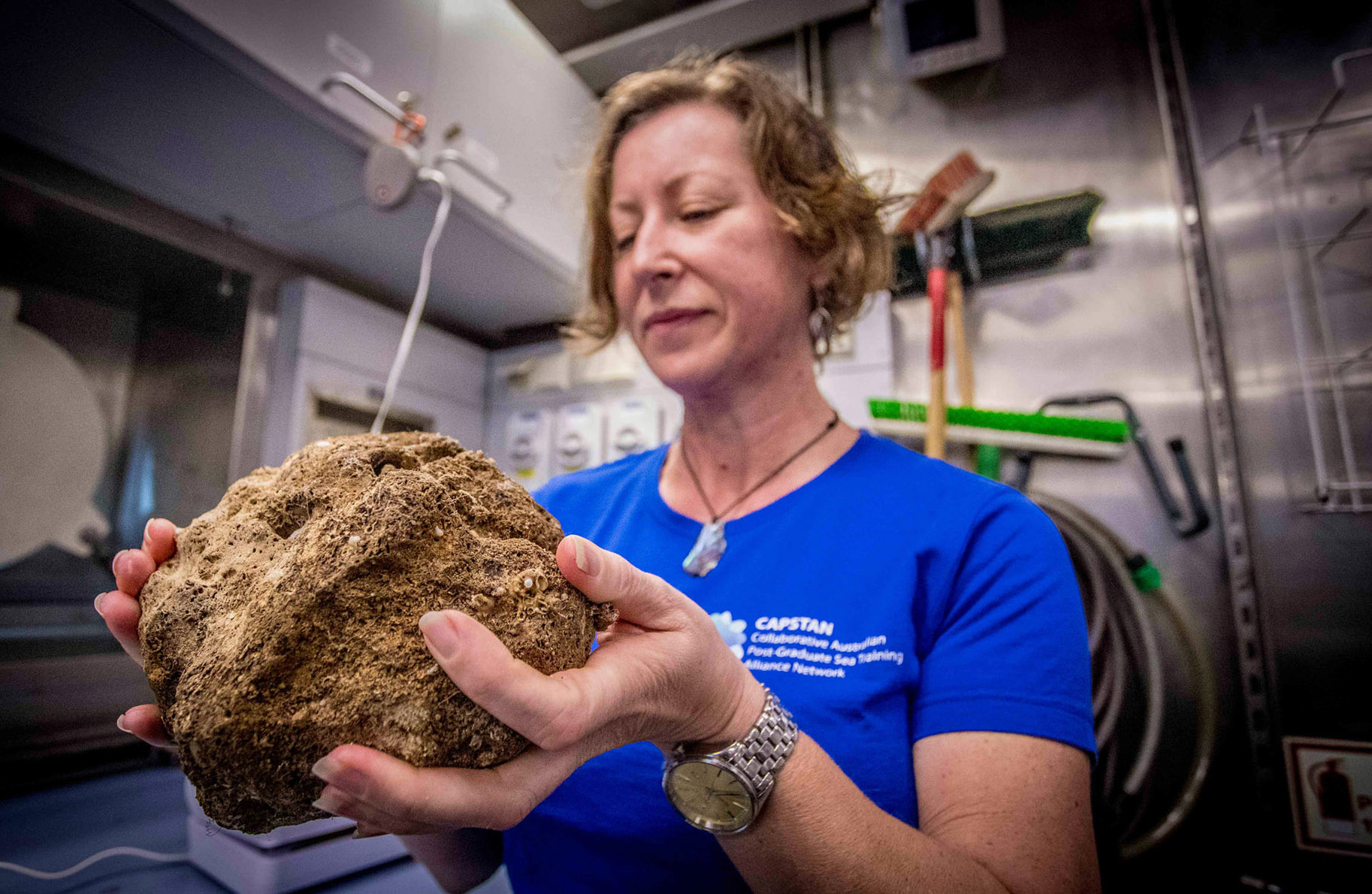 Annotated images from from this expedition are in Squidle+. [Platform = SOI ROV Subastian, deployment = FK200930].
Preliminary bathymetric grids have been released in AusSeaBed (data combined with data from FK200802).
ADCP data has been processed and is available through UHDAS.
Environmental sensor data is curated and archived at Rolling Deck to Repository.
ROV data is archived at MGDS.
Flythrough video highlights of deep and mesophotic seabed environments within the Coral Sea Marine Park.
An ArcGIS StoryMap on the new Australian national seabed map includes data collected by Falkor in 2020.
Lindsay, D., Hunt, J., McNeil, M., Beaman, R., and Vecchione, M. (2020).  The First In Situ Observation of the Ram's Horn Squid Spirula spirula turns "Common Knowledge" Upside Down. Diversity, 12, 449, doi: 10.3390/d12120449.
Beaman, R. (2021) Schmidt Ocean Institute R/V Falkor Australia Campaign 2020-2021. Oral Presentation and Conference Paper, Sub-Committee on Regional Undersea Mapping, General Bathymetric Chart of the Oceans, Virtual from Paris, France.
McNeil, M. (2021). No Pandemic-pause for Multi-disciplinary Reef Exploration in 2020. Reef in Review, 50, 8-10. [This article is published as OPEN ACCES].
Beaman, R., Picard, K., and Miller, A. (2022). RV Falkor Surveys in Australia 2020-2021. Oral Presentation and Conference Paper, Hydrospatial 2021 Conference, Australasian Hydrographic Society, Cairns, Australia. [Abstract and presentation are OPEN ACCESS].
Horowitz, J., Opresko, D., Molodtsova, T., Beaman, R., Cowman, P., and Bridge, T. (2022). Five new species of black coral (Anthozoa; Antipatharia) from the Great Barrier Reef and Coral Sea, Australia. Zootaxa, 5213 (1), doi: 10.1164/zootaxa.5213.1.1. [This article is published as OPEN ACCESS].
Mah, C. (2023). A new species of Astrosarkus from Western Australia including new Mesophotic occurrences of Indian Ocean Oreasteridae (Valvatida, Asteroidea). Memoirs of Museum Victoria 82:143-165, doi: 10.24199/j.mmv.2023.82.08. [This article has been published as OPEN ACCESS].