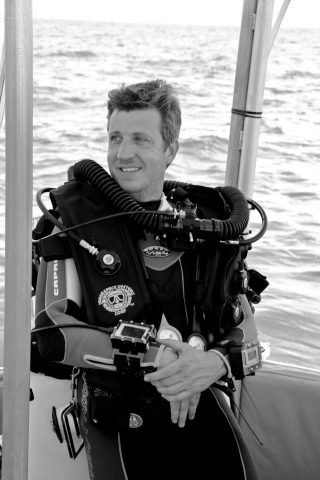 Richard Fitzpatrick is an Emmy awarded cinematographer specialising in 8K and 3D IMAX video systems as well as being a qualified marine biologist specialising in sharks. He has shot more than 50 films for clients such as the BBC, National Geographic and Discovery Channel and is renowned for filming complex behavioural sequences – (including 3D, High Speed, Time Lapse, Motion Control and Underwater) many never seen before.
Richard has also filmed many presenter-led programs – being able to switch quickly between topside and underwater filming and various filming techniques, he gives high production value on fast pace shoots.
Richard's background before filming was as a marine biologist in public aquariums.  He has worked at Oceanworld – Manly, Maui Ocean Centre- Hawaii and at the Great Barrier Reef Marine Park Authority's Reef HQ in Townsville and is accustomed to working in extreme environments.
Based at James Cook University in Cairns, Richard and his team at Biopixel co-manage one of the largest biological studios in the world.  Many of the complex behavioural sequences for the Attenborough's Great Barrier Reef series were filmed in this Aquarium studio.
Richard has a range of camera systems for both topside and underwater filming.  Biopixel's large camera inventory includes RED Helium, RED Dragons, Phantom Flex 4K, Probe Lens, Macrosystems, Time Lapse, High Speed and Motion Control Rigs, DJI Inspire 2, 360VR and 3D filming capabilities.
Cruises: