As my time on board the R/V Falkor has drawn to a close, I look back and reflect on how truly amazing and wonderful this experience was. When I first stepped on board, I was not sure what to expect. Having never been on a research vessel before, this was a completely new experience for me. Now, having completed this Ellice Basin mapping expedition, I found that this experience far surpassed my highest hopes.

 
I stepped off the R/V Falkor in Honolulu, Hawaii, with a deep appreciation for this incredibly positive and meaningful opportunity. With my past two blogs, I hope to give interested public an inside view of the life, science, and operations on board a research vessel from a student perspective. I want to use my third and final blog to continue this objective while also extending my heartfelt gratitude to all the crew on the R/V Falkor and those onshore involved in this expedition. It is because of them that this experience has been such a positive one for me and confirmed my desire to work research vessels.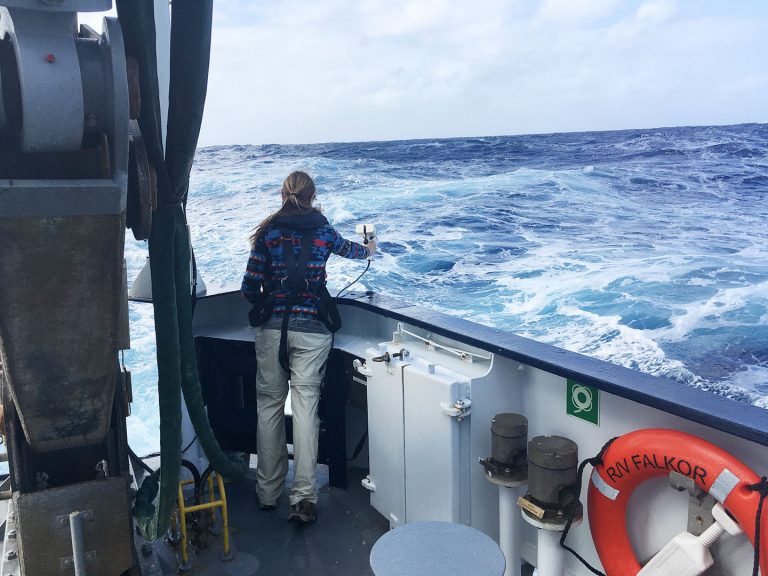 Fantastic Crew = Fantastic Research Ship
From day one, I was impressed at how well the ship was maintained. I also apprecaited the high standards held regarding shipboard safety and daily operations, as well as the general warm, welcoming attitude of all the crew.  The enthusiasm and expertise of the crew in each of their respective jobs shone through, and it was an honor to be able to learn about what they do. I truly appreciate their willingness to show or explain to me what is involved in each of their responsibilities and have the patience to answer my many questions. I wish I could thank every individual crew member through this blog, but unfortunately, I would have too many names to fit in!  A few of the many people I would like to thank are the bridge officers: Captain Peter Reynolds, Chief Officer Jason Garwood, 2nd Officer Taigh MacManus, and 3rd Officer Luke MacNutt. When I was not in the Science Control Room learning everything I could, I would often be up on the bridge, asking a multitude of questions about navigation and ship operations. These officers took time out of their busy schedules to explain these concepts with me and were even willing to teach me some navigation (even when I would come up at 0300 after my night watch monitoring the multibeam sonar in the Science Control Room), and for that I am extremely grateful. A fantastic, expert crew that works well together makes for a fantastic, well-run research ship, which is exactly what the R/V Falkor is.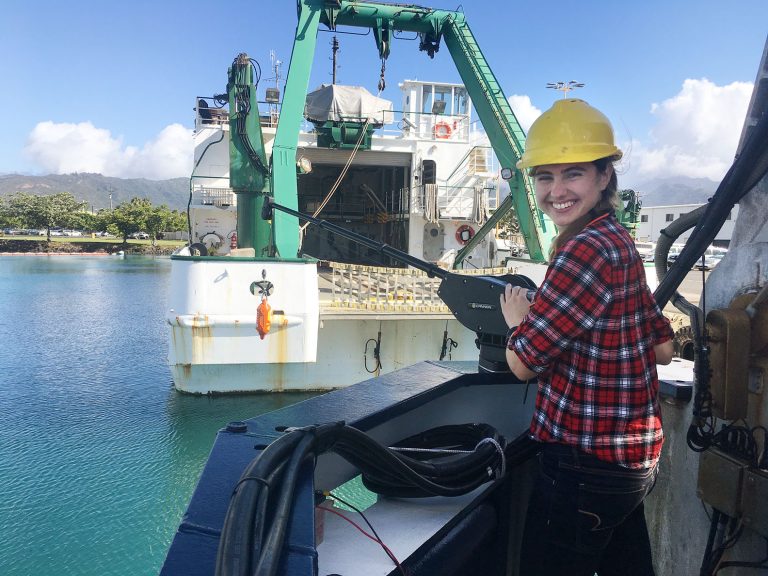 Marine Technicians: Experts in Their Field
The Marine Technicians on board, Veit Huehnerbach, Deborah Smith, and John Fulmer, were amazing, and helped me get the most out of my Student Opportunity Participant experience. Through their expertise and guidance, I learned more than could have ever expected about multibeam mapping, using scientific equipment, and the responsibilities of being a marine technician. They were extremely patient and willing to answer my constant stream of questions, going out of their way to show or explain to me a wide variety of scientific concepts. For example, it was fascinating to learn how the multibeam sonar not only provides high-definition images of the ocean floor, but can also be used to map seabed habitats, which has a huge potential for aquaculture and environmental studies as one can use this mapping to uncover areas where certain species can most likely be found. The dedication of these Marine Technicians to what they do is incredibly inspiring, and it is through having this opportunity to learn from them that has driven me forward to pursue my dream of one day working on a research ship. 
The Next Step: Continuing the Mission of Exploration
If I close my eyes, I can still picture myself back on board the R/V Falkor: feeling her rock in the swells, watching the sun set and flying fish skip across the water, and seeing the open ocean stretch endlessly before me, reminding me of how much of what lies beneath the surface of the water has yet to be explored. While this is a daunting concept, it is also thrilling to think that I can hopefully one day be a part of the important mission of exploration, helping to unravel the mysteries of the ocean world.