Join me, professor mike coffin on my first voyage aboard r/v falkor mapping the mysterious and remote ontong java plateau. Embarking on my 30th blue-water research expedition, I still get excited for the incredible adventure that awaits mapping unknown seafloor. This expedition will be my sixth to the ontong java plateau, but, no matter how many times i work in this region, it is always exhilarating. You never know what you are going to find.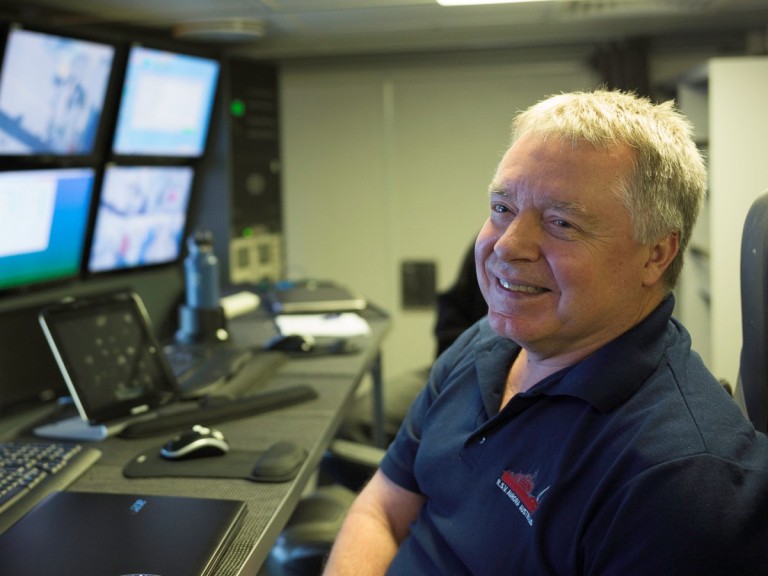 2 November 2014
Today is our last full day at sea, after a four-day transit that has been busy for both the science party and ship's crew. The science party is scheduled to disembark Falkor either tomorrow or the day after, necessitating that we wrap up our work today, and the ship's crew is intent on both leaving Falkor shipshape and preparing as much as possible for numerous port activities. Endings always feel rushed on research voyages, with time seeming to accelerate as one approaches port, and this cruise is no different.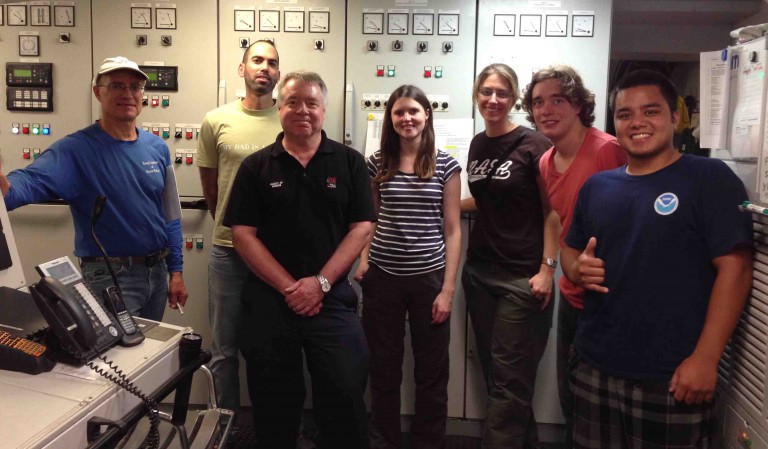 Our objectives when we submitted our proposal to the Schmidt Ocean Institute were several. We aimed to test potential genetic relationships between the atolls – Ontong Java and Nukumanu – and the Ontong Java Pleateau as well as between the atolls and Kroenke Canyon. We also aspired to understand and model how atolls and canyons form and evolve on oceanic plateaus, isolated from terrestrial influences and subject to sea level fluctuations. Contributing to understanding tsunami risk on low-lying atolls was a further goal.
So where do we stand with our objectives vis-à-vis the data we collected? In the study area, we mapped 234,392 square kilometers of seafloor – about the same area as the United Kingdom – along 6,288 kilometers of ship track, with water depths ranging from 87 to 4444 meters. With the multibeam data, we are able to address all four objectives, albeit to a lesser extent than anticipated due to the loss of Nereus prior to our voyage and a sub-bottom profiler that did not yield any sub-bottom data. Nevertheless, on the basis of the data acquired, we are already formulating answers to some key questions about Kroenke Canyon and the atolls.
Much of yesterday was devoted to cleaning the multibeam data. Although Schmidt Ocean Institute is contracting experienced professionals to thoroughly and rigorously clean the entire multibeam data set, it does take some time before the final version is available. In the meantime, we want to analyze, interpret, and submit the data and results for publication, hence the effort to clean as much as possible while at sea. Today marine technicians Colleen and Jimbo worked with the science party on final processing of the multibeam data and writing the complete data set to disk.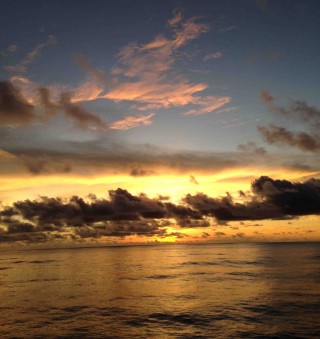 All in all, my 30th blue-water cruise has been a remarkable and stimulating voyage of discovery. The science party has truly appreciated Falkor's state-of-the-art multibeam systems and her enthusiastic, capable, and 'can-do' crew, which together have made this a memorable and highly successful expedition. Sincere thanks to Captain Philipp Günther and his outstanding team for executing our research program with skill, and to the Schmidt Ocean Institute for providing superb support for our investigations!
31 October 2014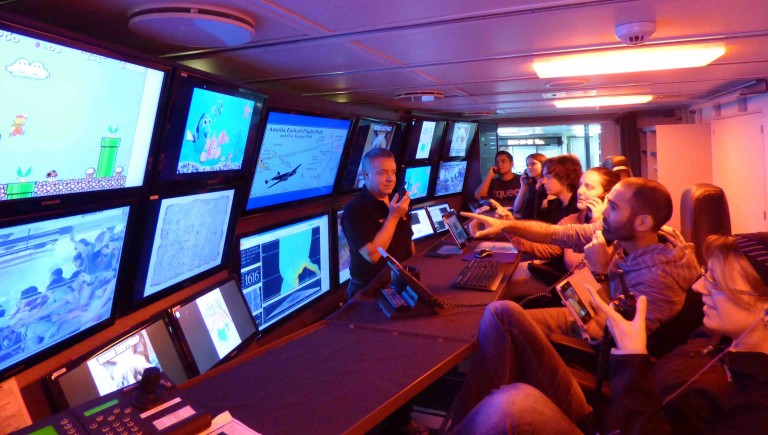 Earlier today we finished our mapping program on the Ontong Java Plateau, always a bittersweet milestone in an expedition. On the one hand, most, if not all, of the science party are homeward bound, soon to be reunited with family, friends, and regular work or study routines. On the other hand, despite much new and fascinating data, our hunger for new knowledge is only partially satiated…if only we had another week or month… or more… what further incredible results we would have!
So what have we done this voyage? We completed two circumnavigations of two atolls – Ontong Java and Nukumanu – that we suspected to be the original source of Kroenke Canyon. We mapped the canyon from the atolls across the Ontong Java Plateau to the adjacent Nauru Basin, albeit only sketchily in its upper reaches proximal to the atolls. We identified several tributaries, although we did not have time to map perhaps the most significant one. We mapped the transition of the canyon from the Plateau to the Nauru Basin, where the material eroded in forming the canyon reaches its final resting place. The data provide considerable new insights into the processes responsible for formation and evolution of the canyon; and we have identified quite a few new seamounts (sensu lato).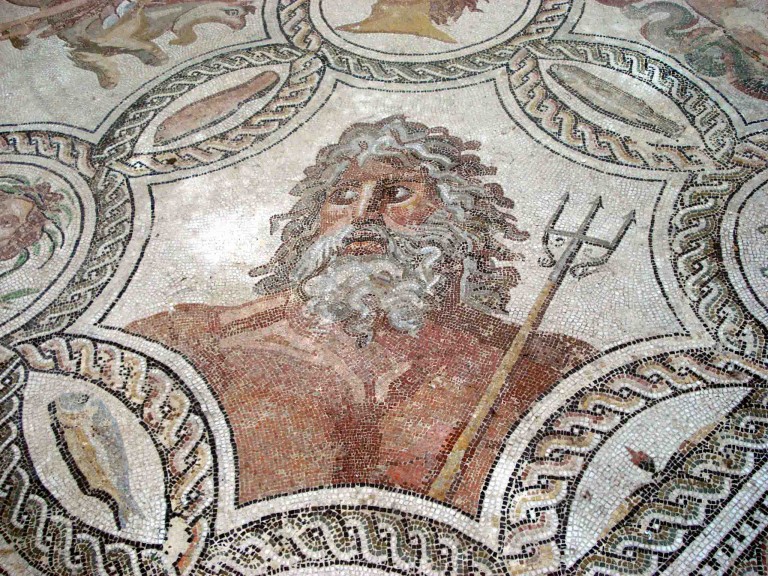 So where do we go from here? The science party will begin dispersing to multiple continents and islands less than four days from now, and much work remains to be done. We aim to disembark RV Falkor with a 'clean' multibeam data set, as well as a trove of images documenting the initial scientific results of the expedition. We need to finalize the cruise report, and discuss post-cruise roles and responsibilities with members of the science party who will continue to work on the data.
On the lighter side, on Halloween afternoon King Neptune will oversee a deferred Line Crossing (equator-crossing) ceremony, so that all the slimy Pollywogs aboard – including every member of the science party (save me!) – will join the ranks of the trusty Shellbacks. On Halloween evening, a costume party and barbecue are in store. The ensuing two days of the weekend will be fully occupied wrapping up the expedition prior to our estimated time of arrival in Guam. After docking, customs and immigration procedures will occupy an unknown amount of time, so nothing is planned ashore until afternoon at the earliest. In the evening we'll enjoy a farewell celebration for the entire ship's complement at a local establishment, a fitting conclusion for this highly successful expedition!
27 October 2014
Highly accurate navigation and state-of-the-art multibeam echosounding are the two technological keys to the success of this expedition. To our good fortune, RV Falkor excels at both, which have vastly improved from even a decade ago. Aboard this ship, technology rules.
The augmented Global Positioning System (GPS) currently installed on Falkor provides an accuracy of 10 centimeters anywhere in the ocean. This level of accuracy was unimaginable even a few years ago, yet with multiple satellite navigation systems now operational – US (GPS) and Russian (GLONASS) – or under construction – European (Galileo) and Chinese (BeiDou) – accuracy will likely continue to improve.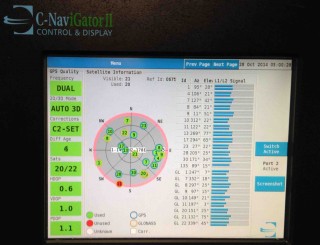 Multibeam echosounding was developed in the early 1960s by the US Navy, and the first commercial system became operational in 1977, on the Australian survey vessel HMAS Cook. In the intervening 37 years, commensurate with exponential advances in computer capabilities, the technology has undergone several generational advances. Falkor's Kongsberg 30 kHz EM302 and 70-100 kHz EM710 are the latest generation of multibeam echosounders, with operating ranges in water depths of 10-7000 meters and 3-2000 meters, respectively.
The EM302 has been the workhorse of our mapping program, operating continuously and consistently delivering high-quality data. In conjunction with the EM302, we utilized the EM710 around the atolls, with best results in water depths less than 1500 meters. Maximum swath width of the EM302 is ~8 kilometers, and of the EM710 ~2.5 kilometers. Accuracy of both systems is approximately 0.2% of water depth, thus ranging in our study from ~1 meter in 500 meters of water to ~9 meters in 4,500 meters of water.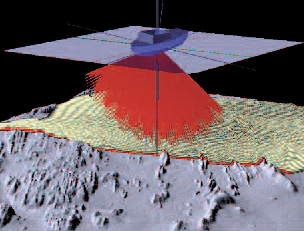 In our current location, near Ontong Java and Nukumanu atolls inhabited by Polynesians, one can't help but think of the incredible skills and accomplishments of native navigators who spread their culture throughout much of the Pacific Ocean, all without technology. The renowned Polynesian navigators, who hold high status in their society for obvious reasons, use only their senses combined with key knowledge committed to memory. Such knowledge includes the motions of specific stars (especially where they rise and set on the horizon), seasonal weather patterns, the geographies of wildlife species, ocean wave parameters (direction, size, and speed), cloud formations over islands, angles for approaching harbors, and colors of the sea and sky. This knowledge has been passed by oral tradition, commonly in the form of song, from navigator to apprentice, over the generations.
Which leads me back to Falkor…the entire ship's crew, including marine technicians Colleen and Jimbo with whom the science team works most closely, are also incredibly skilled and accomplished. The human key to the success of this expedition is this crew.
25 October 2014
The Pacific lived up to its name today, with glassy calm seas prevailing, probably as Ferdinand Magellan viewed it in 1520 when he named it Mar Pacifico, Portuguese for 'peaceful sea'. These conditions are ideal for acquisition of multibeam echosounding data as we continue to map Kroenke Canyon. Given time constraints, we have now mapped as much of the axis of the canyon as possible in its upper reaches proximal to Ontong Java and Nukumanu atolls. A full picture of the canyon in this region will await mapping by a future expedition.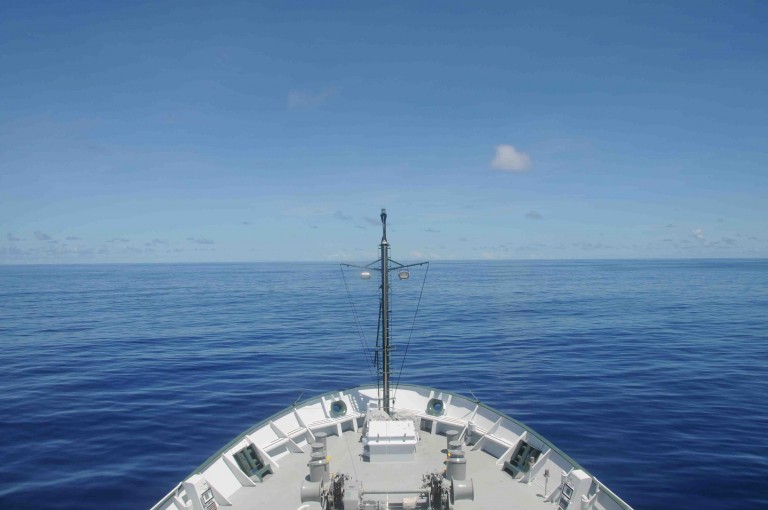 The new multibeam data are revealing that the Kroenke Canyon region is characterized by a dendritic pattern with multiple tributaries, and a catchment area considerably larger than what we'd envisioned at the start of the voyage. This emerging picture, which will be published when complete, strongly resembles that of the Grand Canyon in Arizona (see map). Geologists tend to make comparisons and analogies between well-studied features and those less understood, to increase understanding and stimulate thinking about the latter.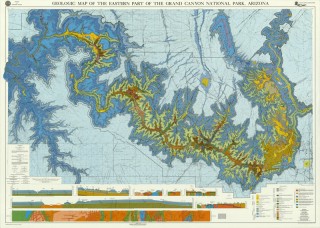 The length of the Colorado River flowing through the Grand Canyon is ~450 kilometers, and so far we have tracked Kroenke Canyon for a straight-line distance of about the same length. With meanders and possible extension into the Nauru Basin, eventually Kroenke Canyon will likely exceed the Grand Canyon in length. The Grand Canyon is up to 29 kilometers wide, and maximum relief is ~1800 meters. From our data so far, Kroenke Canyon is even wider in places, and its maximum relief is ~1000 meters.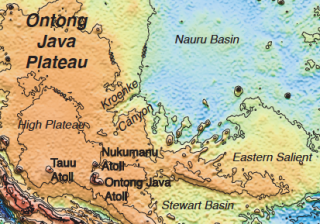 Draining the ocean is not an option, but the new multibeam echosounding data we are acquiring from RV Falkor constitute the next best thing to illuminate the Kroenke Canyon system and its catchment area. As we map downslope toward the canyon's mouth, more and more fascinating complexity appears, stimulating the curiosity of the science team as well as of the ship's crew – let the exploration continue!
23 October 2014
Earlier today we finished our two complete circumnavigations of Ontong Java and Nukumanu atolls, revealing their subsea morphology and extent for the first time. The multibeam echosounder data illuminate a rich array of geologic features, including slumps, submarine landslides, small canyons, channels, and probable volcanoes. Although not entirely unexpected, the ~900-meter tall suspected volcano was the highlight of the circumnavigations.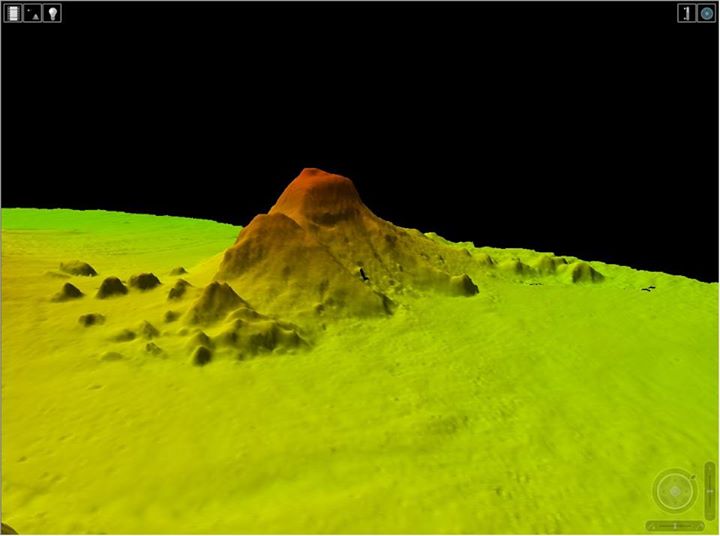 During 2005 and 2010 seismic investigations of the Ontong Java Plateau aboard Japan's RV Kairei, we identified several submarine volcanoes proximal to Tauu Atoll, which lies ~270 km due west of Ontong Java and Nukumanu atolls. Japanese colleagues have subsequently dredged these submarine volcanoes, and the dredges yielded basaltic lavas that are currently being analyzed. Future research voyages will likely target the probable volcano we have just discovered for sampling, as age, petrology, and geochemistry results from it can also be applied to the volcanoes that underlie Ontong Java and Nukumanu atolls.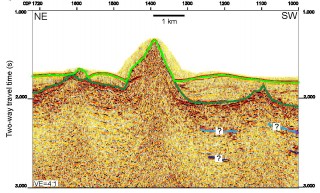 The origin of the presumably younger volcanoes surmounting the Ontong Java Plateau, as well as such volcanoes on other oceanic plateaus, remains enigmatic. The most common explanation is that the plateaus, are part of much larger tectonic plates, and are transported over mantle hotspots that generate magmas to produce volcanic islands as well as submarine volcanoes. Why such hotspots choose to 'burn' their way through ~35-kilometer-thick existing crust (in the case of the Ontong Java Plateau) as opposed to ~7-kilometer-thick crust of the nearby ocean basins, however, is a mystery.
We are now steaming north, seeking out the elusive upper reaches of Kroenke Canyon. Although we have laid out a search pattern, it will undoubtedly change as we monitor new multibeam echosounder data in real time. We are exploring on the fly, poised to track down any new leads arising from the data, how exciting!
22 October 2014
The search for Kroenke Canyon continues. While the canyon is well-expressed in seafloor morphology on the lower flanks of the Ontong Java Plateau (especially near its mouth where it debauches into the deep Nauru Basin), higher on the Plateau its bathymetric expression becomes increasingly subdued. The canyon and its relationship to Ontong Java and Nukumanu atolls remains obscure, despite the new Falkor multibeam echosounding data acquired to date.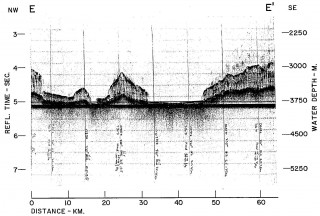 Submarine canyons are ubiquitous in the oceans, commonly incising the continental shelf and slope along continental margins, and acting as conduits for transporting sediment from the continents to the deep sea. Global estimates of the number of large submarine canyons exceed 5,800, of which ~83% are found on continental margins. The other ~17% are located on the flanks of islands. 'Large' is defined as spanning at least 1000 meters in water depth, and having a width/depth (incision) ratio less than 150:1, and incision exceeding 100 meters.
Two factors that make Kroenke Canyon fascinating are its setting and scale. Being situated on an oceanic plateau, it lacks the continental source region that characterizes ~83% of large submarine canyons worldwide. And it is not clearly associated with any major islands that characterize the remaining ~17%. Nevertheless, Kroenke Canyon incises sediment and possibly igneous rock of the Ontong Java Plateau to a maximum depth of ~1000 meters. Presumably the potential causes of this erosion are mass wasting (slumping and submarine landslides) and turbidity currents, similar to the causes along continental margins and around islands. But where and when did the incision of Kroenke Canyon start?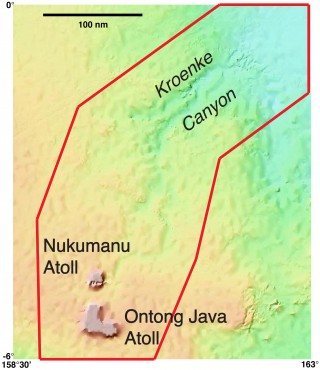 Due to calm seas and therefore no loss of data quality, we have once again increased our survey speed, this time to 12 knots, to extend the search area for Kroenke Canyon on shallower parts of the Plateau. This represents a 20% increase in survey coverage over our previous 10 knots, and a 50% increase over the original 8 knots. Today we devoted some time to pursuing what turned out to be a false lead, a 'blind' or 'headless' canyon that initially looked like the primary thalweg (axis of deepest incision) of Kroenke Canyon. This suggests that a branching pattern of multiple tributaries feeding into the primary canyon may emerge with further data acquisition. With approximately a week of surveying left before we have to depart the area for Guam, we hope that our expanded search will solve the enigma of Kroenke Canyon's origin.
19 October 2014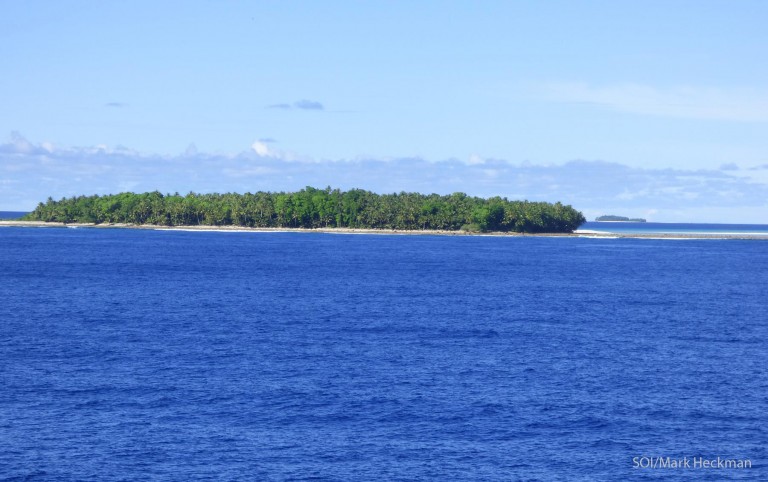 Canyons, whether on land or underwater, have to start somewhere, and for the past day we have been mapping the seafloor around the prime suspects for Kroenke Canyon's origination: Ontong Java and Nukumanu atolls. Atolls are circular groups of coral islets, synonymous with lagoon islands. Ontong Java belongs to the Solomon Islands, and Nukumanu to Papua New Guinea. To map the seafloor around these two atolls, we filed applications to conduct marine scientific research in the Exclusive Economic Zones (EEZs) of these two nations through the Australian Department of Foreign Affairs and Trade in December 2013.
Both atolls are presumed to be the remnants of major volcanoes, which through erosion and subsidence evolved to barrier reef islands and eventually atolls, where only the fringing reefs remain. Charles Darwin published this theory of atoll formation in 1842, on the basis of his observations in the South Pacific while he was aboard HMS Beagle's circumnavigation of the world from 1831 to 1836, and his theory has survived the test of time.
Ontong Java Atoll, the larger of the two we are mapping, consists of 122 islets totaling 12 square kilometers arranged in the shape of a boot with dimensions of ~80 x ~30 kilometers. Its lagoon is vast, encompassing ~1500 square kilometers. Maximum elevation of the islets is 13 meters. Nukumanu Atoll, about 70 kilometers to the north of Ontong Java, consists of 22 islets totaling 4.6 square kilometers. The islets and lagoon form the rough shape of a right triangle. Nukumanu Atoll tops out at 2 meters above sea level.
Our working hypothesis is that erosional processes on one or both of these presumed ancient volcanoes continued into the subsea and caused the formation of Kroenke Canyon. When this may have happened is not known. However, evidence suggests that Tauu Atoll, which lies ~270 kilometers west of Ontong Java Atoll, formed as a volcanic island between ~45 and ~24 million years ago. If Ontong Java and Nukumanu atolls originated as volcanoes around the same time, erosion would have commenced at the time of formation, and continued through the barrier reef island and atolls phases of development. Furthermore, throughout the last 2.6 million years, significantly greater portions of the atolls would have been subaerial and subject to erosion during glacial maxima. For example, during the last glacial maximum 20,000 years ago, sea level was 125 meters lower.
So what we are looking for in mapping the seafloor around the islands are incisions in the steep wall descending from the active reef through to the slope around the atolls and eventually into Kroenke Canyon. There may be one major incision, multiple incisions, or no incisions at all. In the case of no atoll-to-canyon incisions, we may have to amend our working hypothesis that Kroenke Canyon originates from one or both of the atolls. We anxiously await acquiring full coverage around the atolls to test our hypothesis!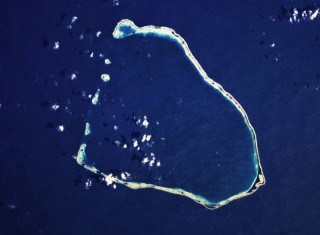 Both Ontong Java and Nukumanu atolls, although lying within Melanesia, are inhabited by Polynesians, with ~2000 people living on the former and ~700 people on the latter. The new seafloor mapping data are of particular significance for them, for the first time allowing precise estimations of tsunami risk for these two atolls in this tsunami-prone region.
17 October 2014
Kroenke Canyon ahoy! Early this morning we arrived at the mouth of Kroenke Canyon, where it emerges from the flank of the Ontong Java Plateau at about 4000 meters water depth and disappears into the deeper Nauru Basin. Thus our research program has begun in earnest and our first multibeam echosounder line will attempt to follow the axis of the canyon from its mouth right up to its potential origin at Nukumanu and Ontong Java atolls. I say 'attempt' because neither sparse existing bathymetric data nor satellite-derived predicted bathymetry allow us to clearly identify either the axis or the origin of the canyon – we are on a mission of discovery.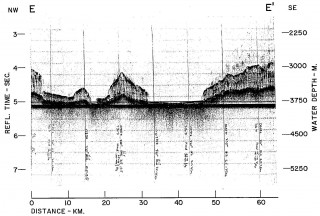 Calm surface waters, with the exception of the occasional typhoon, are typical over the Ontong Java Plateau. Although we'd initially planned to acquire multibeam data at 8 knots, benign sea conditions are allowing us to survey at 10 knots. This 25% improvement in coverage will help make up for the shortened duration of the voyage, and we hope to map the complete canyon system as well as encircle the two atolls with multibeam data.
The namesake of the canyon is University of Hawaii geophysicist Dr Loren Kroenke, who has focused much of his career on researching the Ontong Java Plateau. His PhD dissertation – Geology of the Ontong Java Plateau – was completed in 1972, and remains an essential reference for all students of the feature. Loren first identified the canyon in his dissertation. I have had the good fortune to sail with Loren to the Ontong Java Plateau three previous times, aboard RV Hakuho Maru in 1998, DV JOIDES Resolution in 2000, and RV Kairei in 2005. During those four months at sea together, I benefited enormously from his encyclopedic knowledge of and infinite curiosity about the Ontong Java Plateau, and from all impressions his spirit of inquiry pervades the science team aboard this Falkor expedition.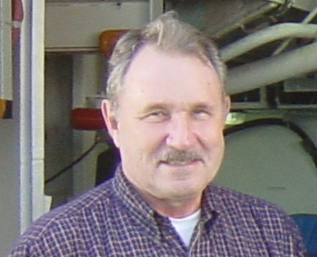 Yesterday evening we crossed the equator – without a crossing the line ceremony (stay tuned for further details) – and we will have to re-cross it after finishing our research program and transiting to Guam. This part of the Pacific contains the warmest open ocean water in the world (>28.5°C), and is known as the West Pacific Warm Pool, part of the Indo-Pacific Warm Pool. We've seen water temperatures approaching 32°C. And although the pool is the region of highest rainfall on Earth, so far Pollywogs and Shellbacks alike have enjoyed mostly blue skies and lots of sunshine. Perfect for canyoning!
15 October 2014
Pohnpei, capital of the Federated States of Micronesia, boasts what must be the shortest transit between a commercial airliner and a research vessel. In the 16 years since my last (and only other) visit, I'd forgotten that the transit was a five-minute walk, even laden with all the gear needed for a 20-day voyage. I arrived two days ago, and the past 48 hours have been a blur, with ship induction, scientific systems training, voyage preparation, and team-building.
The good ship Falkor and her able crew are just as I remembered them from shipboard and shoreside visits in Honolulu earlier this year. The vessel is a superb platform for multibeam echosounding, the primary tool for our expedition, and has a young, motivated, and enthusiastic crew. The ship's crew is a mini-United Nations, a rainbow shipboard nation.
Our science team, hailing from Australia, Asia, Europe, North America, and Oceania, came together for the first time less than 24 hours ago. Introductions have been made, backgrounds shared, experiences recounted, and the fine cuisine and libations of Chef Carlos consumed before we started standing scientific watches a few hours ago.
Following breakfast this morning, we cast off from Pohnpei on schedule, under brilliant blue skies and on turquoise waters. The sea state is calm, optimal for those susceptible to motion on the ocean. Estimated time of arrival at the mouth of Kroenke Canyon, where our survey will commence, is before daybreak on 17 October.
After first submitting an expression of interest for this project in February 2012, to finally be underway feels amazing.  Over that 32 months, setbacks have occurred including the loss of the hybrid ROV Nereus originally scheduled for this expedition, and shortening our seatime. Nevertheless, we anticipate collecting superb data that will underpin great strides in advancing our understanding of the Ontong Java Plateau.
At sea at last, At sea at last, Thank Neptune almighty we are at sea at last!
– With apologies to Dr. Martin Luther King Jr