Every couple of years, you should get yourself a full overhaul. Do the works, have the cylinders and bearings pulled, take it all down. Wouldn't it be great if we humans could do that? Replace all the worn parts, get everything shipshape. For the twin 4,000 horsepower main diesel engines on Falkor, this is a reality. The magic number is 10,000 hours of run time, which could be much less than two years, but since there are two engines, the ship does not need to use both engines at once.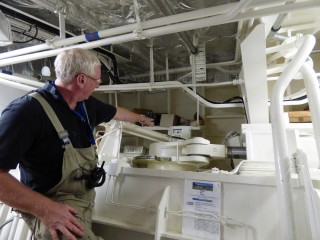 Running one engine at a time uses less fuel and is handy for at-sea maintenance. When one of the engines recently had an issue with a cylinder head, the engineering crew moved right on it while the other engine powered the ship. The engineers keep a supply of spare parts on Falkor and have a full machine shop so they can fabricate whatever they don't have. This past time, the engineers were able to fix the problem and then take the opportunity to switch out the fuel injectors as well for a more efficient set of nozzles.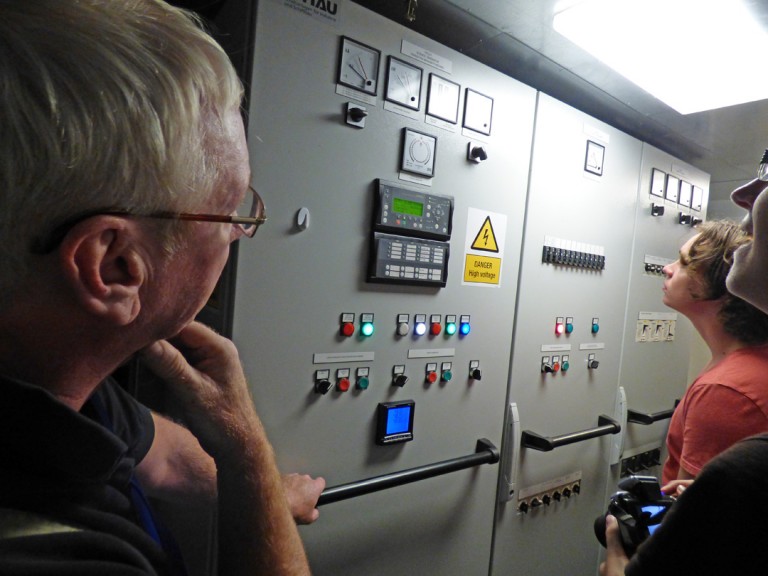 The Falkor and her crew are all about efficiency and redundancy. Each main engine can provide power to one of the propellers, and if running at constant speeds, can also provide power to the alternators through a clutch. These same alternators can also be driven by two separate auxiliary diesel engines.  If the shaft alternators fail, there is a 400 kilowatt emergency generator that will bring the ship back up in 35 seconds. The propellers are a high tech variable pitch design such as you might find on a submarine, both quiet (which is important for science teams doing acoustic work) and fuel saving. The Falkor took on 260 cubic meters of fuel oil in Pohnpei (217 tons). The ship uses about 12.5 cubic meters a day, so we will only stay out a maximum of about 30 days, again, to make sure there is a reserve.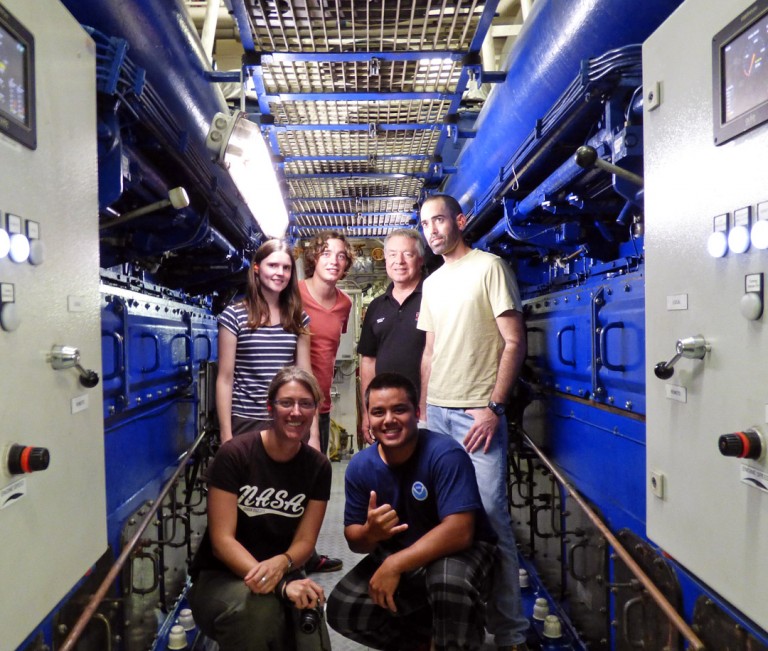 In addition to powerful engines, the Falkor also has its own desalination plant. This is critical to provide fresh water to everyone onboard during those 30 days at sea. The system also efficiently gets rid of wastewater. The ship has a state of the art biodigester unit that takes wastewater and makes it as clean as or even better than when it started. There are also multiple layers of safety systems for each area in the engine room. Banks of carbon dioxide (CO2) canisters are set to flood the engine room with inert gas in an emergency, and the emergency system abounds with shut offs. It has all been very well thought out.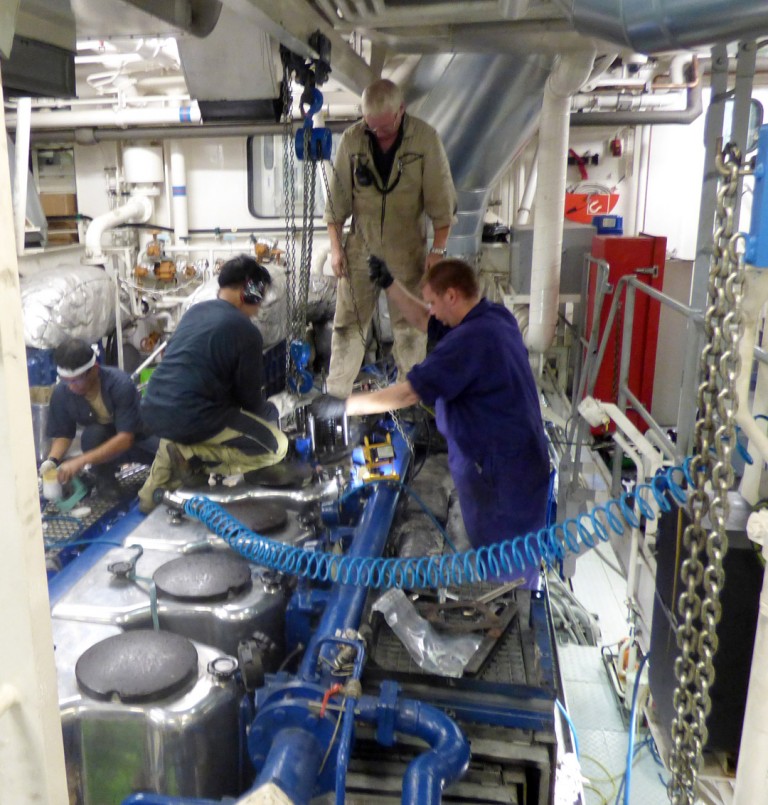 The Engineering department has three hard-working engineers, one electrical/technical officer, two general fitters, plus one engine fitter. Fitters are crew who can fabricate and put things together. The ship's engineering manuals are comprehensive and the engineers constantly refer to them. It seems a bit surreal to an old Star Trek fan that the Chief Engineer, Allan Watt, is a Scot. After listening to him talk about his passion for the work and support of his crew, you also sense that, unlike Star Trek, this is quite real. Under his lead, the engineering crew does not just specialize, they also can cover for each other wherever possible. They all have a passion for their professions and come to the science talks when work permits to better understand what we do and just because they are interested.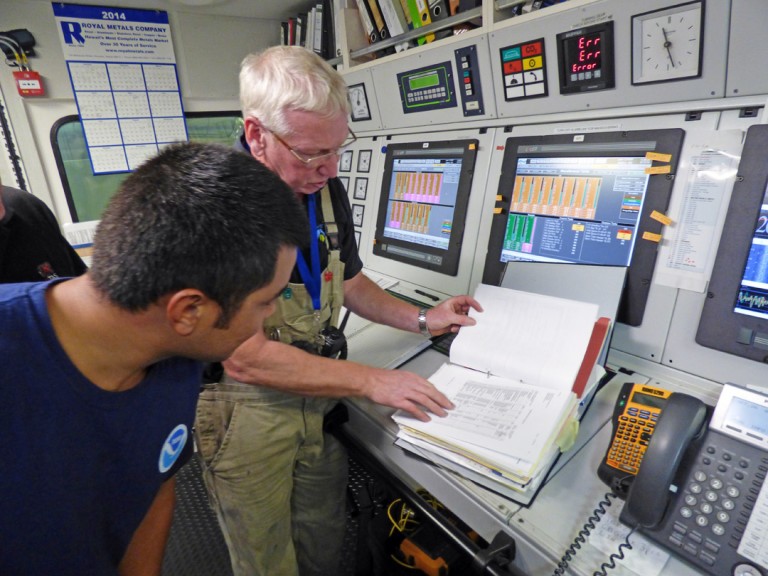 As Chief Engineer Allan says, "Everyone can do everything, I am just here to bother them and help get it done."   It has been a pleasure to get an opportunity to understand what Allan and his team do. This is the crew you would want to have your back when things go wrong, but realistically, this is the crew at makes sure that everything goes right.
For more images of the engine room and a virtual tour, don't miss this link to The Heart of the Falkor by Carlie Wiener.