This entry starts with a fish on deck. Not a small fish, but a rather large hungry barracuda. It took a lure that Chief Bosun Mick Utley thriftily put over the stern. We know the barracuda was hungry, because when Mick gutted it, we determined that is was a male with only a couple of tiny pre-settlement planktonic fish in its stomach. The barracuda's loss is our gain. Mick hands his barracuda off to a very happy Chef Carlos Waihrich and the barracuda's saga continues.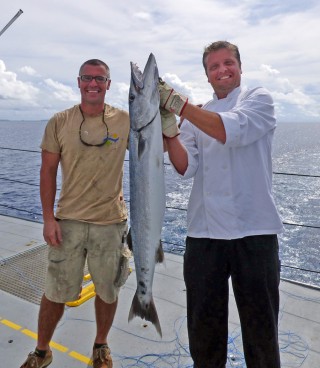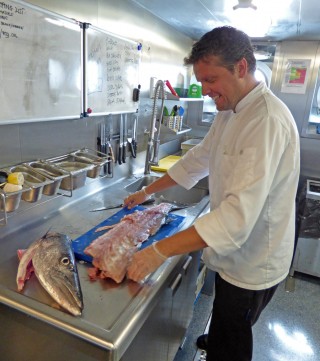 Down in the ship's galley, Chef Carlos works on prepping the barracuda, while Chef Arkadiusz Ochocki sets up the salad. Mick's timing was impeccable, tonight is the all crew BBQ that we were not able to do the first night in Pohnpei. Talking to Chef Carlos, some of the challenges of provisioning and feeding a group of over 30 people at sea for weeks at a time come to the fore. When asked, how do you know how much to buy, Chef Carlos and Chef Arek both shrug, "it is not a particular formula, but something you just understand from experience". You have to know the crew, the number of males and females, their eating preferences, nationalities; basically learn everything you can to accommodate their needs, and then buy a little extra just in case.
Eight hundred eggs will be used every 2 weeks, as well as 75lbsof rice, 25kg of carrots, 200 liters of juice plus water and sodas.  At each meal, they also might  use 6kg of fish, beef or pork and easily 10 liters of milk in a day. Modern ship crews tend to eat healthy which means lots of extra fruit and vegetables. They also enjoy more juice and water over soda, and ask for protein bars and powder. There is porridge every morning, a good way to get in the calcium, fiber and carbs for a long hard day working on deck.
The 14 different nationalities on the ship are a plus. The chefs have a huge palette of cuisines to work with and in fact, that is part of why they have chosen to be here on this vessel. Chef Arkadiusz grew up in Poland where he studied culinary arts even in High School. Upon graduation he traveled on to England and Ireland, began working on a sailing ship, then passenger ferries, small cruise liners, general cargo ships and ending on research ships. Arkadiusz has been with the company since 2010, the Falkor since its start in 2012, and is currently studying dietetics as well.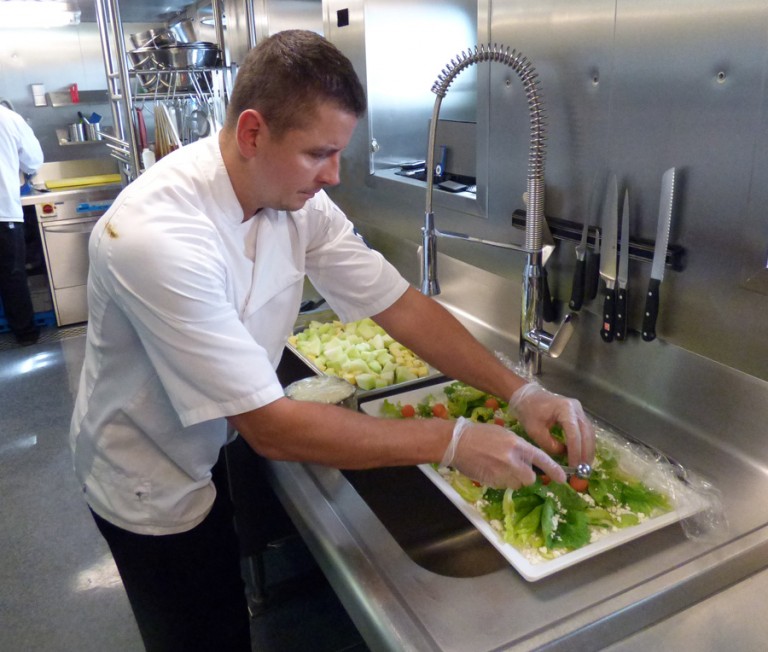 Our other chef on board, Carlos is also a huge attribute to the ship's kitchen. Chef Carlos' father cooked for his kids, showing them that men could be great chefs. Carlos had a bar in Brazil and then moved to London, through Barcelona and Morocco, to a super yacht (with an open budget) and then to the Falkor for the last four years.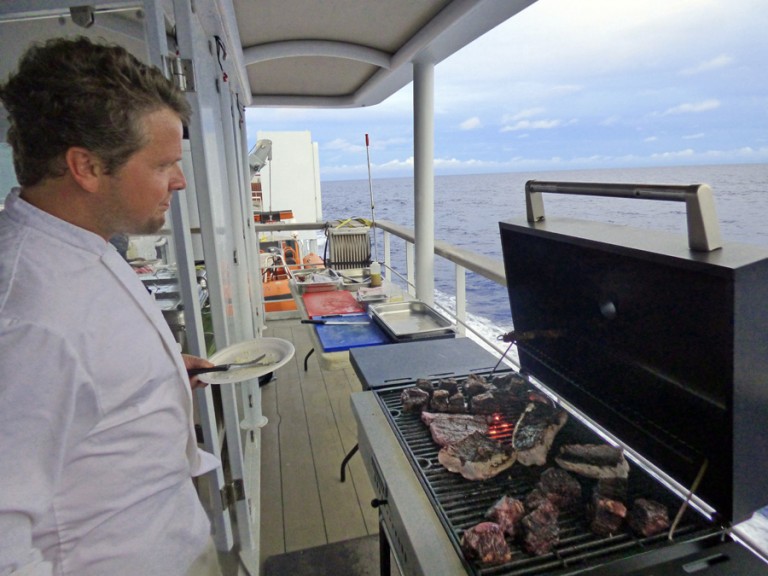 Although both men have young children at home, with Falkor's on off schedule they get real focus time with their families when they are off the ship. But they don't stop there, on leave they go to restaurants, talk to locals, learn new recipes, stay fit with running, football, SCUBA, and more. On the Falkor, they have even had a chance to help with research, getting out one day on a previous cruise to record sounds from Hawaiian humpback whales. Their healthy and diverse cooking is a reflection of their lives and the lives of the crew on the Falkor. They have all chosen to be on this research ship because it is such a superlative place.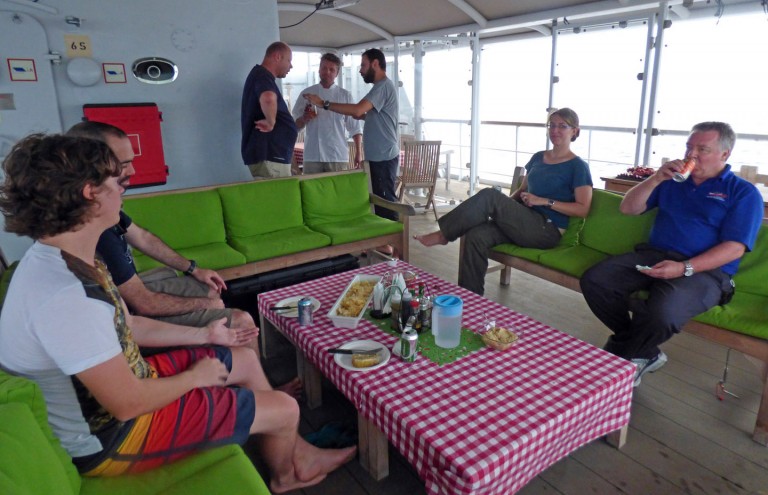 Back on deck, before the fish was even gutted, I watched as Chef Carlos and Chef Arkadius question one of the participating Science Crew, A.J. Reyes, on how they prepared barracuda in Guam. A.J. responds, just grill it and add the special Chamorro Fina'denne' sauce to taste. He provides them a recipe. The Chefs here never miss a chance to try something new, and as a result, we get barracuda a la Fina'denne'. That evening, one large fish helps feed a very enthusiastic and hungry group. The barracuda is the star of the BBQ, an international supporter of research and good will.