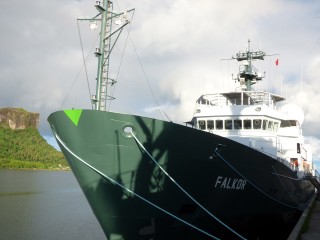 Science is a process of discovery. There is so much about the world that we do not know; discoveries can be made just about anywhere. Some scientists never have to leave the comforts of their own laboratory as their study subjects may be locally distributed, or they can access information from satellites and other data resources. However, most scientists must journey at some point to find what they are looking for.
In the case of this expedition to Ontong Java, Dr. Mike Coffin and his research team have come from around the planet to consider a massive volcanic plateau. This submerged structure is the size of Alaska, or almost a quarter of the continent of Australia. Unlike continental volcanic provinces where we have a pretty good idea of how they formed and affect the world around them, the Ontong Java Plateau is still relatively unknown. Scientists are not even sure how it came to be. This alone is an intriguing mystery worthy of investigation, but there are other reasons as well. Tsunamis originating around the Pacific impact Ontong Java Plateau relatively frequently, Ontong Java, Nukumanu, and Tauu atolls, and other islands surmount the Plateau. Submarine topography surrounding these islands determines how much of a tsunami's energy is dissipated prior to landfall. The science team anticipates that mapping seafloor in this remote region will provide some answers to the big questions of massive volcanism on Earth and other planets as well as vastly improve understanding of tsunami risk for local populations.
Coming together and ready to go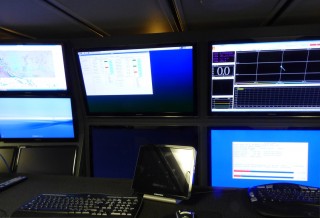 Research Vessel Falkor has recently finished its two week journey from San Francisco to Pohnpei after receiving some upgrades in dry dock including a new camera in the gondola and a new deep sea lander.  For me, it has been a fairly short trip to reach Falkor, a mere 10 hour flight from Honolulu. However, the majority of the science party has traveled much farther.  Chief Scientist Mike Coffin arrived from the University of Tasmania, where he is the Executive Director of the Institute for Marine and Antarctic Studies. This is his sixth trip to the Ontong Java Plateau and he is eager to better understand this mysterious region. Professor Coffin brings with him a research team including scientists and students from the United States, United Kingdom, Israel, and Australia. On the cruise will be scientists with specialties ranging from acoustic and optical bathymetry applications in relation to ocean floor and coastal processes, to environmental science, science and cultural knowledge, geophysical data analysis and much more. We will be examining these areas of expertise in coming cruise logs. All of these scientists are converging ultimately to a truly unique spot on the planet, the Ontong Java Plateau.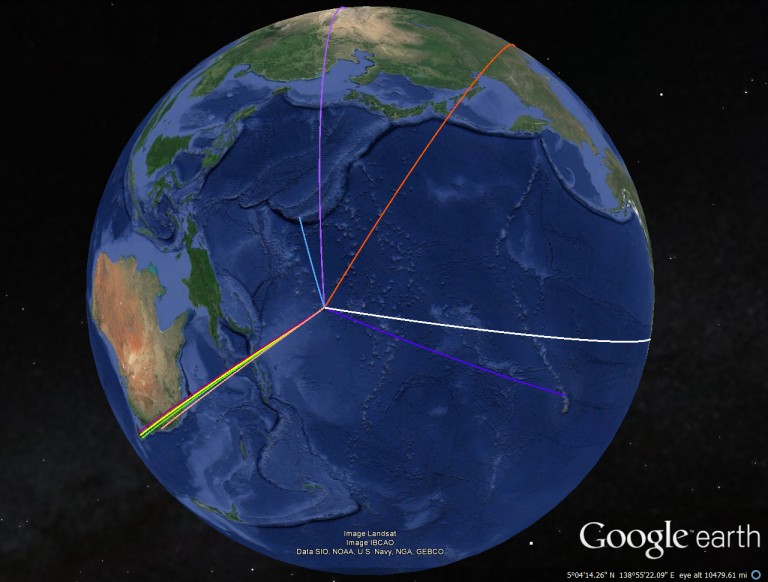 Leaving Pohnpei
We have just left harbor this morning and are now underway. The science crew has been doing ship training. Some of this training included ship induction to learn the protocols of shipboard life, followed by a day of fire and safety drills as well as training on the multibeam acquisition and processing systems. This afternoon they began the first of the 8 hour watch shifts. From now until the mapping is finished, the science crew will be on duty 24 hours a day. Early on the day after tomorrow, the Falkor is scheduled to reach the edge of the mapping area and will be on station do the first CTD deployment to start data collection.
Follow along and feel free to submit questions about the expedition to me at mheckman@hawaii.edu. From theFalkor, we anxiously await the mysteries of Ontong Java.