SCHMIDT OCEAN INSTITUTE NAMES 10-MEMBER ADVISORY BOARD
Panel of International Experts in Science, Maritime Operations, Communications Convened
MENLO PARK, Calif. – Nov 17, 2020 — Schmidt Ocean Institute announced today it has named a 10-member advisory board of international experts in science, maritime operations and communications.
The board members, who will serve three-year terms, will provide feedback and guidance on Schmidt Ocean's strategy and operations as the organization expands its work advancing oceanographic research and broadly sharing discoveries and information about the ocean. 
Schmidt Ocean Institute, established in 2009 by Eric and Wendy Schmidt, operates Falkor, the first year-round philanthropic research vessel in the world that is made available to the international science community at no cost. Falkor is currently on a year-long expedition in Australia, exploring portions of the Great Barrier Reef that have never been seen before by deploying an underwater robot to livestream high-resolution video. So far this year, the expeditions have discovered new species, including black corals and the longest known sea creature, a 150-foot siphonophore, and contributed to global seafloor mapping work. 
"We welcome the expertise and diverse perspectives of such a distinguished group of advisory board members," said Wendy Schmidt, co-founder of Schmidt Ocean Institute. "While we have made remarkable progress over the past decade, advancing scientific research and mapping the deep sea,  there is so much more critically important work ahead.  Working with our advisory board, drawing on their insights and experience, we can accelerate our collaborative work to better understand and protect our ocean."
The advisory board includes the following:
Catherine Ball, Brisbane, Australia—Ball is an associate professor at Australian National University and founder of World of Drones Congress. She is the 2020 patron of the Tech Girls Movement Foundation and a She Flies ambassador for Girl Geek Academy. 
Kristina Gjerde, Cambridge, Massachusetts—Gjerde is senior high seas advisor to the International Union for Conservation of Nature's global marine and polar program. She also serves as adjunct professor at the Middlebury Institute of International Studies in Monterey, Calif., where she teaches a course on international marine law. 
Alan Leonardi, Washington, D.C.—Leonardi is director of the National Oceanic and Atmospheric Administration's Office of Ocean Exploration and Research. He also co-chairs the National Ocean Mapping, Exploration and Characterization Council and National Oceanographic Partnership Program interagency working group. 
Kumar Mahadevan, Sarasota, Florida—Mahadevan is a founder and serves on the Executive Committee of the Florida Ocean Alliance and is president emeritus of Mote Marine Laboratory, a research facility he led for 27 years. He also serves as a trustee emeritus of the National Marine Sanctuary Foundation and an emeritus member of the National Association of Marine Laboratories. 
David Mearns, West Sussex, U.K.—As director of Blue Water Recoveries, Mearns is one of the world's most experienced and successful deep sea shipwreck hunters. With a 90 percent success rate and the discovery of 25 major shipwrecks, Mearns has been awarded five Guinness World Records, including locating the deepest shipwreck ever found. 
Mark Merrifield, San Diego, Calif.—Merrifield is director of the Center for Climate Change Impacts and Adaptation at the Scripps Institution of Oceanography at the University of California, San Diego. He previously served for two decades as the director of the University of Hawaii's Sea Level Center. 
Ralph Rayner, Gloucestershire, U.K.—Rayner is a professorial research fellow in the Centre for the Analysis of Time Series at the London School of Economics. He also serves as chairman of Sonardyne International, as president of the Society for Underwater Technology and as editor of the Journal of Operational Oceanography. 
Stephanie L. Smith, Pasadena, Calif.—Smith is digital and social media supervisor at NASA's Jet Propulsion Laboratory, where she oversees the team that manages the social media accounts for more than 20 space missions. She also tweets as the Curiosity Mars rover and has won two Emmy Awards for original interactive programming and seven Webby Awards. 
Richard Spinrad, Bend, Oregon—Spinrad is a professor of oceanography at Oregon State University and a member of the Ocean Studies Board of the National Academies of Sciences, Engineering and Medicine. He was appointed by President Barack Obama as chief scientist of the National Oceanic and Atmospheric Administration, where he served from 2014 to 2016. 
Kristian Teleki, Cambridge, U.K.—Teleki is director of the Sustainable Ocean Initiative at World Resources Institute. He also serves as head of the Friends of Ocean Action for the World Economic Forum and head of the Secretariat for the High Level Panel for a Sustainable Economy. 
"Our advisory board members have a global perspective and expertise in strategic areas that align with the Schmidt Ocean Institute's interests," said Jyotika Virmani, executive director of Schmidt Ocean Institute. "The entire Schmidt Ocean team looks forward to working with this eminent group as we advance our ocean knowledge and discoveries into the next decade."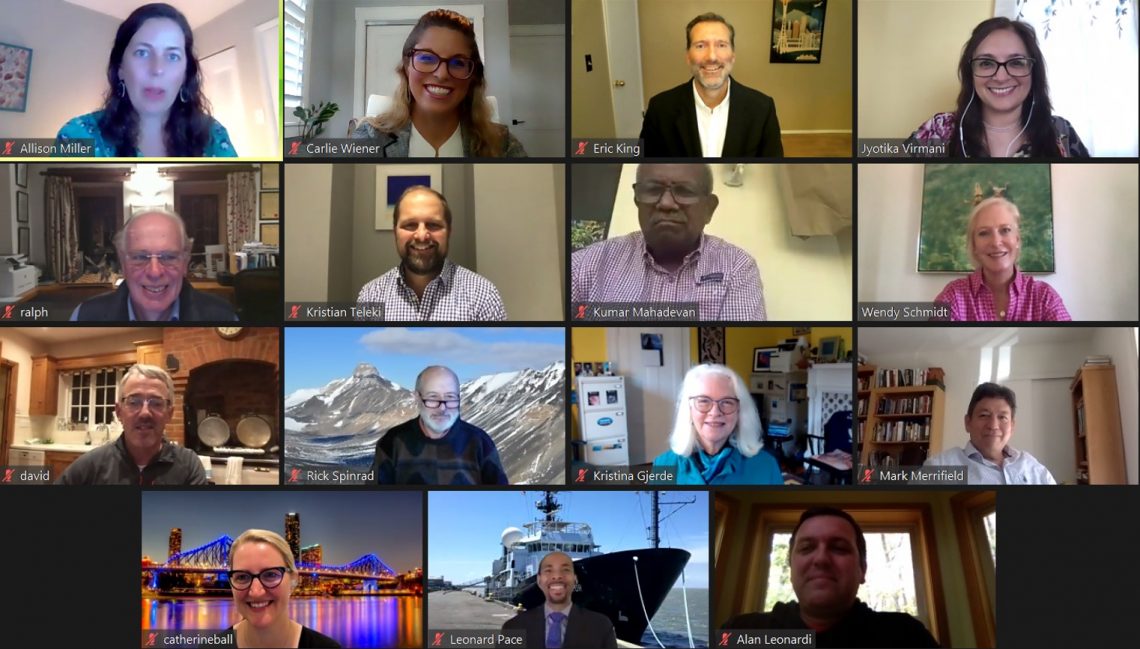 More details are available at  https://schmidtocean.org/about/advisory-board/.
About Schmidt Ocean Institute
Schmidt Ocean Institute was established in 2009 by Eric and Wendy Schmidt to advance oceanographic research through the development of innovative technologies, open sharing of information and broad communication about ocean health. For more information, visit www.schmidtocean.org. 
# # # # #