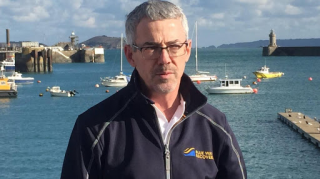 David L. Mearns is a chartered marine scientist, award-winning author and expedition leader of deep ocean projects.  He is one of the world's most experienced and successful deep-sea shipwreck hunters having located 25 major shipwrecks with an overall 90% success rate, and has been awarded five Guinness World Records, including one for locating the deepest shipwreck ever found at 5,762 metres.
David's most important discoveries include Lucona – a cargo ship at the centre of a sensational European murder trial; Derbyshire – a bulk carrier lost with all hands which led to new rules covering the survivability and structural requirements for bulk carriers; HMS Hood – the famous British battlecruiser sunk in an apocalyptic battle with the German battleship Bismarck; HSK Kormoran and HMAS Sydney  – the combatants in a battle that led to their mutual destruction; AHS Centaur – an Australian hospital ship sunk by a Japanese submarine; and Esmeralda – a Portuguese East Indiaman in the 1502-1503 fleet of Vasco da Gama, which is the earliest colonial shipwreck ever found and excavated by archaeologists.  David was also key member of Paul Allen's team that located and filmed the iconic Japanese battleship Musashi in 2015.  In 2019 he led the privately funded search that located the wreckage of the Piper Malibu aircraft carrying the Cardiff City footballer Emiliano Sala, which crashed in the English Channel off Guernsey. 
In 2010 David was awarded an honorary Medal of the Order of Australia (OAM) for service to Australia for locating the wrecks of HMAS Sydney and AHS Centaur.  In addition to his honorary OAM, David has been awarded the Distinguished Alumni and President's Global Leadership Awards from the University of South Florida, a Maritime Fellowship by the UK-based Maritime Foundation for an outstanding lifetime contribution, the Robert Craven Award from the Britannia Naval Research Association, and a Seatrade Award for a highly commended contribution to Safety at Sea in relation to finding the wreck of the Derbyshire.  David is a fellow of the Royal Geographical Society and the Explorers Club, who awarded him the Lowell Thomas Medal in October 2019.  David is the author of three books, including The Shipwreck Hunter, a career memoir, which won the prestigious Mountbatten Award for Best Book of 2018.