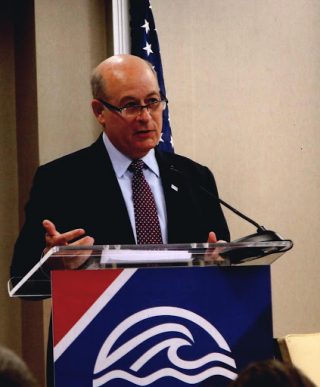 Richard (Rick) Spinrad is a Professor of Oceanography at Oregon State University (OSU) and a member of the Ocean Studies Board of the National Academies of Sciences, Engineering and Medicine.  In 2016, he retired as Chief Scientist of the National Oceanic and Atmospheric Administration (NOAA), where he had been appointed by President Barack Obama in 2014.  
An internationally recognized scientist and executive with more than 35 years of experience, Dr. Spinrad was the Vice President for Research at OSU, and from 2003 until 2010 was the head of NOAA's Office of Oceanic and Atmospheric Research and the National Ocean Service. Among his accomplishments, Dr. Spinrad was a co-lead of the White House Committee that developed the nation's first set of ocean research priorities and oversaw the revamping of NOAA's research enterprise. 
Prior to joining NOAA, Dr. Spinrad held leadership positions at the U.S. Office of Naval Research and Oceanographer of the Navy, where he was awarded the Distinguished Civilian Service Award (highest award given by the U.S. Navy to a civilian). He has held faculty appointments at three universities (OSU, US Naval Academy, and George Mason University), served as Executive Director at the Consortium for Oceanographic Research and Education, was President of Sea Tech, Inc., and worked as a research scientist (at OSU and Bigelow Lab). He also developed the National Ocean Sciences Bowl for high school students. Dr. Spinrad served as the U.S. permanent representative to the United Nations' Intergovernmental Oceanographic Commission from 2005-2009. 
He is the recipient of Presidential Rank Awards from Presidents George W. Bush and Barack H. Obama. Dr. Spinrad is past president of The Oceanography Society and Marine Technology Society. He is a Fellow of the American Meteorological Society, Marine Technology Society, The Oceanography Society, and the Institute of Marine Engineering, Science and Technology (IMarEST), and an IMarEST Chartered Marine Scientist.
Dr. Spinrad received his Bachelor of Arts degree in earth and planetary sciences from The Johns Hopkins University, and his Master of Science and Doctoral degrees in oceanography from Oregon State University.