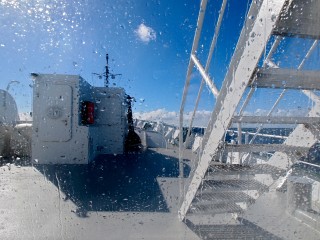 After a very rough ride, we arrived on station at 6 a.m. today, but weather conditions remained too poor to dive. Our science party is getting very antsy, as is the crew, but we obviously do not want to put the vehicle in the water if we cannot get it back safely.
So, we continue to wait, wait, and wait, and are working on being patient. As the mother of two young children, I am constantly being pushed to my limits of patience on land as well. At least ROPOS isn't screaming at me while it tries to put on its shoes by itself for the 8th time as I'm scrambling to get it to daycare on time to make my 9 a.m. meeting at the lab.
Deep Conversation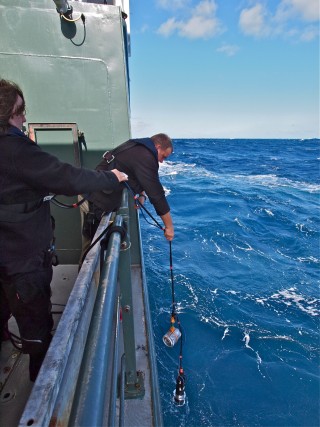 Here's how we spent a day too rough for an ROV dive. Our colleague, Dave Dyer at the Applied Physics Laboratory at the University of Washington, recently installed some energy-harvesting "vent cap" devices that sit on top of a few active vents at Axial Seamount. The devices can transmit their data acoustically (with sound waves) from the seafloor, and Dave Dyer asked us to check in on them if we had some free time. Since we obviously do have time on our hands, we put an acoustic hydrophone over the side of the ship on a long cable that's connected to a laptop on the ship, and then sent a signal to the seafloor to see if we could "talk" to the instruments.
Dave Butterfield, Ben Larson, and the SOI marine technicians spent about 12 hours sending signals and trying to talk to the 3 devices, with varying degrees of success. The three instruments are certainly still there, so that is good.
We celebrated marine Technician Leighton's birthday with an amazing cake prepared by our chefs, a nice card, and a song. I had hoped to give Leighton a dive for his birthday, but he had to settle.
Getting Cable
In the afternoon, Giora Proskurowski gave a science talk to the crew about the cabled observatory being built at Axial Seamount as part of the National Science Foundation's Ocean Observatory Initiative. Giora is a project scientist for the cabled observatory, so while he is out here doing vent chemistry as part of our Moore Foundation team, he is also very involved in getting Axial "powered up" with cables and instrumentation so that we can eventually have 24 hour monitoring of the volcano and nearby areas here in the Northeast Pacific.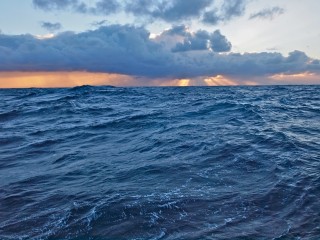 Axial is one of the best studied underwater volcanoes in the world, which makes it a great place for us to test some very specific hypotheses about carbon, microbes, and viruses. We hope to one day build an instrument for that to integrate with the cable, but first, we need to get some laboratory experimentation done. In the meantime, we wait, wait, and wait some more. The next weather check is at 6 a.m. Our fingers are crossed.