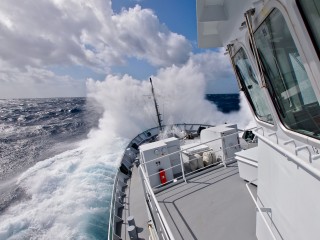 Mother Nature never ceases to amaze me, whether by her amazing underwater volcanoes beneath the surface or her ability to whip up a gale at the surface in mere minutes. We've had some experiences with both in the last 24 hours, and the situation promises to get even more interesting.
Last night we squeezed in one final dive before the weather kicked up with a vengeance. We visited a site on the southeast side of the Axial Seamount caldera called Marker 33 where I did much of my Ph.D. work. I visited this site after a 1998 eruption that paved it over with sheet flows of lava. Those flows then cracked down the middle, where warm hydrothermal fluid began to leak.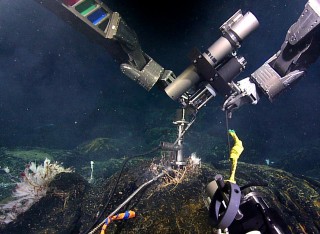 I had not visited the site since another eruption in 2011, and I was in for a big surprise. Instead of sheet flows, Marker 33 has been paved over yet again, but this time by small lava pillows that are now covered in orange and white microbial mats.
Amidst tubeworms and limpets we found a good flow for microbiology and chemistry samples using both the Hydrothermal Fluid Particulate Sampler (HFPS) and the Isobaric Gas Tight Sampler. We also ran the oxygen sensor on the HFPS to measure oxygen concentrations for the first time at Axial, and it worked great.
Microbes that are capable of using oxygen, called aerobes, will always choose to use oxygen if they can because they get the most energy that way. We know that as fluids heat up, oxygen goes away and such microbes have to switch to other energy production paths, but there are very few actual measurements of when and how quickly this shift happens. So we are trying to measure oxygen dynamics at as many sites as possible to help us make better ecosystem models of the microbial activity at our various Axial sites.
Calm Before the Storm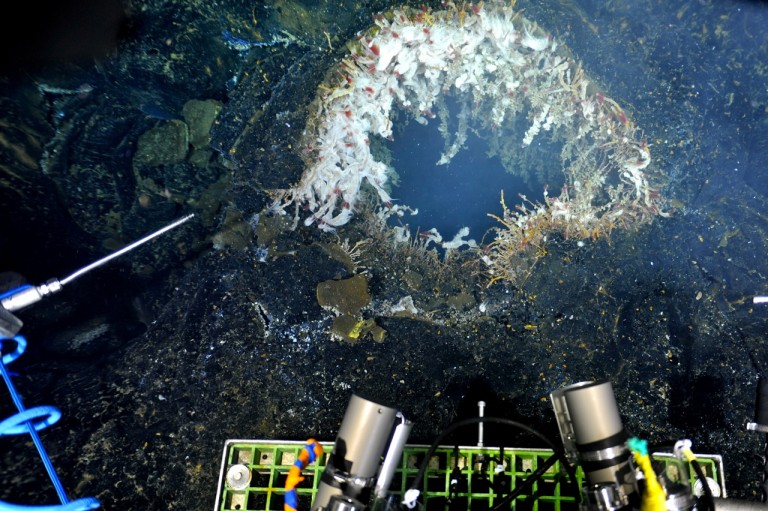 As we were sampling, we were also carefully watching the wind. We knew a big weather system was approaching from the northwest and sure enough, we saw the wind die down before changing directions. It was literally the calm before the storm.Keith, the ROPOS chief, told us we were officially on borrowed time.
There was just time enough to visit one more site with the ROV—Boca. After the 2011 eruption, Boca was spewing out flocculent material chock full of microbes and sulfur that we call "snow." We believe the snow is microbes getting flushed out of the subseafloor.
Eruptions also put out a lot of hydrogen sulfide, which some of these microbes can use as food, leading to microbial blooms. It's a situation similar to what you see with algae blooms at the surface during spring. If you give an organism a bunch of something it can use for food, it's going to proliferate. My lab examined some of the snow from Boca in 2011 and published a paper about it that includes some neat images. After the 1998 eruption the snow blower vents went away within a year. But happily, Boca's namesake vent is still flowing.
The Ride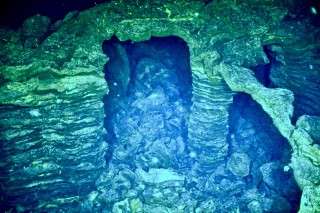 Before long the wind was creeping up to 10, 15, 20 knots. We frantically finished sampling. Then, once the wind hit 25, we headed back up. By the time we reached the surface it was gusting 35, but the ROPOS and Falkor crew calmly and safely got the ROV aboard. We spent the next two hours tying everything down and processing samples as quickly as possible. Then it was time for us to hit the racks.
The wind has gotten even stronger and we have had many zero gravity moments in our bunks as Falkor rolls, sometimes as much as 21 degrees. The heart of the storm is due tonight. We're hoping we can get back down to Axial later this week, but for now we remain strapped in to ride this one out.